Over the past three quarters, Macy's (NYSE:M) has reported strong profit delivery and the stock has responded by increasing its value by nearly 15%, but this still leaves the company undervalued. From key financial metrics, it can be seen that M is performing at the level of its peer group, but is valued at a far lower valuation. Compared to two strong members of its peer group Saks (NYSE:SKS) and Nordstrom (NYSE:JWN), the company is undervalued. Take note of how the company's performance and the stock's performance have not moved in tandem.
Fundamentals:
M has long been looked at as the kingpin amongst department store operators due to the company's size and reputation. M operates over 800 stores throughout the country and last year spearheaded its international e-commerce efforts. As the US economy has continued to stabilize, M sits in a position of strength to due its locations and network of stores. Kent Johnson, President of Macy's online, states, "International shipping will enable Macy's to build upon its existing customer base beyond the United States by exposing our product offerings abroad." This is just one example of M ability to take navigate the current uncertainly in the retail environment.
Financials (as compared to competitors):
Forward price/earnings: 11.12. The PE ratio of M indicates that it is priced below SKS and JWN and is well below the industry average of 15.1. For a company with past earnings as strong as M, the company is worth more on a basis compared to its competitors.
(Nasdaq)
PEG ratio: 1.09. This PEG ratio, a better indication of a stocks valuation than PE, is low by most standards and points to the company being valued below its peers.
EV/EBIDA: 6.2. This is yet another barometer of valuation and indicates that all three of these companies are below the recommended threshold of 10, but that M is the cheapest amongst its peer group.
Return on equity: 21.93%. MSN Money speaks of this 1 year ROE as being "stellar" and this points to the fact that M is utilizing stockholder equity well. Though the figure is not as high as JWN, M is a lot larger and has not put forth the capital into its operation than JWN has in the past several years.
Cash-Debt: -$5.86 Billion. This is one point of weakness within M's financials. The company is holding a large amount of debt, but because of cash flow, the debt level is not unmanageable.
SKS: -$299 million
JWN: -$1.86 billion
Dividend: 2.2%. M pays a very healthy dividend, which is higher than its competitors. Although the stock is by no means "high-yielding" this gives investors a higher income stream than its competitors.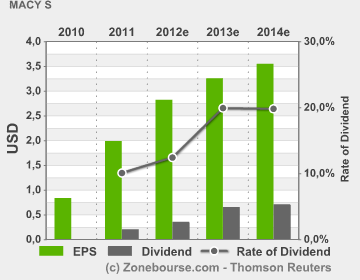 (4-Traders)
Market Performance: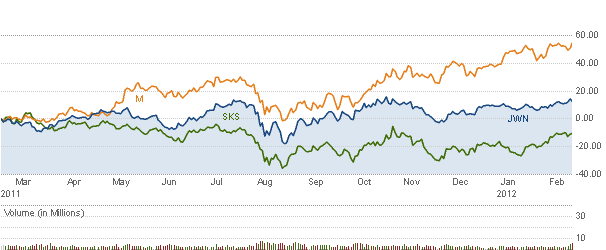 Click to enlarge
(NASDAQ:CNBC)
From the chart above it is clear that M has outperformed its competitors over the past year, but this is in large part due to the weakness the company experienced during the recession. Even with this uptick in the stock-price, from a valuation perspective, the stock is still undervalued.
Earnings Coming Up:
The majority of analysts (71.4%) rate Macy's as a buy. This compares favorably to the analyst ratings of its nearest 10 competitors, which average 51.9% buys. The average analyst rating of the stock has stayed constant from three months prior.
This indicates that analysts are expecting the company's future earnings to be strong. Even if the stock fluctuates slightly in the short-term due to earnings, the company is poised for stock-price growth.
Conclusion: For the aforementioned reasons, M is undervalued. The company has performed very well over the past year and there are no signs of this forward momentum stopping. Unless troubling news comes out of earnings, which is not expected, M is poised for growth and future stability.
Disclosure: I have no positions in any stocks mentioned, and no plans to initiate any positions within the next 72 hours.