The chart below shows the ratio of private debt to GDP in the U.S., U.K. and Australia:
Click to enlarge: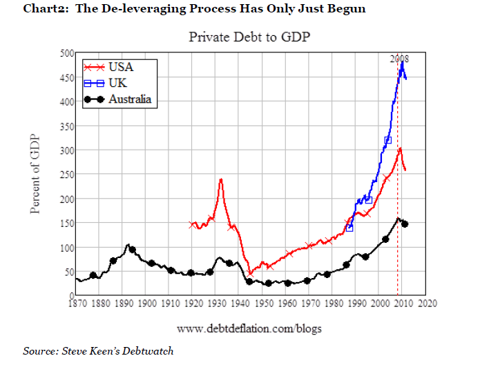 Click to enlarge
Source: The Absolute Return Letter February 2012, The Unlikely Bull Market, Absolute Return Partners, LLP
British households are more leveraged than households in the U.S. Private debt peaked at over 450% of GDP in 2008 in U.K. compared to over 300% and 150% in the U.S. and Australia respectively. While households have started the deleveraging process after the credit crisis, they still have a long way to go before reaching manageable debt levels. As consumers reduce debt, consumption of goods and services is bound to suffer. Hence any recovery in the consumer-driven economies of the U.S. and the U.K. will be modest. Accordingly investors may want to be cautious of the recent rally in global equity markets.
Related ETFs:
iShares MSCI Australia Index (NYSEARCA:EWA)

SPDR S&P 500 ETF (NYSEARCA:SPY)

iShares MSCI United Kingdom Index (NYSEARCA:EWU)
Disclosure: No positions