Apart from the weakness in oil and gas prices, Royal Dutch Shell (NYSE:RDS.A) (NYSE:RDS.B) has faced a number of challenges in the past year, which is why it has slumped close to its 52-week lows. For instance, the company has been forced to write-off $2.6 billion with respect to its exploration in Alaska and $2 billion for stopping the Carmon Creek oil project in Alberta, Canada.
However, in my opinion, these write-downs are smart moves if we consider the situation unfolding in the crude oil market. Let's see why.
Changing the portfolio mix for the better
Shell is facing a lot of challenges in the end market that have forced it to either suspend or abort some of its major projects. In Alaska for example, after completing the drilling season by drilling the Burger J well through its target depth safely and well in time, Shell found that it was completely dry. As a result, the company found it uneconomical to operate the well due to its high cost, while the challenging and unstable regulatory environment of Alaska was another bone of contention. As a result, Shell has decided to stop exploration activities in Canada "for the foreseeable" future.
Meanwhile, the Carmon Creek project in Canada has also been put on hold on similar grounds after carefully examining the potential design options, the cost profile, and Shell's capital priorities. Shell believes that this project will not give its ideal returns in the long run, which is why it has decided against going through with it.
In my opinion, Shell's decision of stopping these two projects is a good move by the company as its gross margin has started declining of late, as shown in the chart below: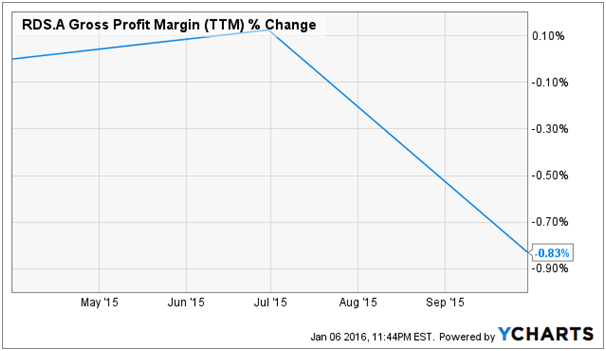 Hence, Shell is doing the right thing by not going through with inefficient projects, and it is instead focusing on those areas that will allow it to generate efficient production in difficult times.
Focus on operational efficiencies
Shell is focused on increasing its production and reducing costs at the same time, which will allow it to improve the efficiency of its upstream business. As shown in the chart given below, Shell's production in the third quarter had increased despite its asset sales.

Source: Shell
The increase in Shell's production volume was driven by the on-going ramp-up in deepwater fields in Nigeria and Malaysia, along with the Gulf of Mexico. But, despite this increase in production, Shell is on track to reduce its operating costs by 10% in 2015 and also reduce capital spending by 20%, driven by steps such as reducing the employee count by 7,500, which has led to an improvement in capital efficiency. This is not surprising, as Shell is now able to produce more oil with a lower employee base, which is why its capital efficiency gains are expected to clock $4 billion for the recently-concluded fiscal year.
Downstream strength and other positives
Shell's downstream business is booming on the back of an increase in margins in the refining business. In fact, in the last reported quarter, this segment's earnings increased almost 45% year-over-year, as shown in the chart given below:

Source: Shell
Going forward, investors can expect Shell to sustain the strength in the downstream segments as oil prices will continue remaining under pressure, which will ultimately lead to stronger refining margins. For instance, OPEC is now producing at a higher clip as it was unable to fix a ceiling at the last meeting due to a tiff with Iran. In fact, Iranian oil production is going to increase in 2016 along with OPEC's production, while an expected slowdown in demand will be a headwind.
Thus, due to lower oil costs, Shell will see an improvement in its refinery margins as input costs will be low. Moreover, out of the five segments in the downstream business, four are immune to some extent to lower oil prices, which is good news for investors as it will allow the company to improve its margin profile and also bolster cash flow to some extent.
A robust balance sheet
The discussion above indicates that Shell is taking the right steps to keep itself in good shape in a difficult scenario for the oil market. What's more, the company has a really robust balance sheet that will allow it to overcome the problems in the end market. In fact, Shell has a combined cash and operating cash flow position of almost $66 billion, which is way bigger than its debt of $55.6 billion.
What's more, Shell has been able to arrest the decline in its operating cash flow to some extent in the past six months, as shown in the chart given below.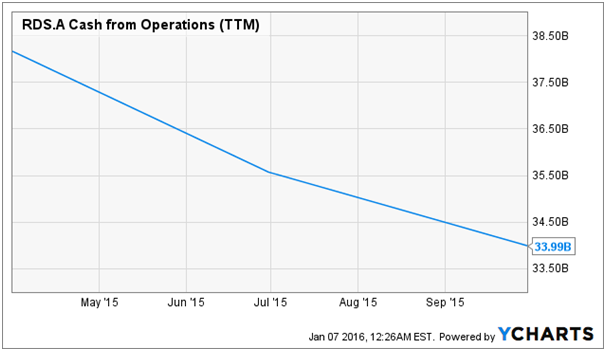 If we look closely at the chart above, we can see that the rate of drop in Shell's operating cash flow has slowed down post July, indicating that its focus on efficient production is bearing fruit. Moreover, the company's cash flow should continue improving in 2016 as it has decided to lower capital expenses by another $2 billion, while operating costs are expected to go down by $3 billion. All these will continue to have a positive impact on Shell's cash flow profile.
Conclusion
Shell is capable of holding tight and overcome the weakness in the oil patch on the back of the strength in the downstream segment, a robust balance sheet, and its cost reduction moves. Thus, it might be a good idea to scoop up some shares of this oil giant as it trades near the lower end of its 52-week band.
Disclosure: I/we have no positions in any stocks mentioned, and no plans to initiate any positions within the next 72 hours.
I wrote this article myself, and it expresses my own opinions. I am not receiving compensation for it (other than from Seeking Alpha). I have no business relationship with any company whose stock is mentioned in this article.