In my past article "Apple Pure Play: ZAGG Poised for Another 400% Bull Run," I explained 11 reasons why the stock is extremely undervalued now. The following article will explain the macro-economic reasons why the recent parabolic revenue growth ZAGG has experienced is just the beginning of things to come.
THE PAST
On January 9, 2007, Steve Jobs introduced to the world the Apple (NASDAQ:AAPL) iPhone. This smartphone would revolutionize not only an industry but spark the fastest adoption of any technology in the history of the world.
Mary Meeker highlighted that the mobile internet is the fastest adopted technology ever.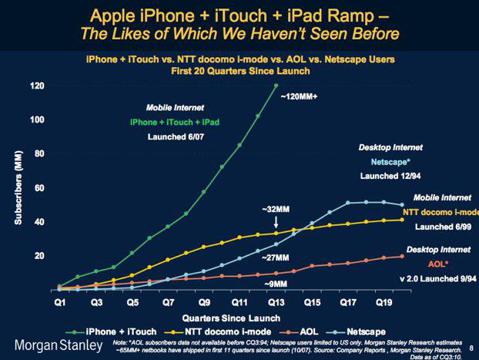 Since launching, Apple iPhone sales have shot through the roof.
(Click chart to enlarge)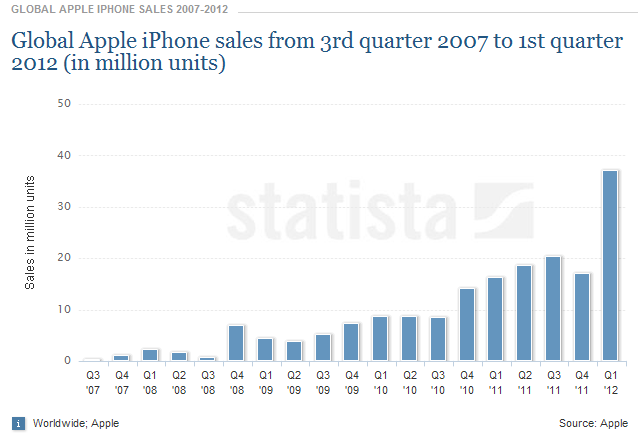 As a result of this, the market for smartphone and tablet accessories has exploded. By the end of 2010, the accessories market had grown to a $26.5 Billion industry. By 2015, it is projected the industry will double to over $50 Billion.
The #1 smartphone accessories player in the U.S. is ZAGG. It is the seller of the Invisible Shield screen protector. ZAGG holds the U.S. patent on protecting all electronic devices with film. ZAGG also sells iPad keyboards and has partnered with Logitech (NASDAQ:LOGI). ZAGG owns iFrogz, a major case and audio accessories seller in Walmart (NYSE:WMT). Lastly, it owns 47% of HZO. HZO has waterproofing technology that has caught the attention of major manufacturers such as Apple and Samsung.
Since the iPhone debut, quarterly revenue for ZAGG has grown dramatically. In the most recent year, quarterly growth has gone parabolic.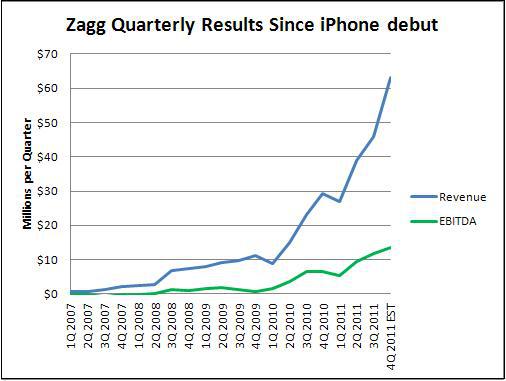 It should be noted that Apple reported over $37 million smartphones in the latest quarter. This was a significant quarter-over-quarter jump with the launch of the iPhone 4S. With current adoption rates and factoring in iPad sales, the 4Q 2011 estimate for ZAGG appears extremely conservative.
THE PRESENT
Apple , Samsung, Nokia (NYSE:NOK), Research in Motion (RIM), and HTC were the largest mobile phone vendors in the world in 2011. The below chart shows the current growth in the smartphone industry. (Units in Millions) (Research by IDC)
(Click chart to enlarge)

In 2011, ZAGG projected 117% year-over-year growth based on guidance last December. The significance of this is that as an accessories player, ZAGG is growing at a much faster rate than the smartphone industry average. In fact, this is almost double the rate.
THE FUTURE
According to IDC, worldwide smartphone growth is expected to grow to one billion annual units by 2015. Despite a 61.3% CAGR from 2010 to 2011, top research firms have "conservative" growth rates through 2015.
Worldwide Smartphone Operating System 2011 and 2015 Market Share and 2011-2015 Compound Annual Growth Rate
| | | | |
| --- | --- | --- | --- |
| Operating System | 2011 Market Share | 2015 Market Share | 2011-2015 Unit CAGR |
| Android | 38.9% | 43.8% | 23.7% |
| BlackBerry OS | 14.2% | 13.4% | 18.3% |
| Symbian | 20.6% | 0.1% | -68.8% |
| iOS | 18.2% | 16.9% | 17.9% |
| Windows Phone 7/Windows Mobile | 3.8% | 20.3% | 82.3% |
| Others | 4.3% | 5.5% | 27.6% |
| Total | 100.0% | 100.0% | 20.1% |
IDC projects a 20.1% unit CAGR through 2015. NPD predicts 25.7% annual growth in smartphones, tablets, and notebook PCs through 2015. NPD also contends that the world is at the early stages of the smartphone and tablet revolution. NPD stated that smartphones will grow from 20% of handsets in 2011 to 43% in 2015.
Total shipments using the conservative 20% projection is depicted below: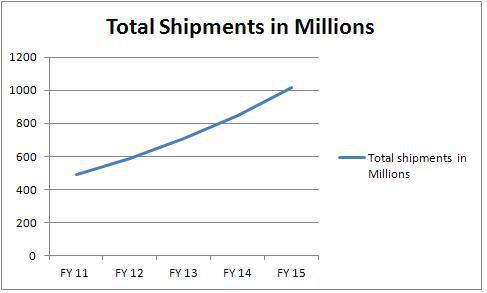 Since inception, ZAGG has grown at a 100% annual rate as the accessories market has exploded. With the accessories market doubling by 2015, ZAGG will have plenty of room for growth. The projected ZAGG annual revenue below assumes a conservative 50% annual growth rate instead of the 100% revenue growth target it has hit each of the last 5 years. This is also about twice the projected industry CAGR for smartphones according to NPD (25.7%).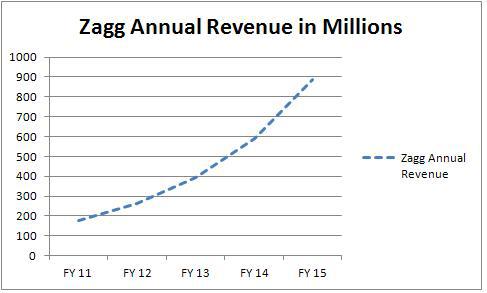 As smartphones and tablets are rapidly adopted each year, the ancillary accessories market is ripe for a fast growing leader. All new emerging industries have a new market leader. Based on the past, present, and projected future ZAGG looks ripe to lead and continue its parabolic growth through 2015. ZAGG is simply one of the smartest investments out there.
Disclosure: I am long ZAGG.