One of the stories from last week was how the Japanese Yen (NYSEARCA:FXY), forever so strong, finally seemed to give up the ghost and ended up sliding all week long.
click to enlarge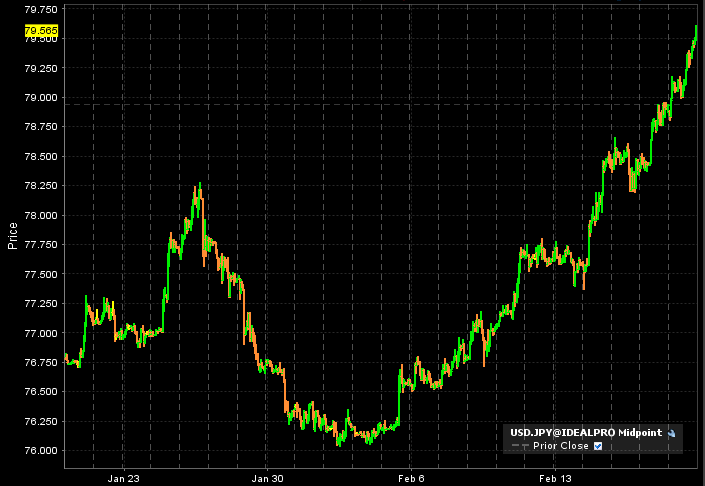 Click to enlarge
Although the Yen has seen moves of this magnitude in the last year, they were mostly Bank of Japan interventions - this one seems somewhat different (except for the fact that the Bank of Japan expanding its QE program also played a part in it).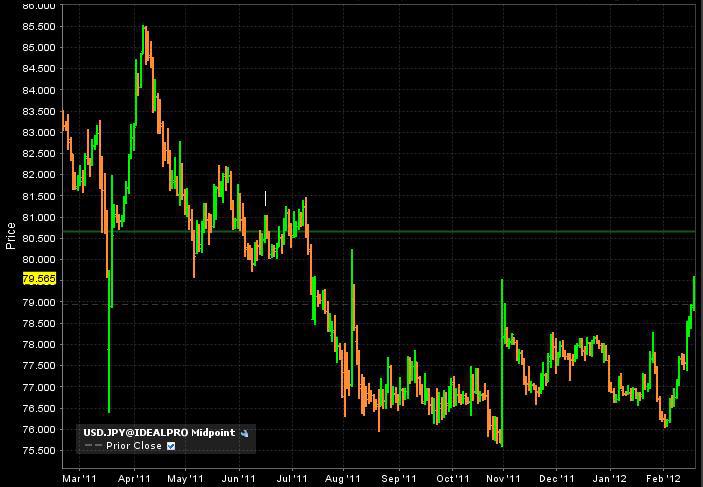 Click to enlarge
Putting aside the ever-present fear about Japan's public debt/GDP ratio, which stands at over 208% (source: CIA factbook), or the fact that Japan's GDP contracted in the latest quarter by 2.3% annualized, what else can explain the yen's recent weakness?
In part, what explains the weakness is the strength that preceded it (see 5 year JPY chart below). The Japanese Yen got so strong over the years that finally it had an impact - Japan registered a trade balance deficit during 2011 as a result.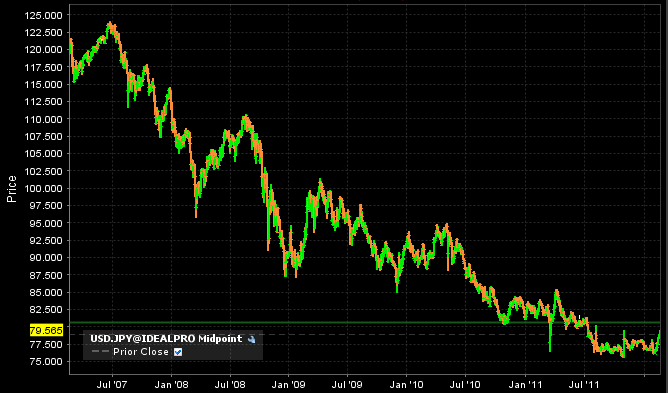 Click to enlarge
But it doesn't end there. There was something else hidden in the trade figures, something more recent. Japan's largest trading partner is China. It represented 19.7% of Japan's 2011 exports and 21.5% of its imports. In December, Japan's exports to China plunged at a year-over-year rate of 9.8%. So, it is likely that as China's economy weakens, Japan is being hit more than proportionally - something I've already mentioned regarding Australia, but that is also very evidently happening with the yen. Incidentally, this is yet another piece of evidence regarding China's ongoing weakness.
Yen Outlook

The Chinese economic weakness will probably last for a few more quarters, though its impact should be heavier on very specific sectors tied to fixed asset investment, such as construction equipment and heavy machinery.
On the other hand, Japanese companies that don't have too much Chinese exposure but are large exporters might benefit from a weaker yen. Indeed, the Japanese market (NYSEARCA:EWJ) as a whole has already been enjoying the weaker currency, climbing 4.9% in just this past week.
Finally, U.S. companies with a large Japanese presence will lose some revenues and earnings on the currency translation. Salesforce.com (NYSE:CRM) is one such companies. In Salesforce.com's latest quarter, Asia (which we believe to be mostly Japan) represented around 14.2% of revenues. Amazon.com (NASDAQ:AMZN) is another such company.
Disclosure: I am short AMZN.