Will Apple Announce A Dividend This Week?
Apple (NASDAQ:AAPL) is the largest publicly traded company in the world and has completely transformed every industry it operates in. Steve Jobs' focus on innovation has permeated the company and created a commitment to consumers that has handsomely rewarded shareholders throughout the years. I have recommended option strategies for Apple since 2010, with tremendous results (remember past results do not guarantee future results). For reference, please view the first and other articles in the series to fully understand the strategy and its strong potential returns. In essence the investment objective is to capitalize on Apple's volatility by selling out-of-the-money options to generate weekly income without sacrificing long-term returns. As we enter the post-Jobs era, it is even more important to keep a close eye on your investment and execute care with your trades: since Jobs has passed, the company's performance will be under a magnifying glass. Thus far Tim Cook has managed the Apple ship quite well but in such a dynamic industry, victory can be fleeting.

A brief recap of this week in Apple [Up $2.59 (0.5%)]:
WSJ Predicts That New iPad Will Have 4G (February 16 Wall Street Journal)
Google (NASDAQ:GOOG) Accused Of Tracking iOS Users (February 17 Wall Street Journal)
Analyst Charged With Leaking Secret iPhone Sales Trends Information (February 17 Reuters)
Apple Announces New Mountain Lion Operating System (February 17 Apple)
Apple Settles iPhone 4 Class Action Lawsuit (February 18 The Loop)
Motorola (NYSE:MMI) Hit With Apple's FRAND Abuse Charge (February 18 Apple Insider)
This will go down into the books as an essentially flat week for Apple but that masks the roller coaster ride that investors suffered through. Wednesday morning investors began the climb from the low five hundreds and by lunch were looking at Apple over $525. At 12:30PM on Wednesday the roller coaster began its free fall as Apple dropped like a rock. The selling continued throughout the day as Apple bottomed out at $490 and regained some of the losses to settle near where it started the week. As I have continually stressed, this graph exemplifies why investors should be selling calls and puts against Apple. Last week I went short the weekly 490s and 495s when Apple was trading around $500 and I was able to generate very respectable income for minimal exposure. If Apple fell below the strike prices I would have been happy to have purchased it. Now I can rewrite puts at similar strikes and pickup additional income for another week. With the 490 and 495 puts trading at $3.65 and $5.30, respectively, this means that selling puts generates greater returns than going long Apple if the stock rises less than $9 during the week. Factor in the inherent downside protection provided by the cash cushion and you have a very compelling investment opportunity with mitigated risk.
The most popular rumor circulating on Wall Street this month has been that Apple will finally reopen its corporate coffers and initiate a dividend for the first time since 1995. Apple will have its first shareholder meeting of 2012 on Friday. Apple would have a very substantial tax bill if it initiated a dividend due to its low international corporate rate (less than three percent). For this primary reason, I do not envision Apple announcing a dividend on Friday but you cannot blame market participants for speculating as the cash pile vaults past $100B. CEO Tim Cook has even said that "The balance has risen to the point you've made and I think it's clear to everyone and I'd be the first to admit that we have more cash than we need to run the business on a daily basis." So it is only a matter of time before Apple starts deploying its cash to the benefit of shareholders. Having said that I still do not expect a dividend to be issued in the near future and anticipate share repurchases as to avoid the nasty tax bill. Forbes has a comparison of dividends versus share repurchases that succinctly captures why investors are generally better served if companies repurchase their own shares, even at "elevated prices".
Below I present three possible scenarios and the potential returns for the Apple options. The first scenario represents a negative outlook for Apple while the final two scenarios are more reasonable. These scenarios are just projections and there is no guarantee that they will come to fruition. Even if you are optimistic it is important to generate both positive and negative circumstances in order to stress your assumptions. As a general rule, selling calls with higher strike prices has greater potential return but additional risk of loss due to the lower (or lack of) downside protection. For more information on the fundamentals of covered calls, consult Investopedia.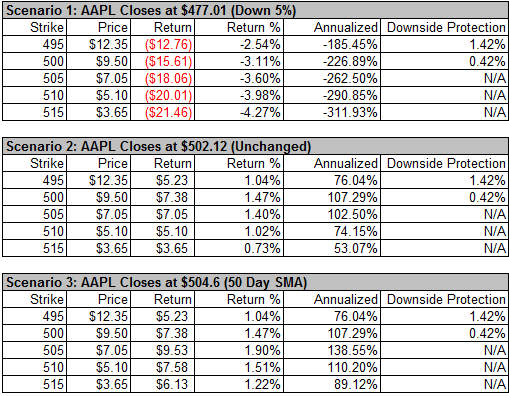 Additionally, if you would like even more information, I have prepared a sensitivity analysis for absolute return and percent returns, respectively. After studying the information above, these two charts make it easy to pick a strike price based on where you believe Apple will close at the end of the week. Estimate where you believe Apple will close and select the strike price with the highest return.

With this information, executing a buy-write on AAPL February 24 (Weekly) 505s is the optimal risk-return strategy. Please note that there is a higher probability of being called with these at-the-money options; therefore, you may wait to avoid them for tax purposes. Please consult with your accountant or personal financial planner. If you are uncomfortable with this strategy I suggest a buy-write 500s, 510s, or 515s. Even if you are extremely bullish you can still profitably sell covered calls. Apple is volatile enough that you will have opportunities to repurchase on dips. An alternative approach is to sell out-of-the-money 495 puts and collect the premium without having to purchase the stock outright. Note that if the stock declines to the strike price, you are obligated to buy the stock (or closeout the position).
Disclosure: Author is long AAPL, GOOG, and MMI.
Additional disclosure: Plans to short AAPL weekly 490 and 495 puts.