Vale (NYSE:VALE) created a new 52-week low on Thursday as the stock fell around 7% due to the economic weakness in China. Now, the iron ore market is already oversupplied due to a slowdown in Chinese consumption where steelmakers are looking to cut capacity in order to adjust to the lower manufacturing levels in the country. In fact, due to persistent oversupply situation in the end market, iron ore pricing had dropped to a decade low of $37 per ton a month ago.
Looking for positives
However, there are a few positives that investors need to take a closer look at in the iron ore market that could lead to better pricing from a long-term perspective. In fact, iron ore has recovered at an impressive rate in 2016 and rallied to $43 a ton. This improvement in iron ore pricing can be attributed to the strength in China, which has continued to import iron ore to take advantage of the weak pricing.
According to Bloomberg:
"Total shipments were 37.55 million metric tons from 37.33 million tons in November and 37.12 million tons a year ago, according to data from the Pilbara Ports Authority on Wednesday. Exports to China were 32.17 million tons from 31.73 million the previous month and 30.63 million a year earlier."
Thus, it is evident that China has continued to absorb more iron ore as it has not been cutting enough steel production. This is because the country has been able to consistently export a sizable portion of its steel, as shown in the chart below: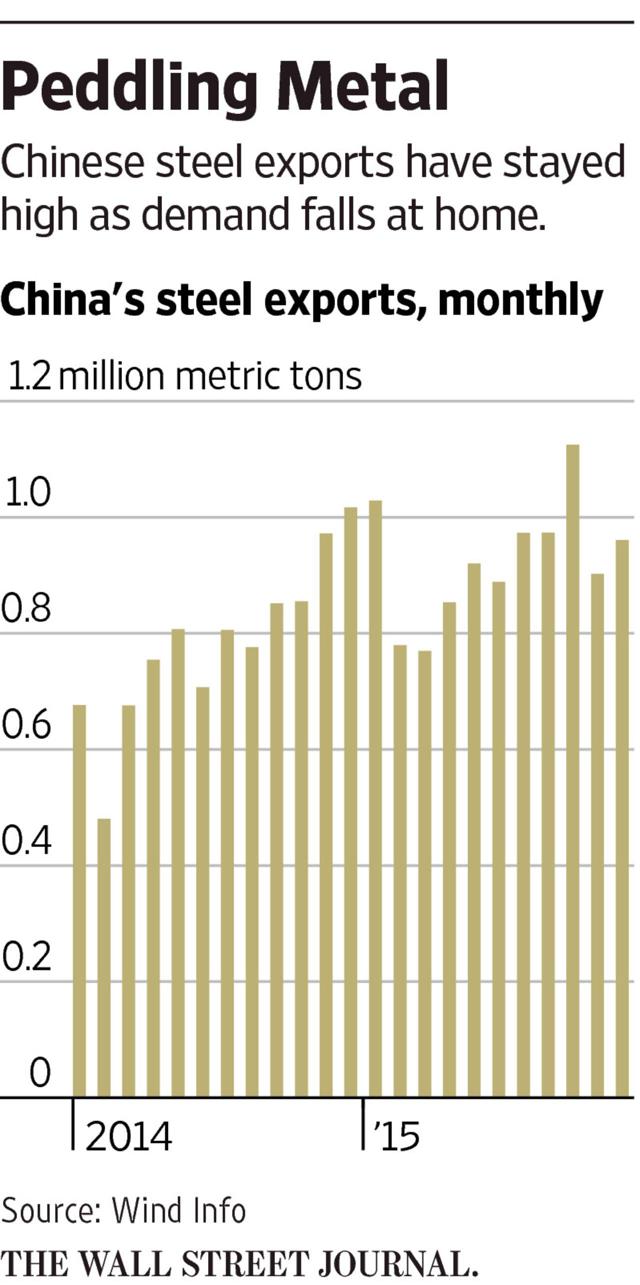 Click to enlarge
Source: WSJ
In fact, in the first 11 months of 2015, China's steel exports were up by 22% as compared to last year and will continue to remain at elevated levels. This is because the country's government is planning to reduce export taxes on steel billets to 20% from 25%; exports will increase further. Moreover, it is expected that Chinese steel production will hit a billion tons in the next 15 years due to a variety of reasons.
For instance, sales of passenger vehicles in China is expected to triple by 2030 while new construction put into place will use more steel. On the other hand, the demand for steel in emerging markets, excluding China, is anticipated to go up by 65%. Thus, the prospects of the steel industry in China look bright, and this is good news for iron ore miners such as Vale.
But, what's even more interesting is the fact that the company has been taking the right steps to overcome the weakness in the iron ore market, as discussed below.
Making the business more efficient
In light of the weakness in the iron ore market, Vale has been working on bringing online more efficient assets that have allowed it to reduce costs. Take a look at the following chart for example: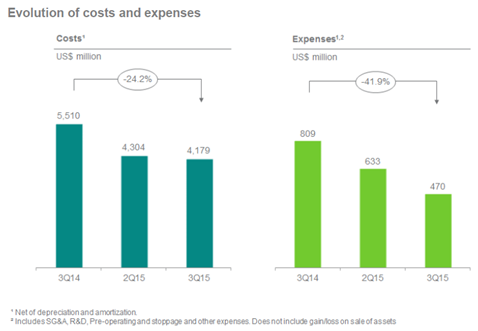 Source: Vale
As seen above, the company has brought down its cost profile in an impressive manner of late. This is because it has focused on reducing the scale of its business in accordance with the end market situation, and is instead focusing on areas where it can generate more profitable production. For instance, Vale has phased out its Thompson mine's smelter and refinery operations, and it expects this move to lower its costs further in 2016, as shown in the chart below:

Source: Vale
In addition, the company is making infrastructure improvements in areas such as Long Harbour, where the installation of a purification circuit is expected to help it save around $20 million this year. At the same time, Vale is bringing down its capital expenses rapidly by reducing spending on new projects, which is the right thing to do in the current iron ore environment. As shown in the chart below, Vale has reduced its capex by almost 41% in the past two years, and this will allow the company to preserve its cash flow going forward.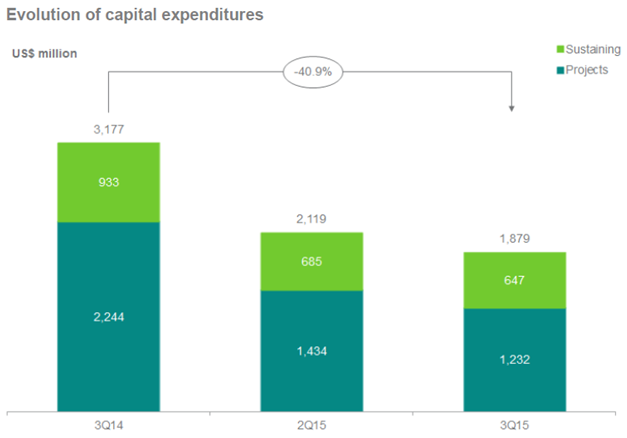 Source: Vale
As a result of these cost reductions, Vale can afford to continue reducing its debt. In fact, the company carries sizable gross debt of around $28 billion, which is quite high if we compare it to the cash position of $4.5 billion and operating cash flow of $3.3 billion generated by it in the last year. Additionally, Vale has been selling off non-core assets such as very large ore carriers. Last September, the company generated $448 million in proceeds by selling four VLOCs to China Merchants Energy Shipping, using which it has been able to bring down the debt level along with other assets, as shown below: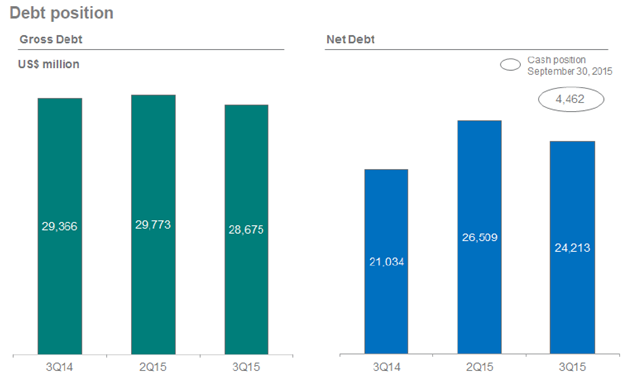 Source: Vale
By reducing the debt, Vale has been able to bring down its interest expenses, which will further help it in improving the bottom-line performance.
Conclusion
Vale has adopted the correct strategies to stay afloat in a weak iron ore pricing environment. As the situation in the end market improves in the long run, the company will be able to improve its financial performance. Its focus on making infrastructure improvements and cost cuts, along with a potential increase in Chinese steel production, is a tailwind that could help it make a comeback in the long run.
Disclosure: I/we have no positions in any stocks mentioned, and no plans to initiate any positions within the next 72 hours.
I wrote this article myself, and it expresses my own opinions. I am not receiving compensation for it (other than from Seeking Alpha). I have no business relationship with any company whose stock is mentioned in this article.