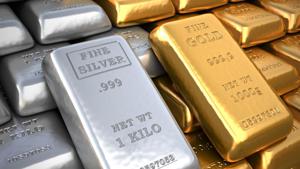 The year that ended on December 31, 2015 was the fourth straight year of lower prices for gold and silver. The bear market that began in 2011 when these two precious metals traded to highs now enters its fifth year. We are now one week into the New Year and it has been quite a week in markets. The Chinese stock market dropped by 7% on the first trading day of the year and other equity markets followed, moving lower over the course of the week. 2015 was a flat year for equities, however, it was a down year for commodities. When it comes to precious metals, gold was the best performing commodity of the year, but that is not saying much.
Gold bear market continues through 2015
Gold, silver and other precious metals prices followed other commodities and the dollar in 2015. The inverse relationship between precious metal prices and the dollar remained intact as the greenback rallied by 8.93% in 2015. Gold lost 10.46% over the course of the year, while the price of silver dropped 11.51%. Platinum group metals fared worse as industrial metal prices responded accordingly to the economic slowdown in China and lethargic growth in Europe. Platinum fell 26.24% on the year and palladium, the worst performing precious metal, lost 29.61% of value. A bear market in precious metals, and commodities in general, caused the overall performance of over 30 commodities to fall by over 17.5% on the year. Gold outperformed the overall performance of raw material prices, which should not come as a surprise. Gold is both a commodity and a currency or a means of exchange. Throughout 2015, uncertainty caused a great deal of volatility in many asset classes. Gold's strength relative to other raw material prices is a reflection of that uncertainty.
Each New Year comes with the promise of a fresh start and a new beginning for markets. While global equity markets and the vast majority of commodity prices began 2016 on a bearish and sour note, gold and silver bucked the trend, moving higher over the first five trading sessions of the New Year.
A rally in the New Year
Gold closed 2015 at $1060.20, with silver closing at $13.803 per ounce. After the first week of trading in 2016, gold was up to around $1103.50 and silver rallied to $13.94. These precious metals posted gains of 4.1% and 1% on the week respectively. It is likely the fear created by tanking equity markets and uncertainty around the world caused a flight to quality for some investors at the very beginning of this New Year.
Gold and silver had been under so much pressure in late 2015, both prices made a series of multi-year lows. The latest low for gold came on December 3, when it traded down to $1045.40 per ounce -- the lowest level since February 2010. Silver traded to lows of $13.62 per ounce on December 14, 2015, which was the lowest level since August 2009. As of last Friday, these metals have appreciated by 5.6% and 2.4% respectively from those lows. The most likely reason for the rally was turbulent world conditions and the effect on all asset classes during the first week of trading in 2016. However, the moves in these two precious metals are eerily reminiscent of moves in early 2014 and 2015, which appears to be a "January Effect" for these high profile precious metals.
The January effect but copper and other commodities go the other way
As the weekly chart for COMEX gold futures highlights, 2016 is the third straight year that the yellow metal has come out of the gate galloping higher.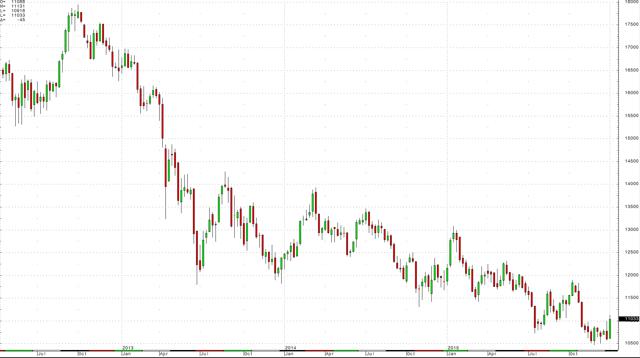 Click to enlarge In 2013, it closed the year at the $1238 level and rallied to $1392.60 by mid-March of 2014. In 2014, gold closed at around $1186; by January 20, 2015, it reached $1307.80 per ounce. In both cases, those highs were the highs of the year. As the chart clearly shows, gold has made lower highs and lower lows over both years; in fact, that is exactly what it has been doing since 2011. Silver has traded in a similar pattern over recent years.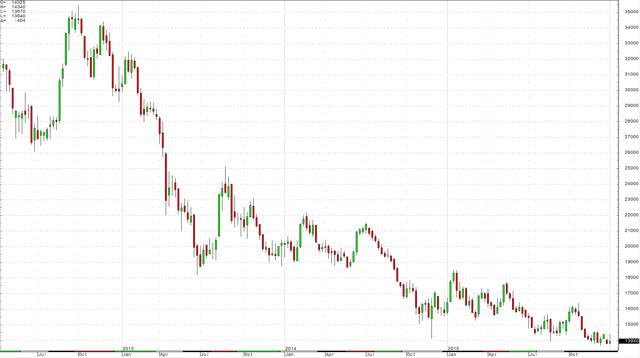 Click to enlargeThe weekly chart of COMEX silver futures shows that in 2013 it closed the year at around the $20 per ounce level only to rally to $22.18 by February 24. Silver closed at the end of 2014 at around $15.80 -- it rallied to $18.505 on January 20, 2015. In both cases, those levels marked the high price for the year and silver, like gold, has been making lower highs and lower lows since 2011.
Therefore, it is too early to get too excited about gold and silver just yet. Gold needs to trade above $1200 and silver above $16.50 to break the pattern of lower highs and lower lows. That may be too much to ask from these precious metals, particularly in light of what other metals and commodity prices are currently doing.
During the first week of 2016, crude oil traded to a new low, the lowest level since February 2003, when it hit $32.10 per barrel on January 7. On the same day, copper traded down to $1.99 per pound, which also was a new low and the lowest price for the red metal since May 2009. Platinum and palladium prices on that day were below the closing prices of 2015, with palladium closing below $500 per ounce for the first time since August 2010. Only gold and silver are posting gains in early 2016. The spread between platinum and gold, which had been correcting in the direction of the long-term norm over recent weeks, has moved back towards all-time lows. The silver-gold ratio has moved from 76.8:1 at the end of 2015 to 79.1:1 as of last Friday. These are not positive signs for the precious metals sector. However, a combination of the "January Effect" and uncertainty across all asset classes, which has attracted some safe haven buying, has boosted the prices of the two high profile precious metals.
Middle East escalation and a hydrogen bomb test in North Korea
Markets are a reflection of the current state of the world. 2016 has started as a very volatile year from a global perspective. On the second day of the New Year, the Saudi government executed a high profile Shiite cleric. This triggered a violent response throughout the Middle East. The Iranians burned the Saudi embassy in Teheran. Saudi Arabia severed diplomatic ties with the Iranian government and kicked their diplomatic staff out of the country. The proxy war in Yemen between the two nations resumed with military action from both sides. Kuwait, the United Arab Emirates, Qatar and Bahrain all cut diplomatic ties to Iran. In the wake of these events, oil fell to its lowest price in almost two decades as there appears to be no chance for production cuts from OPEC whose membership is now not even on speaking terms. The situation in the Middle East continues to deteriorate and peace or relative calm in the region has become even less likely.
On the first trading day of the year, the Chinese stock market tanked and it continued to move lower over the course of the week, finishing the first week of the year down over 10%. The steady slowdown in the Chinese economy reverberated through global markets like a tsunami in 2015 and this continues in 2016 perhaps with fear reaching new highs. Moreover, the situation in Asia became even less stable on Wednesday when the North Korean government potentially tested a hydrogen bomb, causing seismic activity in the region. This sent additional fears rippling throughout Asia and the world. World events in 2016 have caused volatility with a capital V in global markets. At the same time, it is causing divergence with a capital D. The year is just one week old.
Can gold and silver rally in 2016?
There is every reason to substantiate the rally in gold and silver that occurred during the first week of 2016. There is every reason for these two metals to move to higher ground. However, the action in other markets will temper the potential for any explosive price moves. Tanking equity prices, many commodities breaking to new lows and a general environment of deflationary pressures does not bode well for these metals to break out above levels that would end the string of lower highs. Moreover, the dollar index was steady during the first week of 2016; a strong dollar is not bullish for precious metals.
For both gold and silver, breakout levels are clear. Gold must trade above $1200 and silver above $16.50 to break the cyclical bearish patterns. This means that there is lots of upside room for gold and silver right now. Gold has $90 room and silver has over $2 in which to rally over the coming weeks. Time will tell if these metals will finally react to a world filled with uncertainty and volatility. Can gold and silver move higher in 2016 or does the "January Effect" mean it is just another year of lower highs and lower lows for these precious metals? I suspect that the latter will be the case but for now, I am certainly keeping an open mind.
As a bonus, I have prepared a video on my website Commodix that provides a more in-depth and detailed analysis on precious metal markets to illustrate the real value implications and opportunities.
Disclosure: I/we have no positions in any stocks mentioned, and no plans to initiate any positions within the next 72 hours.
I wrote this article myself, and it expresses my own opinions. I am not receiving compensation for it (other than from Seeking Alpha). I have no business relationship with any company whose stock is mentioned in this article.
Additional disclosure: The author always holds a percentage of his portfolio in precious metals. That percentage varies according to market conditions.