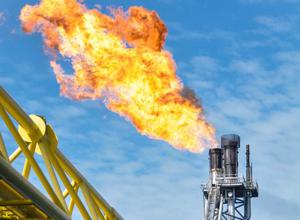 Natural gas prices fell by 19.12% in 2015. On December 31, 2015, the price of the energy commodity closed at $2.337 per mmbtu. So far in 2016, the price has moved higher. Natural gas trading is certainly not for the faint of heart. This commodity is one of, if not the most, volatile commodities that trades in futures markets. The price action reflects the combustible nature of the commodity itself. Since December, it has certainly lived up to its reputation. Natural gas never ceases to amaze and it is likely to continue doing just that.
A wild fall and early winter
In late October, the price of natural gas fell below the $2 level for the first time since 2012. In December, it took out all support dating back to the late 1990s when the price fell to lows of $1.6480. It looked like natural gas was heading for zero. However, since then natural gas has been on a tear; the price closed last week at the highest level since mid-October when it closed at $2.477 per mmbtu. It has been an amazing move in natural gas; the price has rallied by over 47% in less than one month.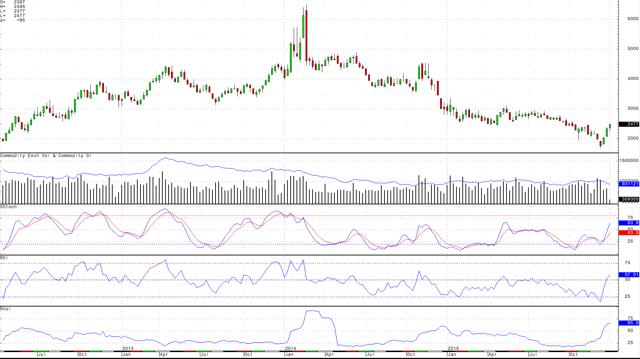 Click to enlarge
The weekly chart of NYMEX natural gas futures highlights just how crazy this market has been over the past month. After trending down and making lower lows and lower highs since May 2015, we have seen this market come back to life in late 2015 and early 2016. As the market closed last Friday just below the highs of $2.495 and momentum indicators like the slow stochastic point to even higher prices, there are reasons to be very cautious about this rally.
Weekly historical volatility has increased from under 20% in October to 66% as of last week. Daily historical volatility is even higher at almost 71%. The thing that is bothering me about the move in natural gas is the dramatic adjustment in open interest during the rally that launched the price higher. Open interest is the number of open long and short positions in NYMEX natural gas futures contracts. This metric stood at 1,043,474 contracts on December 11, 2015. Last Friday the number of long and short positions was at 931,121 contracts - a decrease of 10.77% in one month. Rising price and declining open interest is NOT a bullish technical signal in the world of futures trading. This action in open interest tells us that shorts covered positions and new longs are not coming to the market. It also tells us that shorts are waiting on the sidelines perhaps chomping at the bit to sell short once again.
New support levels are far below the current price
The price action in December did so much damage to the long-term technical position of natural gas that there is now a huge amount of room in the commodity on the downside. The price closed last Friday close to $2.50 and key support is down below $1.70 - this is a prescription for some big volatility and wide price ranges in the weeks ahead.
It is getting colder
When natural gas was making lows in November and December, people were wearing tee shirts and shorts in New York City, Boston and Chicago. A light winter jacket was all that was necessary to protect against the elements at a football game in Buffalo, New York. The beginning of the winter season was unseasonal to say the least. Now that we are in the heart of winter, things are getting back to normal. New York and Boston are seeing temperatures dip below freezing, and Chicago is expecting some single-digit readings. Natural gas is responding to the weather these days.
With declining open interest or market positioning, natural gas has now become a weather derivative and it is likely to stay that way for the rest of the winter. That is, unless the shorts decide to descend on the market once again.
Inventories remain high and energy is ugly - a reversion to the mean
Last week we had the biggest inventory withdrawal of the season when the EIA announced that stockpiles dropped by 113 billion cubic feet to 3.643 trillion cubic feet as of January 1. There was a slight adjustment in inventory numbers as the Energy Information Administration reported a reclassification of four billion cubic feet from base gas to working gas in the South Central Nonsalt region of the US.
Stocks now stand at 3.643 bcf, which is 17.2% above last year's level, and 14.6% above the five-year average for the beginning of January. The bottom line is that even if it is freezing every day until the spring season, there is plenty of natural gas to meet all heating demand for the next 3-4 months.
Meanwhile, the price of crude oil has not recovered with the price of natural gas; in fact, it has gone the other way. NYMEX active month crude oil traded to the lowest level since February 2003 last week when it moved to lows of $32.10 per barrel. February crude oil futures closed last Friday at $33.16 per barrel.
The rally in natural gas and the weakness in crude oil have sent the relationship between the two energy commodities back to a level not seen since March 2009.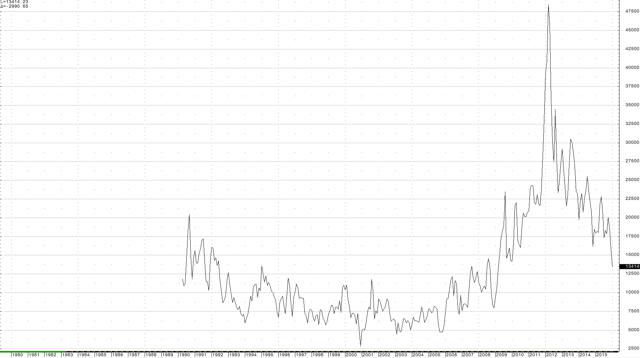 Click to enlarge
The monthly chart of the price of crude oil divided by the price of natural gas tells us that a huge correction has occurred in these energy markets. As the chart highlights, the correction has taken the relationship between these two commodities closer to the long-term historical mean. This is important, as there had been a multi-year divergence between the price of oil and gas, which has now corrected itself.
Expect prices below $2 once again before long
Inventory levels remain high, and there are huge reserves of natural gas in the United States. However, prices fell to a level that presented an uneconomic future for many producers. Over the past month, we have seen relief and a very wide trading range develop. While I do not expect us to revisit the December lows, I do expect the shorts to take another swipe at the natural gas market soon. The next time we get some warm weather in the North East and Mid West, expect them to come back in force. The key metric to watch is open interest, which could start to rise once again if the price begins to correct lower.
Meanwhile, a wider trading range in this volatile commodity means that there will be plenty of trading opportunities over the next three months. For those of you brave enough to trade in the NYMEX natural gas futures contracts, selling rallies and buying dips could be the best strategy for the weeks ahead. For those of us too chicken to wade into the risky waters of futures markets, UGAZ and DGAZ - the Velocity Shares 3X long and short natural gas ETN products - could be a great way to approach this market. Buy the DGAZ on rallies in natural gas scale down. Take profits on dips in the natural gas price and at the same time buy UGAZ on price dips in the commodity with the goal of taking profits on rallies. I have a feeling that we may get to repeat this pattern of trading several times over coming weeks and months. UGAZ closed last Friday at $2.90 per share and DGAZ closed at $10.12 per share.
Natural gas made new short-term highs last week as crude oil made new long-term lows. The combustible energy commodity closed the week at the highest level since October after making decade and a half lows less than one month ago. This is a great trading market with lots of opportunity. Make sure to keep an eye on the weather. That could be the best indicator of where the price of natural gas heads next.
As a bonus, I have prepared a video on my website Commodix that provides a more in-depth and detailed analysis on natural gas to illustrate the real value implications and opportunities.
Disclosure: I/we have no positions in any stocks mentioned, and no plans to initiate any positions within the next 72 hours.
I wrote this article myself, and it expresses my own opinions. I am not receiving compensation for it (other than from Seeking Alpha). I have no business relationship with any company whose stock is mentioned in this article.