Credit Suisse published interesting research in 2009 on the superior performance characteristics of high yield, low payout ratio stocks.
Jeff Paul, a Seeking Alpha contributor, put together an interesting portfolio in a recent article based on an approach related to that Credit Suisse report. He tweaked it a bit with a dividend growth factor.
For additional perspective, we thought it would be interesting to see what analysts and technicians might think of that selection.
The Credit Suisse research report detailed data from 1990 through 2008 on the performance of various combinations of low medium and high yield, and low medium and high payout ratios, and also the performance of those combinations versus non-dividend paying stocks.
That report showed that high yield, low payout ratio stocks outperformed other varieties of dividend stocks, as well as non-dividend stocks, over the majority of the calendar years from 2001 through 2008.
High yield, low payout ratio stocks were tops for the full period from 1990 - 2008 in that research.
Some form of dividend stocks outperformed non-dividend stocks in each of the years from 2001 through 2008, except for 2003. The exception in 2003 was a stock market bottom year. It is logical to assume that during a rapid recovery period, more "growthy" stocks, which tend to be more in the non-dividend category, would outperform.
Jeff Paul's Model Portfolio:
For each stock in Jeff's model portfolio, the table in this image shows the Fidelity version of the Thompson Reuters Star Mine rating, the S&P Stars rating, and the BarChart technical rating.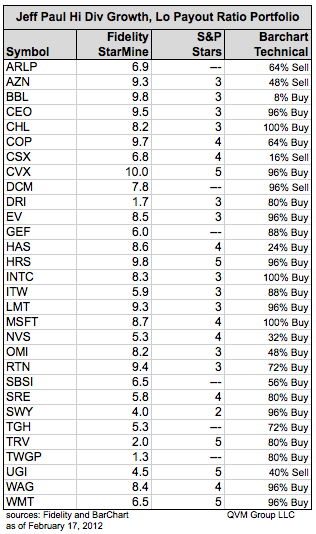 Click to enlarge
A bullish rating from StarMine is 7.1 or above. A bullish rating from S&P is 4 or above. A bullish rating from BarChart is 50% Buy or more.
Balancing Quantitative and Qualitative Filters:
We like Jeff's general idea, and hold several of the stocks that he put together in his model portfolio.
This table points out the pulls and tugs that investors experience when they make decisions. On the one hand a logical, historically valid quantitative selection process suggests one thing, and then analysts may suggest the opposite.
Some of the divergence is the difference between a long-term and short-term perspective; and some of the divergence is based on looking back (factually) versus looking forward (subjectively), and some is due to the divergence between fundamental and technical perspectives.
Where Objectivity and Subjectivity Converge:
Perhaps the best situation is when all the stars align (either that or its the worst situation because it is full consensus).
The best alignment of Jeff's generally quantitative selection process and the analyst views presented here are for these stocks:
CEO: CNOOC
CHL: China Mobile
COP: ConocoPhillips
CVX: Chevron
EV: Eaton Vance
HRS: Harris Corp
INTC: Intel
LMT: Lockheed Martin
MSFT: Microsoft
RTN: Raytheon
WAG: Walgreen
We recently published a related article about the valuation differences between dividend stocks and non-dividend stocks that you may also find of interest.
Disclosure: QVM has long positions in ARLP, BBL, COP, CVX, INTC, MSFT, NVS and RTN as of the creation date of this article (February 19, 2012).
Disclaimer: This article provides opinions and information, but does not contain recommendations or personal investment advice to any specific person for any particular purpose. Do your own research or obtain suitable personal advice. You are responsible for your own investment decisions. This article is presented subject to our full disclaimer found on the QVM site available here.