By Fathom Consulting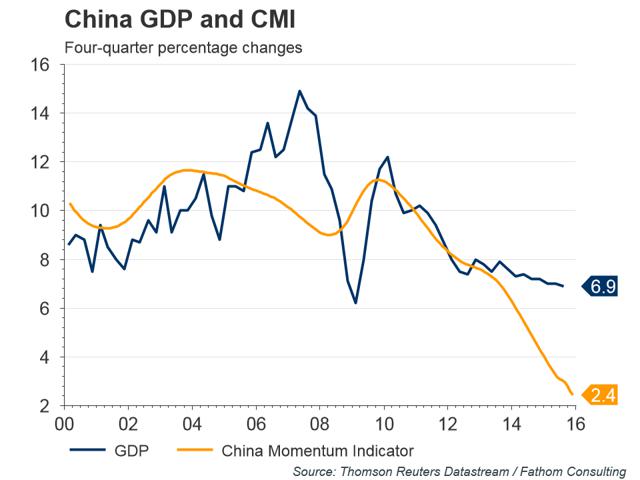 Click to enlarge
Regular readers will be aware that we have long questioned the legitimacy of China's official GDP statistics. Pointing to only a mild growth deceleration, we find these impossible to reconcile with a whole host of alternative evidence, not least our own measure of China's economic activity (our CMI) which suggests that growth could be as low as 2.4%.
Combining nominal bank lending, rail freight volumes and electricity production, some have suggested that our CMI does not adequately capture China's much-vaunted rebalancing away from investment and export-orientated growth, toward consumption. While it is possible that our CMI does over-represent the manufacturing and construction industries, we find precious little evidence of meaningful economic rebalancing even when casting our net further afield.
The purpose of this piece is to present our findings, starting with the table below which summarises a variety of indicators, their recent movements, and whether they are indicative of a 'good' rebalancing or not.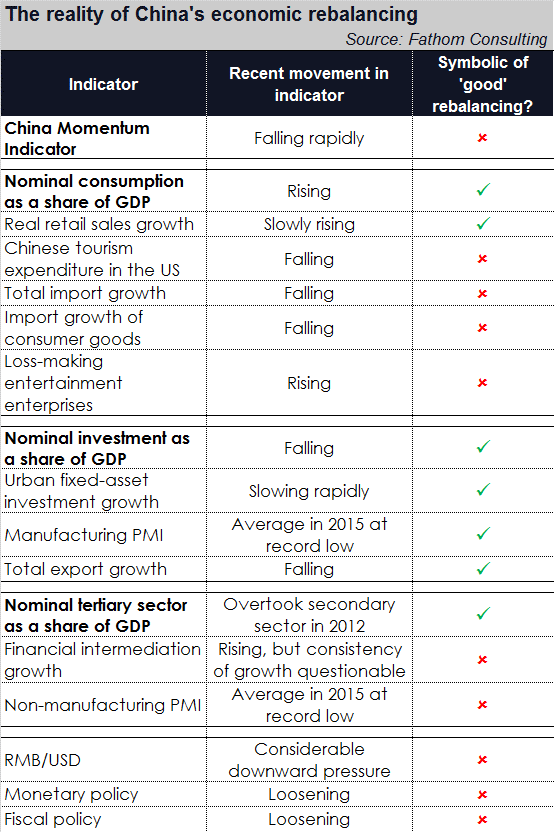 While there is evidence that the old growth engine, powered by manufacturing, investment and exports, has started to stutter, we find far fewer indicators that point to a pickup in consumption. This is contrary to China's official GDP breakdown, which suggests that activity in the tertiary sector is not only the largest as a share of nominal GDP but also the fastest growing, with annual growth outpacing that of both primary and secondary industries. As a consequence, it is now touted as China's new growth engine. We take issue with that on several fronts.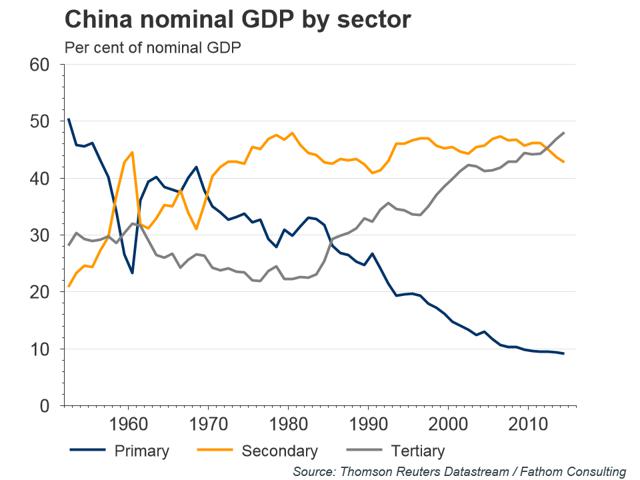 Click to enlarge
Firstly, although the composition of growth may appear to be moving in the desired direction, that movement has been amplified by slowing secondary sector growth - rather than a meaningful pick up in private consumption. Indeed, on a 12-month smoothed basis, retail sales growth has decelerated sharply.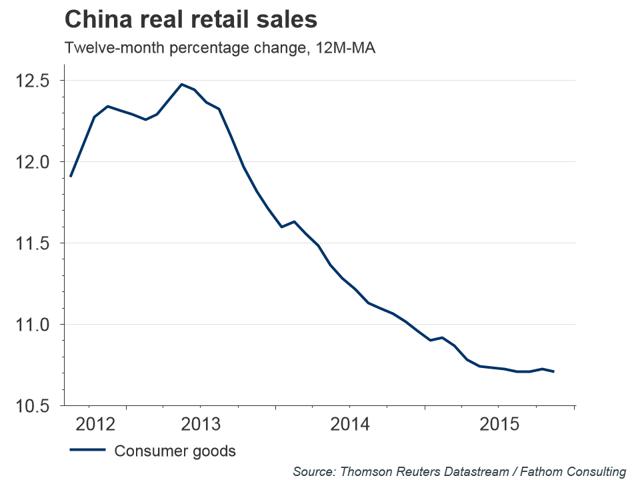 Click to enlarge
Other measures of consumer demand also point to a diminishing appetite. For example, official data reveal that there has been a marked contraction in Chinese import demand, with consumer goods imports falling 12.4% in the year to November on a 12-month summed basis.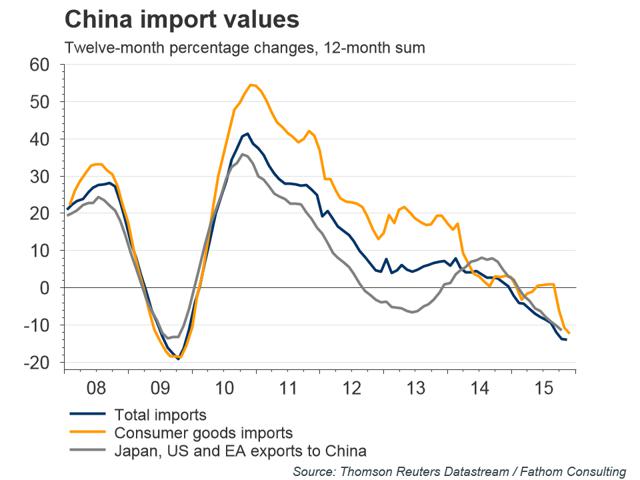 Click to enlarge
In addition, Chinese tourists appear to be spending more cautiously, with expenditure per person visiting the US falling consistently since 2011. Tellingly, this occurred over a period when the renminbi was strengthening against the US dollar.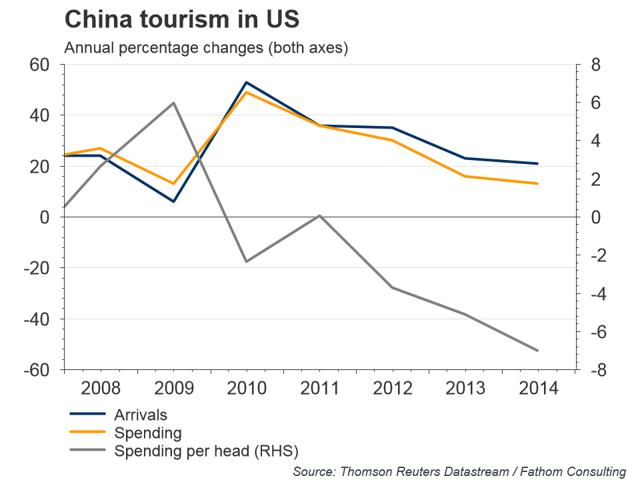 Click to enlarge
Secondly, we find the reported strength of the tertiary sector in 2015 questionable. As our chart illustrates, with the exception of financial intermediation, all other service sector subcomponents have performed insipidly since the global financial crisis. This is echoed in both the official and Caixin PMI surveys, which reveal that although activity in the non-manufacturing sector is expanding, it did so at its slowest pace on record in 2015.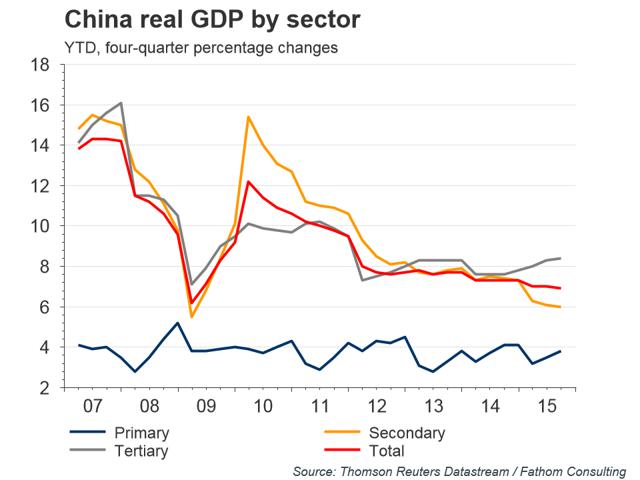 Click to enlarge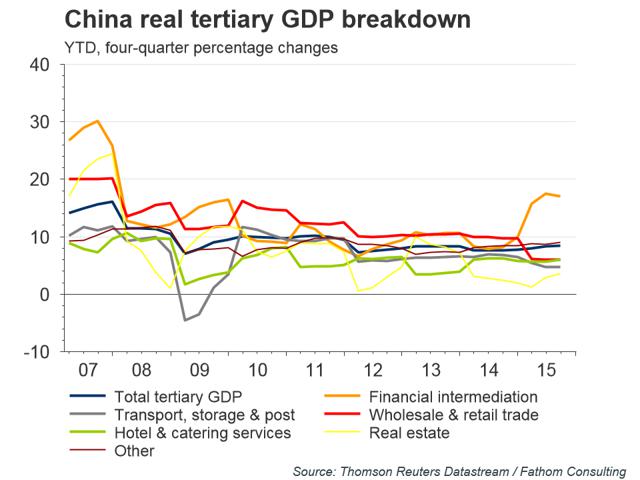 Click to enlarge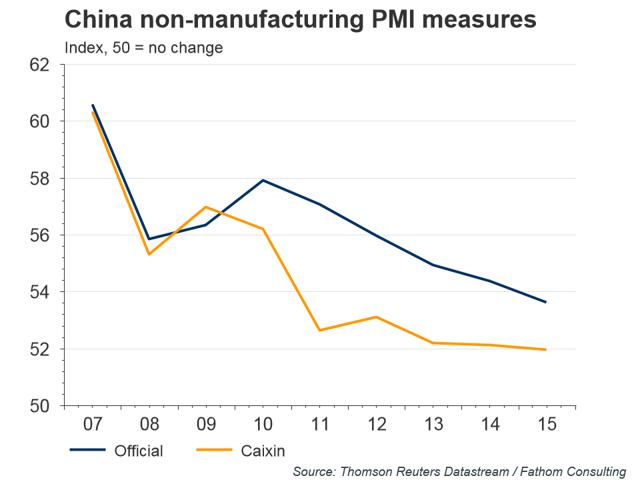 Click to enlarge
Moreover, we find the strength of the financial services subcomponent difficult to understand. Indeed, with its growth so closely related to China's equity market performance, it is surprising that the third quarter stock market collapse did not exert more of a drag.
In addition, since last July, a ban on equity sales by large shareholders has stifled transaction volumes. Nevertheless, according to China's National Bureau of Statistics, the sector's annual growth merely dipped 0.5 percentage points to 17% between the second and third quarters in 2015.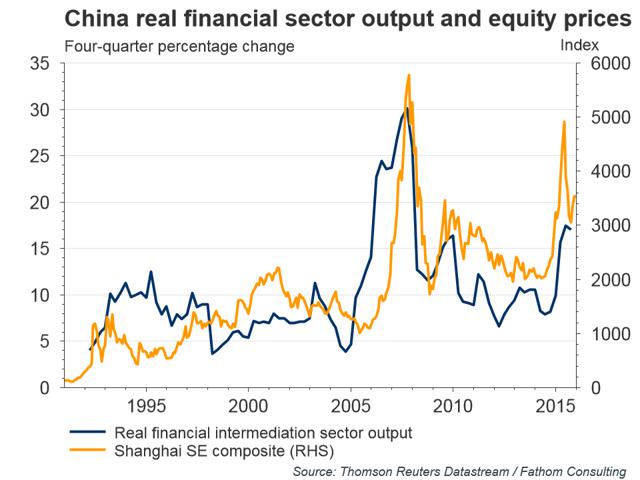 Click to enlarge
Recent movements aside, we also find the sheer size of China's financial sector somewhat questionable. Based on official statistics, it is almost the same size as the US when measured as a proportion of total nominal GDP. Meanwhile, other gauges of financial integration, such as the proportion of ATMs and commercial bank branches, are far lower in China than the US.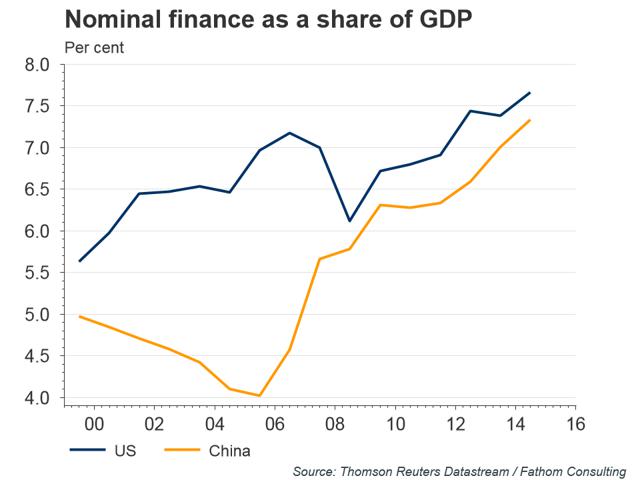 Click to enlarge
Within the tertiary sector, the 'other' category officially accounts for almost 40% of the sector's output, and 20% of total GDP. Nevertheless, the category is shrouded in mystery, with no up-to-date detailed breakdown publically available.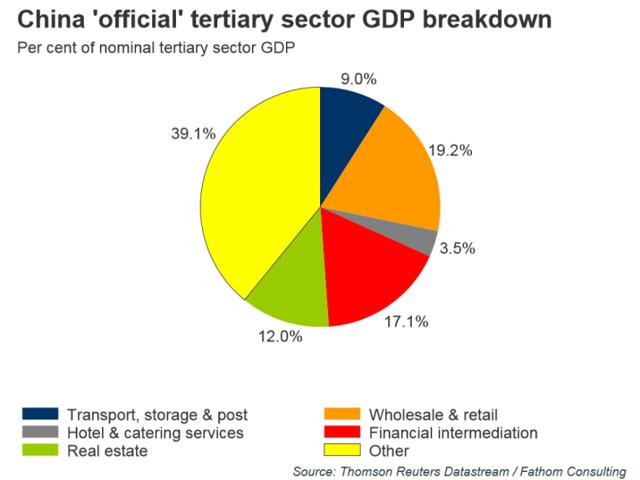 Click to enlarge
One of the subcategories included in 'other' is 'culture, sport & entertainment.' This is relevant since some media commentators have pointed to surging cinema ticket sales as a symbol of consumer strength. When looking into this, however, we found anecdotal evidence that suggests that public welfare screening tickets - free to cinemagoers - have been included in sales figures, inflating the total. This, coupled with a growing number of loss-making enterprises within the industry, leads us to question the validity of citing cinema ticket sales as a sign of robust consumer demand.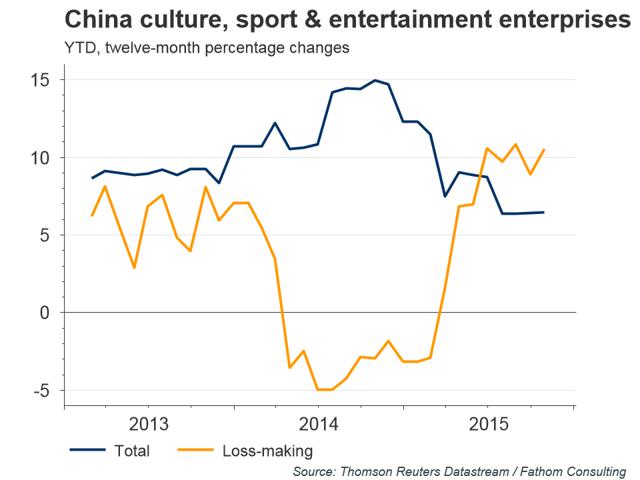 Click to enlarge
Other sectors which are believed to be beacons of consumer strength are health care and education. Although no official GDP breakdown is available, other data such as the number of hospital beds and the proportion of higher education students confirms that they are strengthening. Even so, the degree to which this reflects buoyant consumer demand, as opposed to greater public expenditure, is open to debate.
Indeed, due to an ageing population and a rapid rate of urbanisation, providing state-subsidised benefits such as healthcare and education has risen up the government's list of priorities. Consequently, healthcare is now more affordable than ever to Chinese citizens, with the proportion of total health expenditure paid by individuals having halved to around 30% since 2000. Over the same period, the number of hospital beds per 1000 citizens has doubled.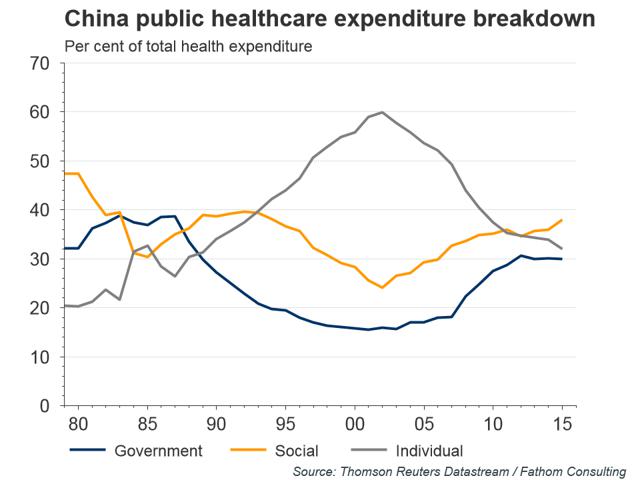 Click to enlarge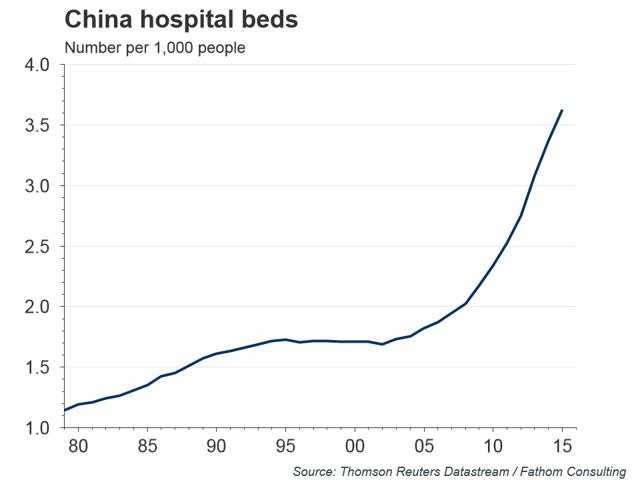 Click to enlarge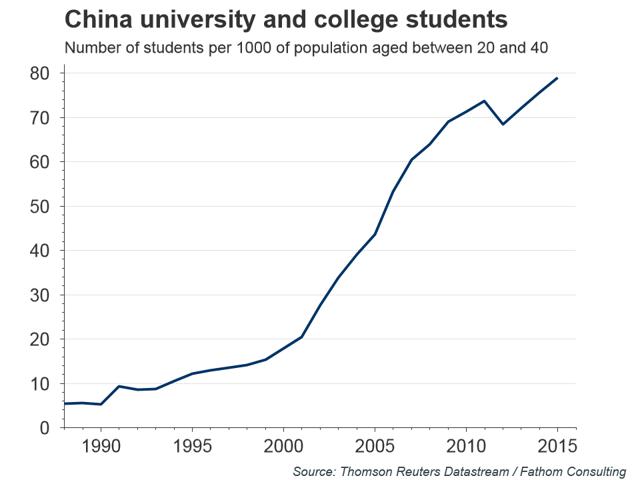 Click to enlarge
In our view, the ongoing series of stimulus measures employed by the Chinese government merely highlights their discomfort. Quite simply, we believe that their actions belie their words. China is suffering a hard landing.
This week's stock market volatility suggests that investors are also concerned, with a confluence of factors triggering wild gyrations. As capital outflows persist, pressure on the People's Bank of China to let the renminbi depreciate further will intensify. Already, despite authorities selling a record US$108 billion of foreign exchange reserves in December, the spread between the offshore and onshore rate is at its widest in years.
Struggling to rebalance and restore economic growth internally, we believe that the People's Bank of China will eventually give in to this pressure and allow the renminbi to depreciate substantially. This has been a key feature of our global economic forecasts since the beginning of 2015.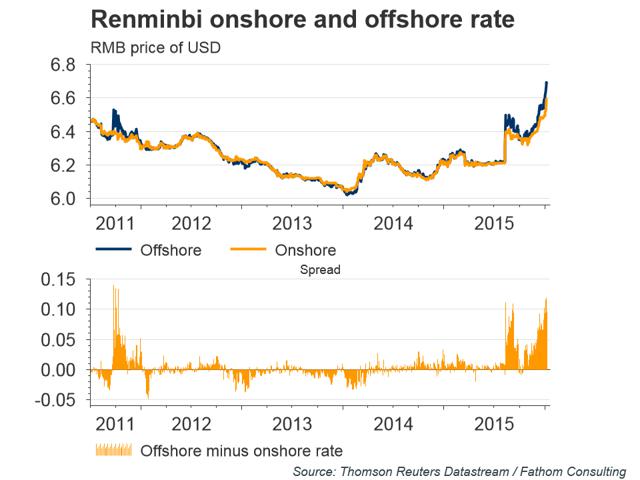 Click to enlarge
Disclosure: I/we have no positions in any stocks mentioned, and no plans to initiate any positions within the next 72 hours.
I wrote this article myself, and it expresses my own opinions. I am not receiving compensation for it. I have no business relationship with any company whose stock is mentioned in this article.