Background
S&P Ratings has been a core business in McGraw-Hill Companies' (MHFI) portfolio of businesses, generating roughly 47% of its overall revenue and 54% of operating profit. The margins generated are high, with EBIT margins hovering around ~40% (excluding the impact of the latest $1.5B fine).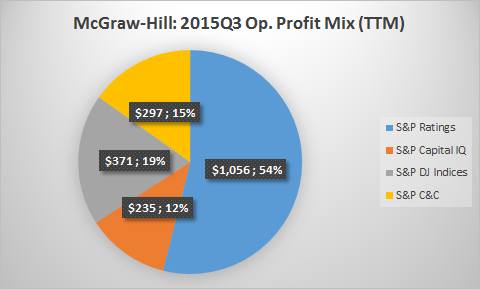 (Source: Author's Work)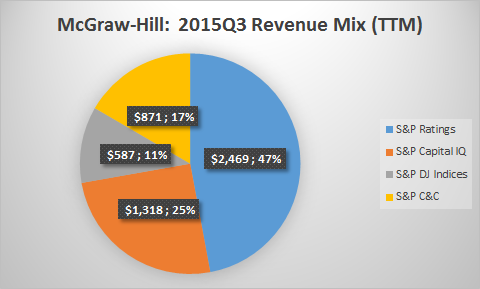 (Source: Author's Work)
Over the past few years, rating agencies like S&P and Moody's (NYSE:MCO) have benefited from the strong demand for bonds from yield-hungry investors and cash-hungry corporates, resulting in a dramatic rise in bond issuance and hence rating fees. This was a direct result of the Fed's ZIRP policy, which spurred higher corporate and federal borrowing.
However, as the US raises rates, bond issuance should trend down and S&P Ratings should experience stagnant growth or even a decline. We think this is material for MHFI's share price given its large contribution to the overall share price and profit. Furthermore, when examining S&P's revenue and profit growth over the past few years, growth rates have been stuck to the low single digits, even during an unprecedented boom in corporate bond issuance and a build-up of total outstanding bonds. Therefore, we think the performance of the rating segment should weigh heavily on MHFI's share price over the next few years.
Great Market Position, But No Room For Growth
Like fellow competitors Moody's and Fitch, S&P profits from issuing credit ratings on debts and other financial instruments that are issued by other financial entities to raise funds or for market-making purposes. Some well-known examples include the collaterized debt obligations (CDOs) that were the epicenter of the 2008 Financial Crisis, but the bulk of revenue comes from rating more "plain-vanilla" securities such as corporate bonds, asset-backed instruments, government securities and other more openly-traded financial assets.
S&P operates in a saturated oligopoly, with the three biggest players (Fitch, Moody's and S&P) commanding over 95% of market share. There are a handful of smaller NRSROs, but none of them have a meaningful stake in the credit rating market. Hence, S&P enjoys a fairly comfortable position as one of the few licensed NRSROs whose ratings have an influence on the borrowing ability of financial institutions. However, the fact that the market is saturated with three strong players means that it is very difficult for any one to compete for a larger piece of the pie from the other two. The statistics show the market share proportions have been fairly stagnant and are unlikely to change in the next few years.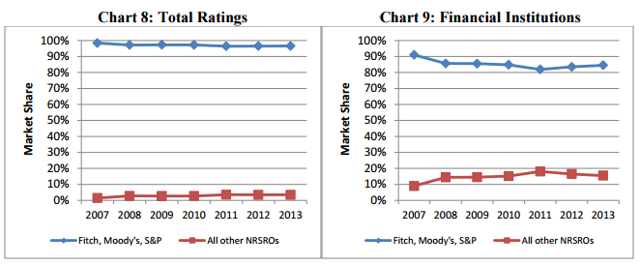 Click to enlarge
(Source: Annual Report to Congress on NRSROs)
When we break down their market share into specific product categories, neither player has an overwhelmingly dominant share in a segment, although S&P has a bigger presence in government and corporate securities.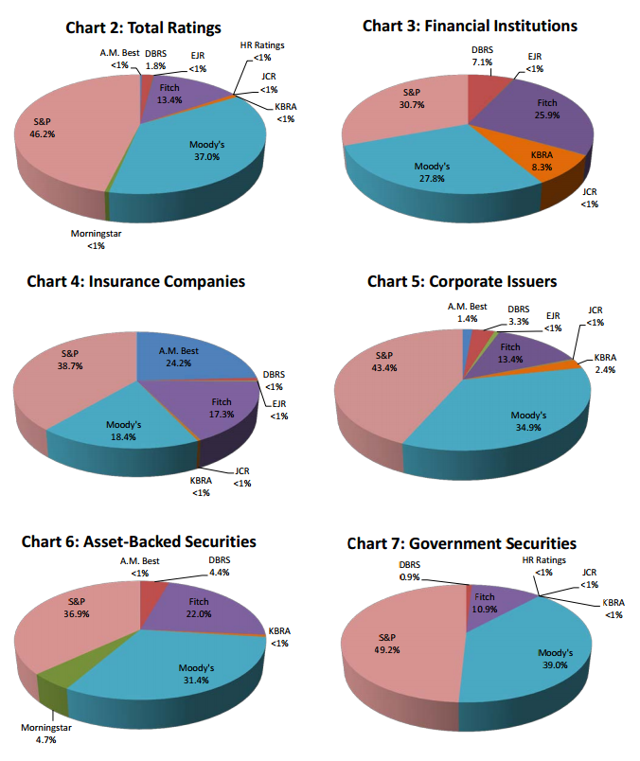 Click to enlarge
(Source: Annual Report to Congress on NRSROs)
Ratings For Asset-Backed Securities Should Remain Flat
Since hitting a peak in 2008, data shows the number of outstanding asset-backed securities has fallen by roughly 30% since its peak in 2007. Accordingly, the number of outstanding ratings has fallen by 40%. Although this trend has now stabilized and shows signs of an uptick, data thus far suggests that a significant move upward is unlikely. In other words, the income stream for rating asset-backed securities is likely to remain flat.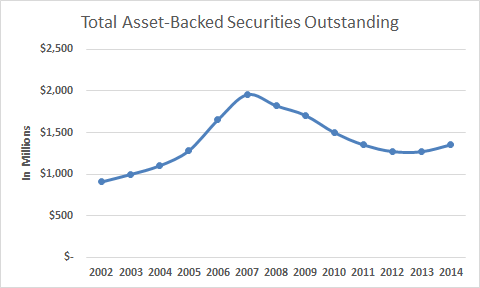 (Source: Author's Work)
Lower Corporate Bond Issuance Will Affect Growth
Due to the Fed's ZIRP policy for the past 6-7 years, yield-hungry investors have looked to corporate securities for higher yields, and debt-hungry corporates have issued skyrocketing amounts of debt to raise cheap cash. This reciprocal interplay has resulted in a dramatic rise in corporate debt issuance, which has been a major boon for rating agencies like S&P.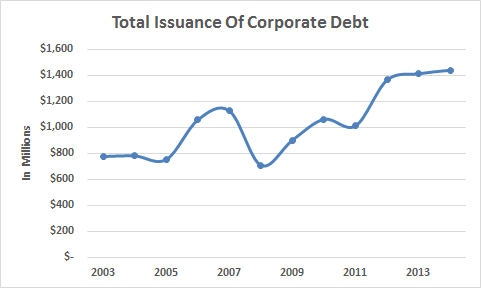 (Source: Author's Work)
Seen above, the rate of issuance has far surpassed the boom times of 2006-2008 and has more than offset the decline in rating fees for asset-backed securities, which is a much smaller segment. However, even in the context of rising corporate debt, S&P's growth has been lackluster even as demand for corporate ratings have been strong (this is in addition to the fact that S&P has the largest share of the corporate ratings market at nearly 50%). Furthermore, earnings and revenue growth seem even more fragile when we consider that the rate of overall debt issuance has increased significantly since 2008, with spikes in 2010 and 2012.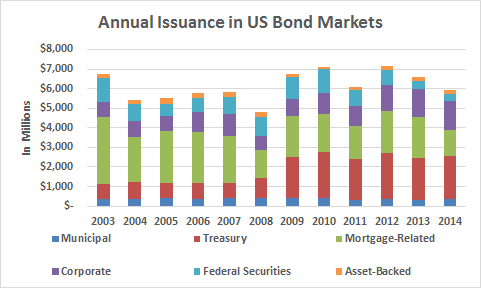 (Source: Author's Work)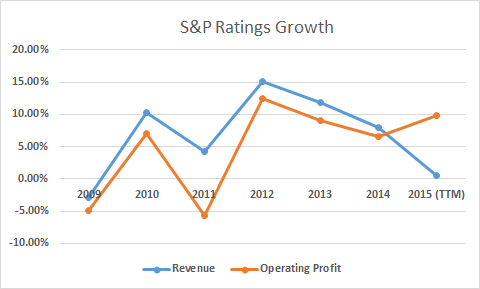 (Source: Author's Work. Note that earnings growth for 2015 (TTM) may not be comparable to actual data as we added back the large $1.5B fine levied on S&P in Q4 2014. There will be greater visibility after FY2015 results are released, and we expect a far lower operating income growth in line with the past trend.)
If growth was anemic in favorable conditions, surely we would expect a weaker trajectory going forward given that rising rates and lower liquidity should dampen the appetite for new debt. Moreover, given the disappointingly poor performance of high-yield junk bonds last year, investors are wary of sinking cash into the junk bond market, and the corollary is that less high-yield debt will be rated and issued.
Therefore, growth for S&P Ratings will be limited in the next few years, given that the market remains saturated and overall corporate debt issuance and appetite for yields are likely to decrease. Moreover, we've observed weak growth even in the context of strong issuance data, which suggests S&P is not able to capitalize to a greater extent on these trends. Thus, the most logical outcome is that growth will be subdued, particularly since the majority of S&P's business comes from corporate ratings.
Conclusion
With MHFI priced richly at a forward P/E of ~18.5 and a P/FCF of 17.4, investors need to take a second look at MHFI's growth assumptions for the next few years. Given that growth contribution from S&P Ratings will remain stagnant or even experience declines, we believe the share price has not adjusted for the likelihood that rising interest rates will decrease the rate of bond issuance (particularly corporate). Thus, unless the other three segments can pick up the slack, we think MHFI's high valuation may not be sustainable in the context of weaker growth in S&P Ratings.
Disclosure: I/we have no positions in any stocks mentioned, and no plans to initiate any positions within the next 72 hours.
I wrote this article myself, and it expresses my own opinions. I am not receiving compensation for it (other than from Seeking Alpha). I have no business relationship with any company whose stock is mentioned in this article.