Freeport-McMoRan (NYSE:FCX) is trading at just $5.93 a share. We have not seen the company hit a price this low since 1999. There are multiple considerations for Freeport-McMoRan now that the new year has begun, most notably the Q4 earnings report coming up at the end of the month. While I believe it will miss on earnings because of the continued negative effect of the oil and gas assets, we are entering a level that really pushes for new longs to enter because of the favorable risk/reward scenario.

Click to enlarge
The Negativity Continues
Fortunately, I believe Freeport-McMoRan understands the full gravity of the mess it is in. It has made it clear that it is going to take the proper steps towards positive free cash flow and debt reduction, but everywhere you look it's FCX trading in the red. For example, Macquarie downgraded FCX to kick off Friday's session.
The real problem that current longs need to watch out for is the potential credit downgrade by Moody's. The company's debt is currently rated Baa3 and the next mark is junk - a very negative sign for the future of this company as well as for shareholders. This downgrade will likely be triggered from another significant decrease in the price of copper. Getting downgraded to junk means the weight of $19.8 billion in debt becomes magnified to the public. The rating further hinges on getting the oil and gas assets off the books to stabilize its margins. If the assets are delayed to be sold past the six-month mark that management indicated on their Q3 earnings call, the downgrade would be nearly imminent.
Thus, keeping an eye on the debt/EBITDA ratio after the quarterly calls this year is going to prove to be highly useful. Moody's has indicated any sub-4x target is unrealistic over the next two years, but in the longer term, they want to see it at 3.75x. Although Freeport-McMoRan has had amendments to its credit facility to allow it higher leverage, it has to come down or the company will be subject to penalties.
Furthermore, the chairman of the board and co-founder stepped down on December 28, which is not exactly the positive signal shareholders were hoping for to lead them into the new year. The man is getting an $80 million benefit package, which is an absurd amount of cash that the company cannot afford to lose right now. While I can't make a full judgment call on whether or not he deserves it (failing equity vs. five decades of service to the company), the fact of the matter remains that a delay in the package would have been welcomed. After all, cash assets at the end of Q3 totaled just $294 million via the 10-Q.
Copper Rebound Remains To Be Seen
To reiterate Freeport-McMoRan's exposure that per $0.10/lb change in the price of copper results in a cash flow change of $330 million. This will likely change now that more production (350 million pounds of copper per year curtailed) is being taken offline and capex has been cut significantly. Below is the one-month view of LME copper prices, and despite trending higher on the back half of December, the recent global equity rout to kick off the new year has sent copper down considerably.
Click to enlarge
Source: Bloomberg
A step in the right direction is going to be getting the oil and gas assets off of the books. The company's exposure of per $5/bbl change, cash flow changes $170 million is far too high for what the market views as a near copper pure play. The disappointing part is that Freeport-McMoRan has had more than enough time to get these assets off the books, but we've yet to see any moves by management. While I don't doubt that the sale of these assets will be positive for the stock price, they are still going to cause a major loss on the Q4 ER.
Another positive is that the company has a more realistic budget to work with for 2016, although current market conditions are undercutting it. It has estimated OCF will cover capex by $600 million if copper averages $2.00/lb (Comex) and the WTI averages $45/barrel. As the WTI continues to fluctuate around $34/barrel, we can already see a significant impact to cash flow. That concerns me as when the company had to dilute outstanding shares via an additional equity raise to bring in $1.6 billion in short-term funding, that future dilutions could occur for longs.
As a reminder, China accounts for 45% of global copper consumption and the data we are receiving from the country is increasingly negative. Chinese PMI continues to fall, with December showing another sub-50 rating at 48.2. What was interesting about China last year is that in Q1-Q3 demand for copper actually rose 0.5%, but because it was down from 2014 levels, FCX felt a negative effect. Global copper demand, however, fell 3.5% in the same time frame. Avoiding an economic stall in China is the primary goal of their government, but we've yet to see any tangible reform pushed. Perhaps it's too early to be so pessimistic as the announcement was just made a few weeks ago. That announcement, interestingly enough, led to a 16% spike in FCX.
It's also interesting that there has been a cut of nearly 1.8 mmt copper capacity globally since 2011, and yet we're are still seeing these depressed prices.
Trading For The LT
There are certain requirements I have for initiating a position in a company like FCX. To make a solid, multi-year investment, I need to have the patience and understanding that this company will not go bankrupt and then let the cyclical nature of commodities work themselves out. Thus, waiting for more short-term tailwinds like the supposed "January Effect" to kick in is a long-shot, especially with the current market we're seeing. The risk/reward is incredibly favorable, but it is increasingly hard to be optimistic with so many headwinds, like those presented above.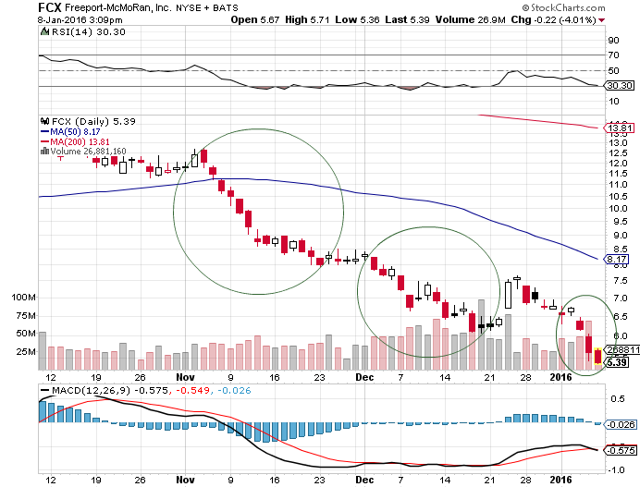 Click to enlarge
Source: StockCharts
Commenters every time ask me where the short opportunity is with Freeport-McMoRan, and if you just look at the graph above, the windows are clear. I mean, wow, $12.50 to $5.39 in just over two months. To give you an idea of just how bad this is, look at the chart below.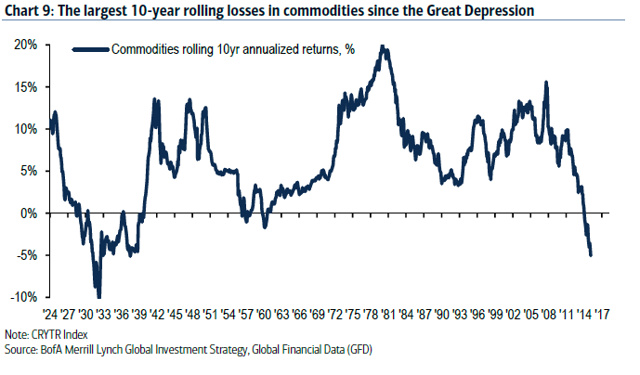 Click to enlarge
Source: Driehaus Capital Management
All commodities are feeling the pain, and shorts have had an excellent week on the market as a result. Freeport-McMoRan was no exception. The company is down considerably in the last three sessions. I actually closed my short on FCX this week on the basis of surpassing my tolerance but am re-examining a new short position as I believe we'll likely see stronger runs down. What's interesting is that the stock is fluctuating at a level Vale (NYSE:VALE), an iron ore producer, was at $5.00/share a few months ago and every commentary I read kept hyping up the potential recovery because of the improved risk/reward scenario. That stock is now trading at $2.63.
Furthermore, the $0.20 annual dividend has now been cut, and while I agree with management's decision for cost savings, it does come at the expense of shareholder value. The current yield, had it not been cut, would represent 3.65% - over a percentage point higher than the average S&P 500 yield.
Conclusion
If you're going to take a long position, I'd advise you not to sell for several years. All you have to do is be sure that this company will not go bankrupt and wait for the cyclical environment to begin its upswing, whenever that may be. Yet, a credit downgrade to junk would make a bankruptcy all the more likely. If the company does not go bankrupt, we'll likely see further production cuts (detrimental to financial health in this low-priced environment) and non-oil and gas asset sales to pay down debt. Earnings estimates are currently at -$0.06 for EPS on revenue of $4.11 billion. This would represent a 21.6% decline YOY. I'm bearish on FCX and believe these metrics will not be beat.
Disclosure: I/we have no positions in any stocks mentioned, but may initiate a short position in FCX over the next 72 hours.
I wrote this article myself, and it expresses my own opinions. I am not receiving compensation for it (other than from Seeking Alpha). I have no business relationship with any company whose stock is mentioned in this article.