On June 15, 2015, I wrote an article for Seeking Alpha entitled, Long Archer Daniels Midland and Short Bunge: A Response to Emerging Market Conditions. In that piece, I argued that the weakness in Brazil would result in a better performance for Archer Daniels (NYSE:ADM) as opposed to Bunge (NYSE:BG), as BG has a serious commitment in the South American nation.
In the article, I wrote:
"Survival of the fittest is the key concept for the grain business for the future. Given the strong market cap of ADM compared with BG, the fact that ADM trades at a lower multiple and BG's commitment to a difficult market, Brazil, I favor ADM over BG today. While BG has marginally outperformed ADM since March, ADM is trading at all-time highs while BG remains over 30% below its all-time highs.

Regardless of what happens with this year's crops I believe that ADM will outperform BG in coming months and years. The economic and political problems in Brazil and increased Chinese competition could cause problems for Bunge. Therefore, long ADM and short BG is a grain and emerging market opportunity that begs for consideration at today's prices".
The bottom line is that last year's harvest was huge, grain prices moved lower and the shares of both companies tanked.
A bad year for grain prices
It has been an ugly six months for agricultural commodity prices. The price of soybeans fell from $9.71 per bushel on June 15 to just under $8.80 on the nearby January futures contract.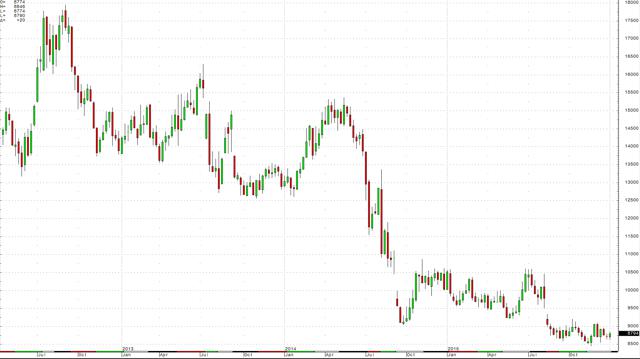 Click to enlarge
The weekly soybean chart highlights the price action in the agricultural commodity. Active month March soybean futures are even lower, closing last Friday at $8.6525 per bushel. The action in the corn market was subdued. On June 15, 2015, the price of corn was at the $3.5325 level.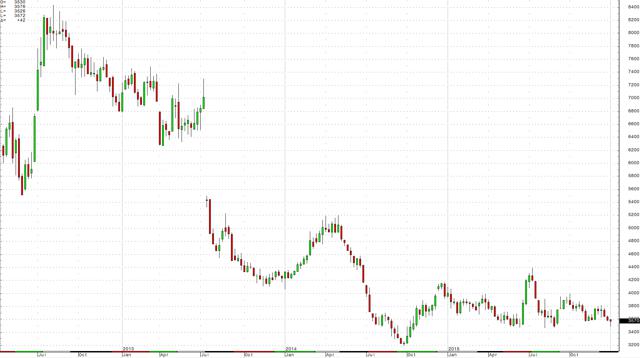 Click to enlarge
The weekly corn chart highlights that corn closed last Friday at $3.57 per bushel, virtually unchanged from the level in June.
The prices of grains have been in bear mode since mid-June. Meanwhile, margins for processing grains have tanked.
Processing spreads crushed
Processing spreads are a real time indicator of profitability for companies involved in manufacturing one commodity from another. When it comes to ADM and BG, processing spreads reflect their profit margins.
Both companies crush soybeans into soybean meal and soybean oil. The synthetic soybean crush spread traded on the Chicago Board of Trade was at the $9.72 per bushel level on June 15.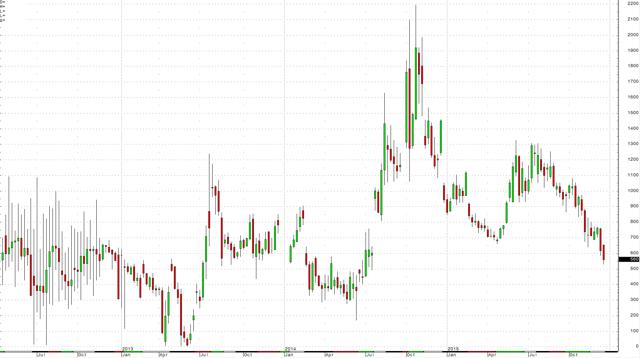 Click to enlarge
Last Friday, this spread closed at $5.20 per bushel on the active month March futures contract. The decrease of over 46% represents destruction in crushing margins for both companies. Processing soybeans into soybean meal and soybean oil became a much less profitable business since last June.
Additionally, both companies are involved in the manufacturing of a biofuel, ethanol. In 2015, the price of corn was down 9.63% while the price of ethanol fell 13.95%. That tells us that processing corn into ethanol was a less profitable business for anyone involved in the refining process. While ADM produces ethanol from corn in the U.S., BG is active in processing sugar into ethanol in Brazil. In 2015, the price of sugar rose by just under 5% while ethanol fell. This means that the input into the process was more costly while the ultimate product went down in price, a double whammy on the profit front for Bunge.
Moreover, as Bunge has huge investments in infrastructure in Brazil, the economic turmoil in the commodity-centric nation also weighed on BG's performance. Even though the Brazilian real fell by over 23% between June 15 and last Friday and operating costs fell, business activity in Brazil was poor and that affected BG's performance.
The current level of the pairs trade
As you might imagine, the prices of both ADM and BG have moved significantly lower since June 15, 2015. ADM was trading at $51.27 per share on that date. Last Friday, it closed at $34.39 per share.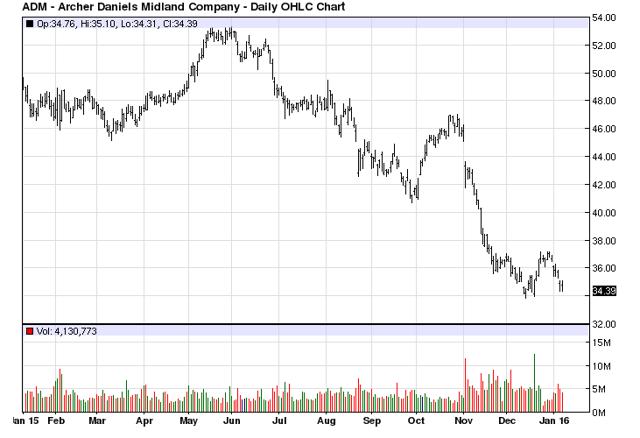 Click to enlarge
The move in ADM's stock resulted in a loss of $16.88 per share on the long side of the pairs trade. Meanwhile, BG was trading at $91.09 per share on June 15. Last Friday, it closed at $66.12 per share.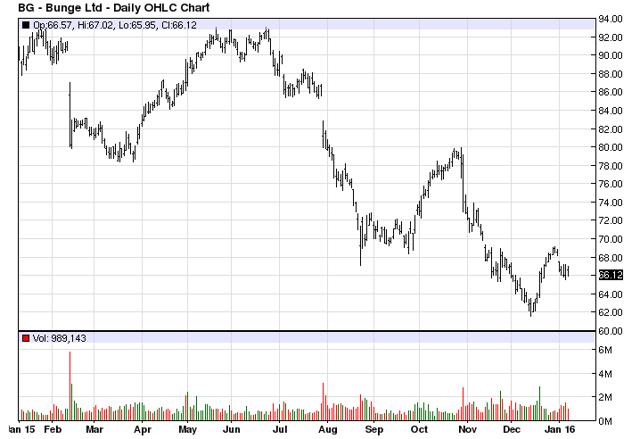 Click to enlarge
The move in BG's stock resulted in a profit of $24.97 on the short side of the pairs trade. The net return of the pairs trade is currently an $8.09 profit.
Prospects for 2016
The trade worked nicely and both companies have seen a huge correction in the prices of their stocks. ADM dropped almost 33% since June 15 while BG shed over 27% of its value. The trade resulted in a profit if one purchased one share of ADM for each one share of BG sold. However, both of these companies are involved in a business that is always in demand.
Agriculture is the one sector of the commodity markets that could be very volatile in 2016 and the years that follow. The population of the world continues to rise. Given that there is a finite amount of land on which to grow crops, the fundamental supply and demand equation for agricultural commodities has tightened. Therefore, as population grows and there are more mouths to feed and more cars to fuel each year, more crops are required. Over the past three years, bumper crops met growing global demand. However, with each new season comes the potential for shortfalls in crop yields. While it is likely that the commodity sector will continue be in a bear market in 2016, agricultural crops are heavily dependent on the weather. Therefore, only Mother Nature knows what the future holds for the coming year.
Crop output is an important factor for the profitability of agricultural processing companies like ADM and BG. The price of shares in both companies has fallen to a level where it makes sense to re-evaluate the pairs trade.
Stay with the strong long
I still favor ADM over BG at this time. The prospects for BG continue to depend on Brazil where there is a great deal of uncertainty. ADM is currently trading at a price-to-earnings ratio of under 12. The company pays a dividend of just over 3%. BG is trading at a higher P/E ratio (19.71) and pays a lower dividend (2.2%). Therefore, I would unwind the pairs trade and take a profit of $8.09 per share.
I would then take 20% of the profit and buy a January 2018 $45 call option on Archer Daniels Midland. This option expires in two years and closed at $1.63 per share on Friday, January 8, 2016. There are currently 642 contracts of open interest on this option, which means that there is a degree of liquidity. I believe that within the next two years, the processing margins for grains will return to higher levels. Investing one-fifth of the profit from the pairs trade will provide an opportunity to reinvest and enhance the profitability of a trade that worked well.
As a bonus, I have prepared a video on my website Commodix that provides a more in-depth and detailed analysis on grains, ADM and BG to illustrate the real value implications and opportunities.
Disclosure: I/we have no positions in any stocks mentioned, and no plans to initiate any positions within the next 72 hours.
I wrote this article myself, and it expresses my own opinions. I am not receiving compensation for it (other than from Seeking Alpha). I have no business relationship with any company whose stock is mentioned in this article.