Vale S.A. (NYSE:VALE), one of the largest iron ore producers in the world, saw its share price decimated from the all-time high of $44.15 in May 2008, to the all-time low of $2.71 on January 7, 2015, breaking even the low of $9.82 during the financial crisis of 2008-2009.
It is caused by the crash of iron ore price, which dropped from the high of $190 per ton in 2011 to $45 per ton today (see Figure 1). However, misfortune attracts misfortune. Last November, its subsidiary Samarco caused an environmental disaster. Samarco is an equal partnership JV between BHP Billiton Limited (NYSE:BHP) and VALE.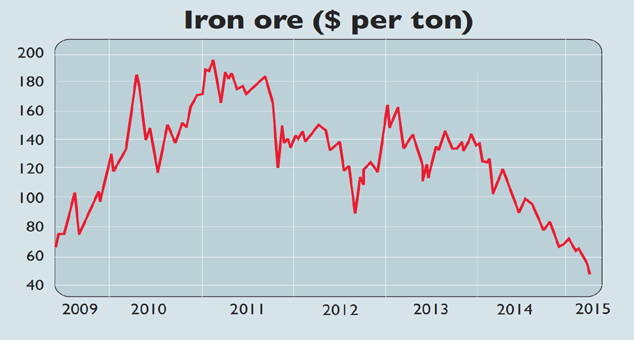 Figure 1 Iron ore price (source: Moneyweek.com)
The incident took place on November 5, 2015, when a dam broke and released an estimated 60 million cubic meters of water with iron ore waste material, flooding 800 km downstream of the river Rio Doce all way to the Atlantic Ocean and polluting vast lands and killing marine life in the stretch. 17 people lost their lives, while above 800 people were left homeless.
At the moment, the Brazilian government has posted a $5 billion fine, with a $500 million initial deposit to cover the clean-up process. The fine raised the liquidity issues for VALE. The final penalty is still under assessment and will not be determined until the investigation is complete.
However, recent satellite images showed that the volume of mixture of mud and waste water is around 32 million cubic meters, below the initial estimate of 60 million cubic meters. If this is confirmed, it may bring some relief to VALE and BHP.
For VALE's investors, the biggest question is whether VALE will survive this double blow.
Let us look at the equity risk factor in Figure 2. Please keep in mind that this chart was prepared before the Samarco incident. Therefore, the damage penalty was not included.
In this chart, we can see how VALE fares with the mining industry. Its price-to-sales and price-to-book ratios are very favorable. The company's quality ratios - profit margin, return on sales, return on assets - are also better than the industry average. However, its growth rates are worse than the industry.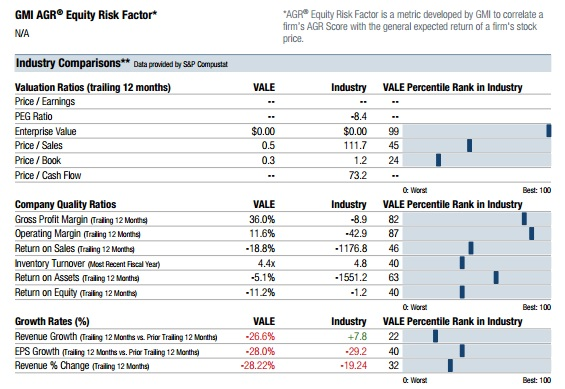 Figure 2 Source - Research report for Fidelity customers
Figure 3 shows a summary of quarterly balance sheets. At the end of third quarter last year (9/30/2015), the current assets are $17.7 billion and non-current assets are $99 billion. Current liability is $10.2 billion and long-term liability is $54.5 billion.
Let us assume the worst case scenario for the Samarco incident, that VALE will share 50% of the fine of Samarco with BHP, or $2.5 billion, and adds it to its current liability. The current liability will increase to $12.7 billion. This number can be smaller, according to the latest investigation report. Part of this fine can also be allocated to the long-term liability. It is not a pleasant situation for VALE, but it should not be a death blow.
The recent 50% devaluation of Brazilian currency Real is also in favor of VALE. Most of VALE's expenses are paid in Real; therefore, a lower Real dramatically reduces VALE's operating cost.
VALE is also taking action to increase its current assets. In December 2015, VALE sold 4 of its mega freighters to a Chinese consortium for $423 million as a financial leasing arrangement. It has remaining 11 mega freighters valued at $1.1 billion for the same kind of deal. This will convert $1.52 billion from its non-current assets to current assets, greatly improving its liquidity.
As of 9/30/2015, shareholders' equity is $42.3 billion and outstanding shares are 4.81 billion. This makes the book value per share at $8.80, well above the current share price of $2.71.
(click to enlarge)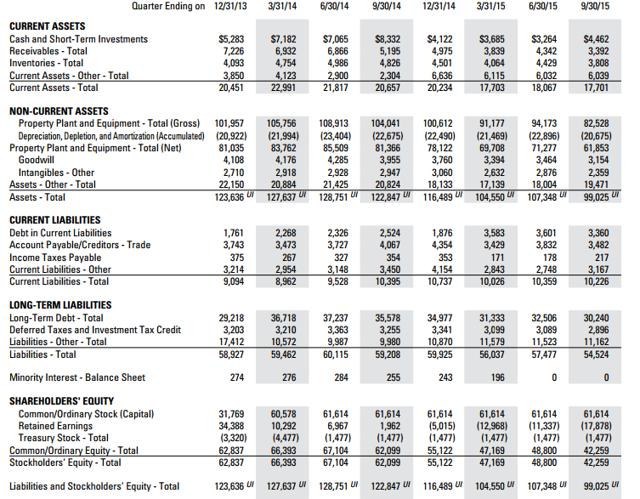 Figure 3 S&P Capital IQ report
The biggest question about VALE's future is the iron ore price. The future of iron ore price is anyone's guess. But the World Steel Association forecasts world steel demand will grow by 1.4% in 2016. Chinese steel demand in 2014 experienced negative growth for the first time since 1995 and the World Steel Association forecasts negative growth of -0.5% in both 2015 and 2016. VALE forecasted iron ore price to be in the range of $48 to $50 per ton.
VALE's iron ore production cost averages $40 per ton. Without being able to control the iron ore price, the only measure VALE can take is to cut its cost.
Vale has stopped the higher-cost segment in 2015, and concentrated on the low-cost business. As a result, the company revised its 2016 guidance in December 2015; it cut iron ore production forecast by 10% to be around 340-350 million ton production this year, a 7-10% year-over-year decline.
At $50 per ton, its revenue should be $17.5 billion from iron ore alone, plus some additional revenue from other businesses, such as the gold streaming deal with Silver Wheaton (NYSE:SLW). This will reduce VALE's revenue by roughly 10% to around $20 billion in 2016 compared to 2015 and improves the margin slightly.
VALE is also paying a dividend $0.10 per share. At the current share price, it is a 3.85% dividend yield, which is high for a company in distress. The dividend payout is about $500 million a year, which is a luxury that it cannot afford. But it has not announced any dividend cut yet.
Most of VALE's ores are sold in the international market, receiving in dollars, while a large part of its expenses are paid in Real, the Brazilian currency. The devaluation of the Real really helps VALE. On the negative side, VALE may pay higher financing costs in dollars going forward.
As a result of the high cost production cut, improvement in the cost structure, the EPS (Figure 4) shows slight improvement in operation. And it is expected that such an improvement trend should continue if the iron ore price can be maintained at current levels. Ford Equity Report considers VALE's earning momentum as "very positive".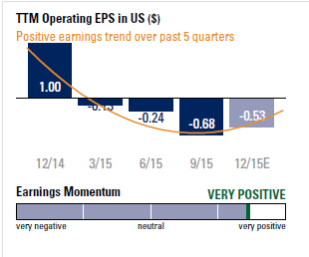 Figure 4 Sources - Ford Equity Report
Conclusion: As long as iron ore price does not drop below $45 for a prolonged period, VALE may be facing a tough time but is expected to weather through the downturn relatively unscathed. On the other hand, if the iron ore price drops below $40, it may spell trouble for VALE.
Disclosure: I am/we are long VALE.
I wrote this article myself, and it expresses my own opinions. I am not receiving compensation for it (other than from Seeking Alpha). I have no business relationship with any company whose stock is mentioned in this article.