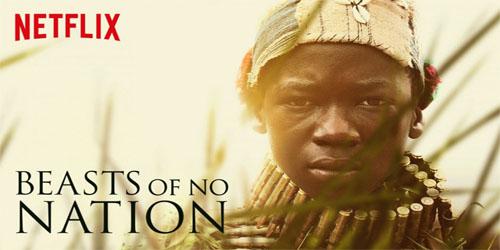 Image courtesy of Netflix
The Golden Globes are known for following their own beat, but this year's nominations may have been shocking even for them. As the Hollywood Foreign Press Association prepares for its annual awards this weekend, people associated with Hollywood and Wall Street need to be paying attention.
Until recently, the most well-known streaming service, Netflix (NASDAQ: NFLX), has been the main beneficiary of awards love. Between House of Cards and Orange is the New Black, it opened the door for non-traditional media to be recognized on this high of a level.
Last year, the streaming company started seeing major competition from rival Amazon Prime (NASDAQ: AMZN). The channel's Transparent took off and forced its way into the conversation. Bolstered by star Jeffrey Tambor (one of the industry's most likeable actors), the series horned in on Netflix's territory.
This year, Hulu has slipped into the conversation, and all of a sudden four of the six series nominated for Best TV Comedy at the Globes are from a streamer. That's a big percentage, especially considering the Emmys only had two of their six comedy slots filled from those networks. Now remember, it doesn't matter which shows got nominated as much as the fact that shows of that nature were nominated.
The point is that the Golden Globes and even the upcoming Screen Actor Guild awards are embracing streaming media like never before. Netflix and the like are slowly doing to cable what cable did to broadcast in the '90s. The cord-cutting revolution is getting big enough that you can't ignore it anymore.
For Netflix, in particular, this is of great interest, as of the three main streamers, it's the one of the new big three looking to move into film. The company's Beasts of No Nation won over critics and is expected to be a power player at the Oscars. Yet, after a rough wave of bad press following its limited release, which produced little earnings, the film needed a win.
Now remember, the company only released Beasts in theaters to qualify for Oscar consideration, so its earnings are of no relevance. Most of the media outlets that harped on those low numbers chose not to emphasize that fact. Of course, following nominations and wins from multiple influential awards groups, the tide has turned back into Netflix's favor as we get closer to the Golden Globes and next week's Oscar nominations.
Regardless of Transparent's big win last year, Netflix is still very much in the driver's seat during awards season. The company actually overtook HBO (NYSE:TWX) in terms of total nominations this year, and is the first of the streamers to have a feature film in contention.
However, despite all that success for the new non-traditional models, it is important to stress that HBO is still HBO. You'd be foolish to bet against the network that, for the first time in 13 years, produced both the reigning Emmy winner for Best Comedy (Veep) and Best Drama (Game of Thrones).
It's also not just HBO, as networks like AMC Networks (NASDAQ:AMCX), Showtime and FX (NASDAQ:FOX) are still incredibly important to the conversation. Even the major networks, which are shockingly being shut out, are still important. Yet, it's the streamers that have the hot hand at the moment.
Investors' Analysis
Regardless of whether you're a Netflix backer or not, if you are watching this space, I advise you to go into these awards with a bit of caution.
The Globes truly are their own entity. Take last year's big winner, The Affair. It won two of the big three TV awards and was then almost completely shut out of this year's nominations as well as ignored at the Emmys. Starz has a similar situation, as it has had a lot of Globe success, but can't seem to mimic that success for its scripted series.
The film side is equally bizarre, as they split their awards for film into two categories: drama and musical/comedy. This has usually resulted in some interesting nominations, including romantic thriller The Tourist getting three nominations back in 2010. The mind-boggling decisions continued this year as space drama The Martian cleaned up... on the comedy side. Yes, a film about a marooned astronaut fighting to stay alive is being considered a comedy.
Now, as much as I can point out the oddities of the HFPA, they are still one of the top places Oscar and Emmy prognosticators look to when predicting how those coveted races could turn out (for better or worse). The Globes do carry a certain pedigree in name that makes them almost as recognizable as the big four (Oscar, Emmy, Grammy, Tony), even if the organization itself draws some serious wary looks from top industry players.
As a result, you have to take them seriously, but still keep an eye out to see if they are just making noise to make noise or if they are genuinely trying to be ahead of the curve. This year is going to be one of those tests, as the Globes have added fuel to the great cord-cutting debate.
What's interesting is that Netflix stands to gain and potentially lose the most, as now that it's opened the door for its own programming, others are making themselves comfortable as well.
The nominations also show that analysts and investors who believe the streaming bubble burst is coming need to pull back on those warnings for the time being. Conversely, those who believe cable is dead need to hold off on the last rites as well. This ebb and flow is going to continue for a little while longer.
The battle for your attention and money has never been more competitive, and right now, the usual clear winners are holding on for dear life... but still holding on.
The Golden Globes air this Sunday on NBC.
Disclosure: I/we have no positions in any stocks mentioned, and no plans to initiate any positions within the next 72 hours.
I wrote this article myself, and it expresses my own opinions. I am not receiving compensation for it (other than from Seeking Alpha). I have no business relationship with any company whose stock is mentioned in this article.