What happened this week?
Starting Monday, China launched a circuit breaker mechanism in the SSE, SZSE, CFFEX, stipulating that all A-share trading will be suspended for 15 minutes if the index moves by 5% in either direction. Trading stops once the 7% lower bound is reached. The new mechanism was aimed at curbing the mutually reinforcing stock price decline - liquidity dry up cycle which had characterized 2015's swings.
Clearly however, it failed the stress test. Post implementation on Monday, it didn't take long for Chinese A-shares to drop 5% and trigger a trading pause. It only took five more minutes to breach the -7% limit and shut trading for the day (just after noon on Monday). On Thursday, it got even worse as trading was again halted due to another 7% drop in the CSI 300 index, ending the shortest trading session in 25 years. Yet again, it took only another minute or two to turn the initial 5% fall into a magnified 7% drop.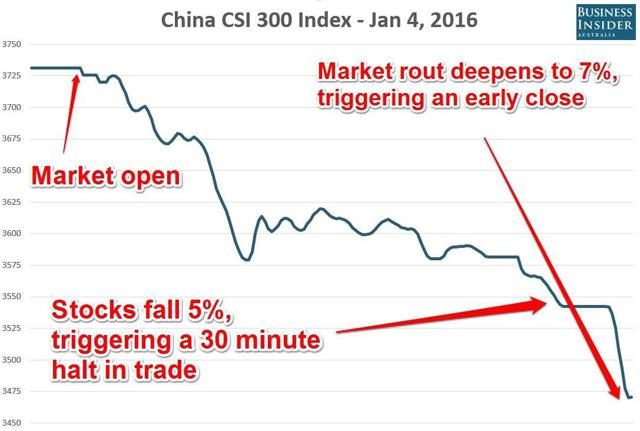 Click to enlarge
Source: BusinessInsider
What triggered the drop?
China's economy remains a picture of uncertainty. Growth remains strong at 6.8% but is showing clear signs of slowing with the implementation of growth negative structural reforms. Recent data has done little to dissuade investor fears of the Great Chinese slowdown. Monday's December manufacturing PMI data release was poor at 48.2 (vs 48.6 in Nov). There were some bright spots to the report though with improvement in output, new orders and export orders.
You also have pending IPO reform and looming expiry of major shareholder selling restrictions on Jan 7 (since restricted). The sliding confidence is triggering outflows, a weaker RMB and drying liquidity, all of which contributed to the recent fall.
Why did the circuit breaker fail?
The key reason is confidence. Circuit breakers tend to be double edged swords. On the one hand, they put a floor on volatility, essentially providing a buffer against adverse shocks. In China's case, the circuit breaker actually compounded investor worries about a liquidity shortage in the Chinese markets. This is the key reason why a trading pause (triggered by a 5% drop) morphed into a complete halt (7% drop) so quickly. The initial 15 minute suspension serves as a panic warning for investors to sell immediately and raise cash. En masse, this caused the trading halt to occur within minutes on both Monday and Thursday.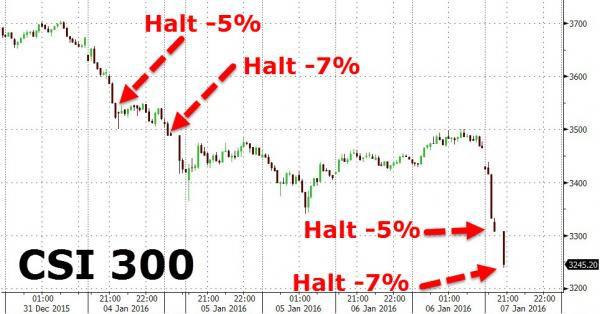 Source: Zerohedge
The new circuit breaker limit of 5% for pause and 7% for trading halt are also much tighter than its contemporary counterparts (US- 7/13/20%, South Korea- 8/15/20%). Add to this the added recent volatility of the Chinese market (Monday and Thursday notwithstanding, a relatively "normal" Tuesday this week saw the benchmark index climbing 1 percent, plunging as much as 3.2 percent and then recovering almost all those losses in the final hour) and surely you have a recipe for disaster.
While the initial mechanism has failed, it is more likely that the circuit breaker mechanism will be fine-tuned to accommodate A-share volatility. Expect to see a new and improved circuit breaker make its return in the not too distant future.
Disclosure: I/we have no positions in any stocks mentioned, and no plans to initiate any positions within the next 72 hours.
I wrote this article myself, and it expresses my own opinions. I am not receiving compensation for it (other than from Seeking Alpha). I have no business relationship with any company whose stock is mentioned in this article.