The dominant theme of the General Electric (NYSE:GE) investment case last year had been that the company was going to shrink to its core. In April 2015 General Electric announced that it would sell most of its financial services business and return cash from such asset sales back to shareholders. For 2016, General Electric guided for ~$26 billion in cash that will be returned. That's a compelling outlook for the year and certainly something investors appreciate.
Investors loved the idea of a pure-play industrial giant with a focus on power, aviation, transportation and other industrial segments that are, and always were, General Electric's core strength. But while the theme of selling off financial assets has captivated investors in 2015, the new year could have a couple of surprises in store for GE shareholders.
Completion of financial asset sales and end of SIFI designation
General Electric is on track to sell the rest of its designated financial assets in 2016. When completed, GE will have shed assets worth ~$200 billion.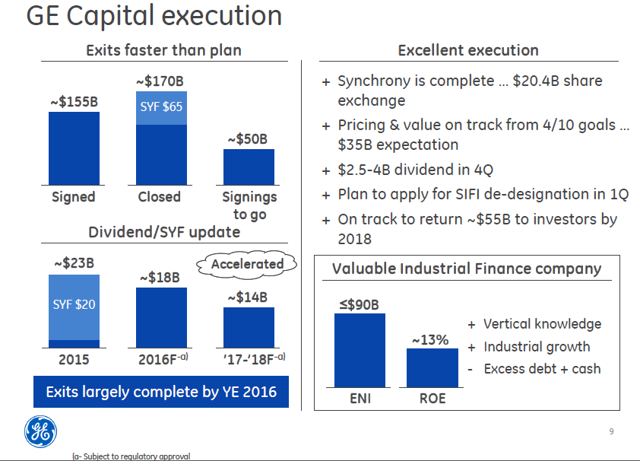 Click to enlarge
Source: General Electric Investor Relations
Importantly, General Electric is going to apply for SIFI-designation, likely in the first quarter of 2016.
Getting rid of the SIFI-designation has become a heated topic of discussion among investors, and, in fact, a cause for activists that push companies to divest assets, or break themselves into pieces in order to become leaner, and justify a higher market valuation. Carl Icahn, for instance, launched an activist campaign against American International Group's (NYSE:AIG) management in the fourth quarter of 2015, and pressured AIG to split itself into three separate insurance businesses -- Life, Property Casualty, and Mortgages. The reason?
The same reason General Electric had to restructure its business and return to its roots: Getting exploding compliance costs under control and reduce the regulatory burden on its businesses. 2016 will be an exciting year for GE in that regard.
Spin that acquisition wheel, baby
One potential catalyst for General Electric's stock this year could be the 'acquisition theme'. General Electric has stemmed a lot of acquisitions in the past, so it does have both the transaction experience and the balance sheet to do so. But does it have the will to double down on assets that could support its transformation and growth story?
Absolutely. General Electric is said to be in advanced talks to buy Halliburton's (NYSE:HAL) drill bits and drilling services. With a potential purchase of Halliburton's 'for sale' energy assets, GE would follow up on its earlier announcement to go on the hunt in the distraught energy sector. But that's not all.
At the end of December General Electric announced that it is adding to its turbine business through its acquisition of Metem, which provides aviation clients with world-leading precision cooling hole manufacturing technologies. Part of Metem's product portfolio are turbine blades and combustion engines which fits in perfectly with General Electric's turbine business.
Changing narrative
The latest acquisition announcement might be a good hint of what's coming to GE investors this year. While the focus so far has been on asset sales -- essentially shrinking -- 2016 will likely be a year in which the GE investment case transitions into the next phase: Strengthening the core industrial asset portfolio with earnings-accretive acquisitions. If General Electric can also pull off 1-2 acquisitions at bargain basement prices in the energy industry, the better.
Your Takeaway
Investors are now used to status updates from General Electric about its financial asset sales, but that narrative is going to shift this year. A smaller, industrial asset portfolio makes the company much more manageable, which in turn puts General Electric in a good position to double down on acquisitions in its core segments such as turbine technology without the financial services side of the business stealing focus. 2016 will be a year of growth for General Electric.
Disclosure: I am/we are long GE, AIG.
I wrote this article myself, and it expresses my own opinions. I am not receiving compensation for it (other than from Seeking Alpha). I have no business relationship with any company whose stock is mentioned in this article.