With the share price down 23% in the last three months, it is fair to say that investors of Big Lots, Inc. (NYSE:BIG) have not had much to smile about. Now the stock is hovering just above its 52-week low; could things soon start to improve for shareholders?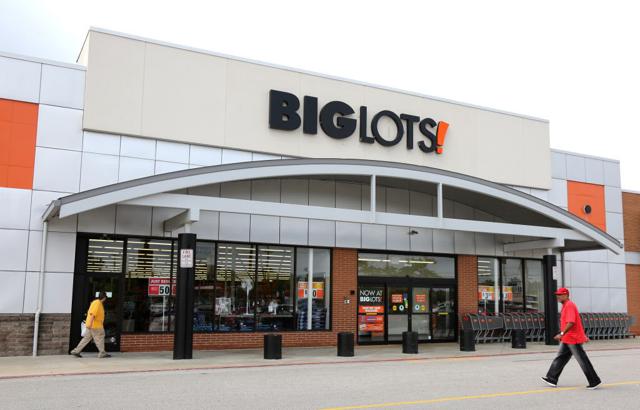 Click to enlarge
Background
Big Lots, Inc. is a broadline closeout retailer operating out of 1,463 stores in 47 states with product assortments in the merchandise categories of Food, Consumables, Furniture, Seasonal, Soft Home, Hard Home, and Electronics & Accessories. Its vision is to be recognized for providing an outstanding shopping experience, valuing and developing our associates, and creating growth for our shareholders.
Today
It's hard to get excited about investing in a closeout retailer like Big Lots, but often boring investments can be some of the best ones. Closeouts are the same quality, brand-name products found at other retailers, but at substantially lower prices. It is primarily merchandise from manufacturers who want to reduce inventory as a result of package changes, canceled orders, product discontinuation, or test market products.
Some say that a recession is imminent. We're undecided, though acknowledge that we live in a financially precarious time at the moment. In a recession, a company like Big Lots can potentially be a good choice as consumers look at scraping pennies. In the last recession, although a volatile period for the company, some investors earned large returns. If a recession were to hit in the near future, Big Lots could be a good play.
As the company deal with closeouts, the high inventory levels some retailers are reporting could be Big Lots' gain. The US Total Business Inventory/Sales ratio has risen to five-year highs, and we think the company could leverage this moving forward.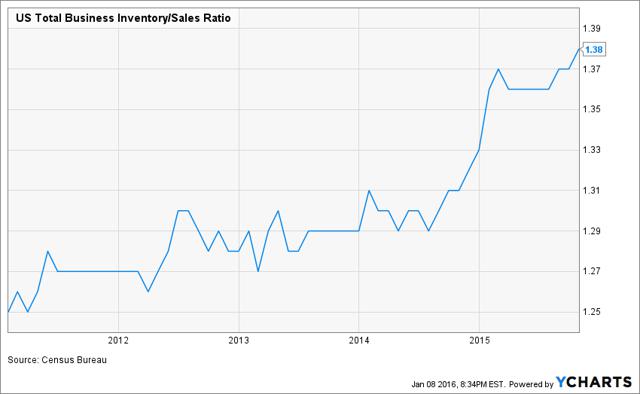 Click to enlarge
Source: Ycharts
We believe management will take advantage of this situation shrewdly. On the Q3 call, when asked about the overhang, CEO David Campisi said:
"Some of the businesses, home especially, were areas where buying too many close­outs got us in a lot of trouble. So we backed off in that area and it's paying off in double­digit dividends in most cases… the areas that we still continue to have really nice opportunities in is the two winnable categories you just mentioned which is food and consumables."
This sensible and cautious approach is what we like to see. The last thing we would want is the company taking on too much inventory, so we are pleased with his response and believe any advantages that are available, the company will capitalize on.
In our opinion, the company is being run very efficiently, it has good liquidity, strong levels of free cash flow, and a reasonably consistent level of inventory as shown below.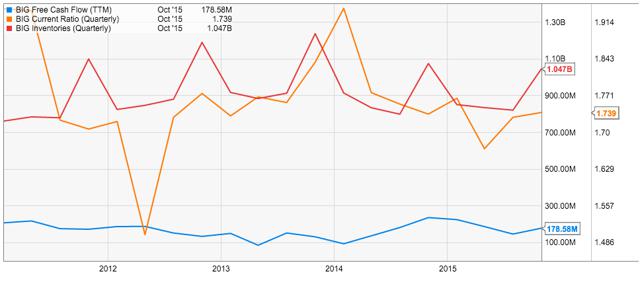 Click to enlarge
Source: Ycharts
Digital
We are pleased to see that the company has returned to e-commerce. The previous foray was not the most successful venture, but we believe the company learnt from its mistakes and has a good chance of making a success of it this time around.
At this point, it is more of a catalogue than an online store, but as we move into fiscal 2016, we should start to see it progress as a channel. We think that for the company to continue to increase revenue, digital will play a key role.
Going higher
Although the company has dropped to just above its 52-week low, we actually feel it is fairly priced now. Historically, the stock has traded at around 12.5 times earnings, which we feel is about right. The five-year average may be 15.78 times earnings, but we feel it has been skewed by excessive price to earnings ratios in the last 18 months.
For the company to go higher from here, we're going to have to see a good performance in Q4, and equally good guidance for fiscal 2016.
The company has achieved seven straight quarters of comparable same-store sales increases. Should the company achieve positive comparable same-store sales in Q4, which we believe it will, then we feel the share price could get a big bump upwards if guidance backs it up.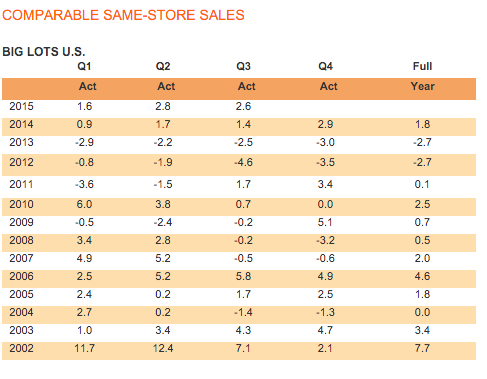 Source: Company Data
The signs are good for a comps beat. Management has offered guidance that includes an eighth-straight quarter of comparable same-store sales increases, and expects to see a 1-2% gain year over year in Q4, making for a very successful fiscal 2015 performance.
This good performance could continue into fiscal 2016 due to events in China. The recent devaluation of the Chinese Yuan could be a great boost to margins. The USD has appreciated by over 6% since August 2015. The company purchased 20% of its merchandise from China in fiscal 2014, and we expect that percentage to increase due to FX tailwinds in fiscal 2016. In light of this, we see gross margin expansion as being very likely in the coming years.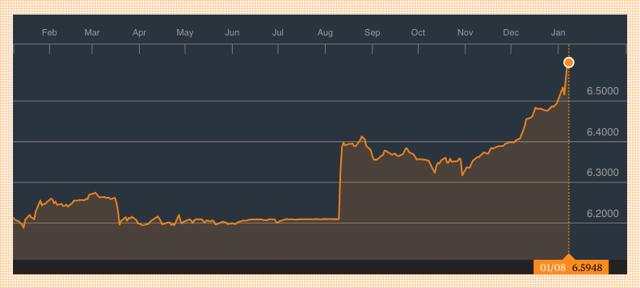 Click to enlarge
Source: Bloomberg
As revenues have been a little sticky, margin expansion would be a great boost to the bottom line. We only expect sales to grow by low percentages year over year for the next couple of years, which places huge importance on margin expansion to fuel shareholder growth.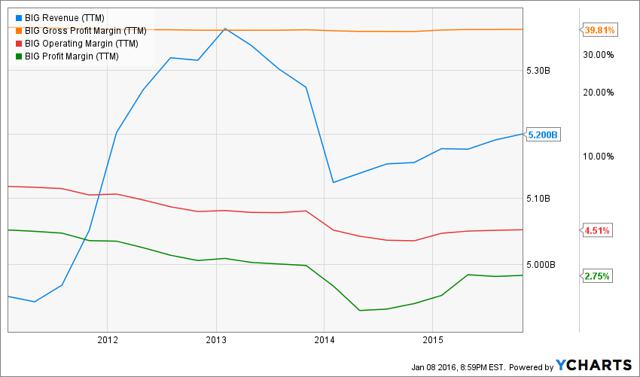 Click to enlarge
Source: Ycharts
Valuation
We expect the company to hit the higher end of the full-year guidance offered ($2.95-$3.00) in the Q3 call. Based on earnings per share of $2.98 and a price to earnings ratio of 12.5, we have an FYE 2015 price of $37.25.
As fiscal 2015 ends this month, we feel the stock is fairly priced currently. Looking to fiscal 2016, we envisage margin expansion, and a small increase in revenue will enable the company to grow earnings per share by around 7%. This would mean earnings per share of $3.18, which at 12.5 times earnings gives us a one-year price target of $39.75, and a return of 7.5%.
A Final Word
We believe that it would be prudent to wait until the Q4 results and evaluate the guidance offered before taking a position, especially with the market volatility that we are experiencing now which could yet take the stock lower than where we are today.
Disclosure: I/we have no positions in any stocks mentioned, and no plans to initiate any positions within the next 72 hours.
I wrote this article myself, and it expresses my own opinions. I am not receiving compensation for it (other than from Seeking Alpha). I have no business relationship with any company whose stock is mentioned in this article.