Barrick Gold (NYSE:ABX) made significant progress in 2015, despite an adverse trend in gold prices. My pessimism over the past few quarters with Barrick has revolved around the Fed raising interest rates and gold slowly losing its safe haven status. I am still short, despite a rough week watching ABX climb substantially. If the gold spot can see some strength this year on the back of weaker corporate earnings and a slowing U.S. economy despite the multitude of rate hikes initiated by the Fed, then Barrick's stock will be well-positioned to be the beneficiary.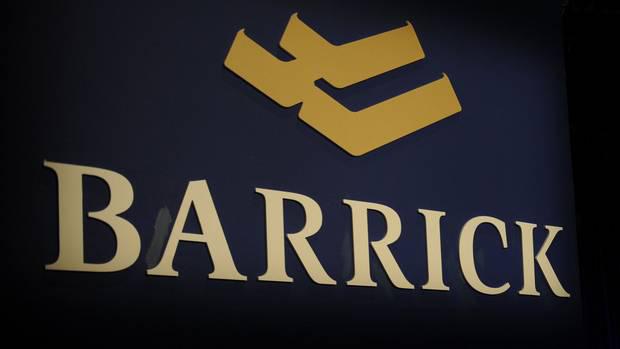 2016 Outlook
What's rather interesting about how the last few months of catalysts have played out is that we did not see a clear trend after the Fed raised rates, and gold prices have moved relatively sideways since that meeting. While the increasing amount of global terror events, notably Paris and San Bernardino, should have acted as a strong tailwind to gold, the precious metal continued to see problems, sending the full-year decline to 10.5%.
Understanding the broader thesis that a rising Fed funds rate will lead to a stronger dollar against a basket of major currencies, we'll likely see a decrease in the price of gold. The gravity of such movement, however, is extremely difficult to predict. There are four more estimated rate hikes remaining this year, just as a reminder. Recent comments made by members of the Fed may even show that more rate hikes are in the cards.
All the while we have a moderately strong revised GDP for Q3 at 2%, estimates from Barclays and Deutsche Bank are coming in substantially lower. Now, I have my own concerns about the Q4 GDP heavily reflecting the recent struggles in the commodity sector, but until we get hard data on GDP, I'll hold my speculation. There's also the tailwind of QE in Europe that may prove to be a continuous support line for gold and gold mining stocks if the stimulus is kept through 2016.
My fears largely revolve around the oil and gas industry cutting jobs if prices continue to remain lower and the firms focus on cost savings. We saw an increasing amount of bankruptcies in 2015, and as job growth has been one of the primary catalysts that drove the Fed to increase interest rates, there may likely be a pullback in those figures as we move through the year. This kind of struggle is also visible in the slashed dividend yields of many basic material and energy companies, making gold look far more attractive.
Cutting Debt Takes Time
As a reminder, Barrick has a revenue composition of nearly 88% gold and 12% copper, both of which saw notable declines in 2015. While the company is almost a pure play, Kinross Gold (NYSE:KGC) has them slightly beat with a gold composition of over 95%.
There are endless ways to run a company, but addressing problems head-on in a no BS manner is perhaps my favorite. Barrick has now cut its LT debt to $9.5 billion and only has $250 million due in the next two years, for which cash flow can more than cover. Barrick saw the annual interest expense will now also be reduced, previously at $252 million in Q3. It has also extended its credit facility to boost liquidity. Positive results continue to amount on these kind of moves, notably the first analyst upgrade since mid-August with Sterne Agee rating Barrick a buy from neutral.
Barrick also added several new partners and made a financially sound decision by gaining its leadership through long-term stock plans. These are long-term decisions that make me more confident about entering, given that the company now has more breathing room and a clearer future. This will also prove to be highly useful if we see more upside in gold as China's economy continues to slow and has rippling effects in the U.S. markets. Notice the spike below to kick off the new year.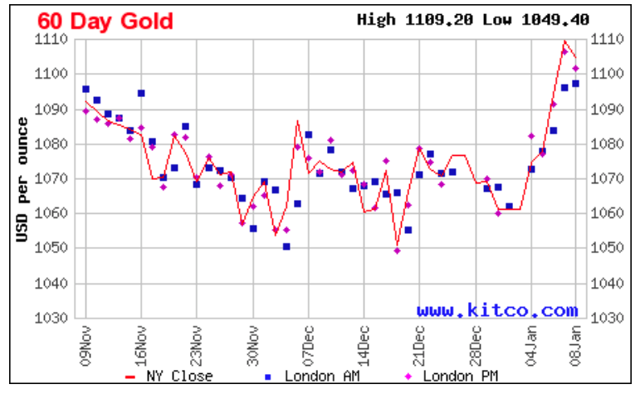 Click to enlarge
Source: Kitco
Furthermore, below you can see how copper has trended the first few days of this new year. I believe we'll see a January floor of 4.50k as copper fundamentals are starting to improve slightly as more pure plays begin to take production offline and China begins to consider supply-side reform. While Barrick's exposure to copper is small at 12% of revenue, it cannot be ignored.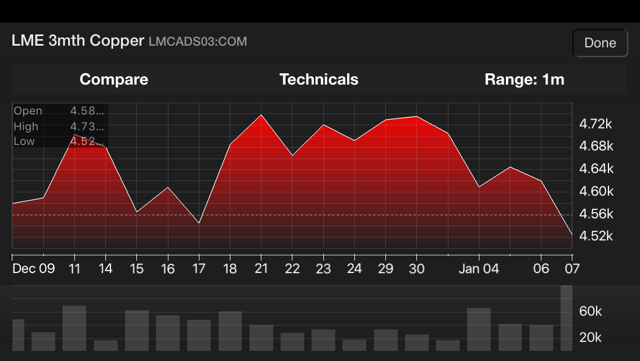 Click to enlarge
Source: Bloomberg
Just because certain repairs have been made to the balance sheet does not mean Barrick cannot stop cutting costs. It is in the best interest of Barrick to continue to deleverage while also building up its cash balance, FCF, and in the long term, provide a strong dividend growth rate. The current yield is measly at 0.95%.
That being said, I do like the trend for operating cash flow. OCF last quarter was exceptionally high at $1.58 billion, making LTM OCF at $3.05 billion; however, this is going to create higher comps for earnings reports during 2016, but if the trend of gold these last few days is a reflection of the broader NTM, then we'll likely see earnings beats. An interesting consideration for the Q4 earnings (if not Q4, then delayed to some other ER in CY 2016) report that will cut into the bottom line is the $25.93 million in deferred taxes from Q3.
Another boost to free cash flow we should look for is the now reduced guidance for capex, at $1.7 billion for the full year. Just another example of how the company is focusing on achieving cash flow stability. That's also not to say that the company isn't actively pursuing lucrative opportunities with its lowered capex. It four project studies that have now concluded are providing long-term opportunities for the company to substantially boost its financial strength. These include Turquoise Ridge, Cortez Deep South, Goldrush, and Lagunas Norte. Barrick has identified Lagunas Norte, in particular, as capable of millions of tonnes of gold. Furthermore, with Alturas, Pascua-Lama, and Donlin, the opportunities are plentiful for Barrick even with the $3.2 billion in asset sales in 2015.
Unfortunately, earnings in the upcoming year, even against 2015 non-cash flow comps could be tough to beat with a declining production profile. We'll be seeing the company reduce production by about 100k ounces. That should be readily visible in the Q4 ER. Interesting enough, however, the company is diversifying into copper to try and offset some of these losses. With the company having a 50% in the Maaden Barrick Copper JV, the yearly capacity is 45-60k tonnes.
While it's apparent that if gold prices decline, Barrick will suffer, the company has a detailed plan on how to not only sustain operations but also to avoid bankruptcy concerns given its large amount of debt.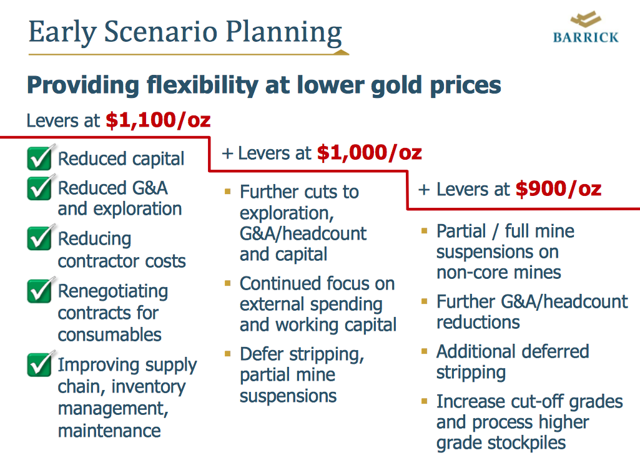 Click to enlarge
Source: Investor Presentation
Should I Close My Short?
When I saw the stock closed up 5% in Monday's session when the entire overall market was down, I was intrigued. We later found out that the trend would be aggravated as fears surrounding China led to investors flocking to gold, providing the best week for Barrick in quite some time.
The stagnant trend of gold since the run-up of the broader market in early October had me interested in which way the next major shift would be. Circled below is one of the steeper trends we saw from any company in 2015, where a quick four-session downtrend put the company's stock in seriously unstable territory. Furthermore, it began deterring new longs despite positive actions from Barrick to deleverage itself. Below you can see those interesting trends and see how Barrick is positioned to potentially cross its 200 DMA of $9.01.
Click to enlarge
Source: StockCharts
Against an excellent gauge for the price of gold, Spider Gold Shares (NYSEARCA:GLD), Barrick has significantly underperformed, seen below.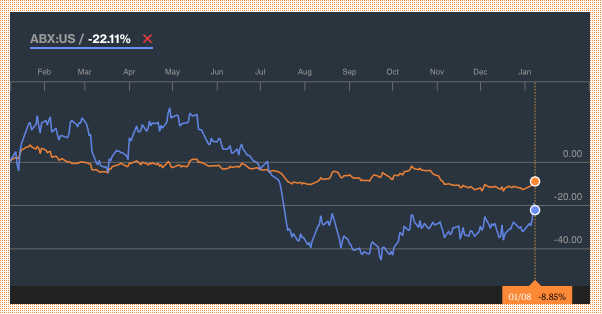 Source: Bloomberg
Undervalued?
Against a close comp universe of Goldcorp (NYSE:GG), Newmont Mining (NYSE:NEM), and Kinross Gold (KGC), we have the following valuation metrics:
| | | | | |
| --- | --- | --- | --- | --- |
| | Barrick | Goldcorp | Newmont | Kinross |
| P/E | N/A | N/A | 18.89 | N/A |
| Yield | 0.95% | 1.92% | 0.55% | N/A |
| Debt/EBITDA | 3.33 | 3.30 | 3.19 | 2.32 |
| P/B | 1.23 | 0.89 | 0.92 | 0.67 |
| EV/EBITDA | 5.26 | 13.32 | 6.56 | 3.98 |
Initially, we can see on a P/E basis that Newmont is the only miner in the group with positive EPS. Goldcorp's yield looks like a diamond in the rough, but it should be noted that Barrick's dividend is considerably low because the company cut it from $0.05/quarter to $0.02 to conserve cash in the 2015 downtrend. A restoration of this dividend would be largely positive, but I don't think we're likely to see that in 2016. If we can see Barrick decline 23 bps on the P/B, I'd say that would be a strong factor to support a long entry, on top of its reduced leverage.
Conclusion
I'm still short ABX because I believe the company will miss earnings on the top and bottom line; however, the increasingly positive news surrounding Barrick's initiatives and my bearish outlook for the U.S. economy would support a cover. The company will present on January 20 at the CIBC Institutional Investor Conference, and it'll be a great time for management to comment on their 2016 outlook for the U.S. economy, gold, and copper, as well as address the decrease in leverage. Looking forward, the Q4 earnings report needs to show that the actions taken translate to a positive bottom line or at least trend in that direction.
Disclosure: I am/we are short ABX.
I wrote this article myself, and it expresses my own opinions. I am not receiving compensation for it (other than from Seeking Alpha). I have no business relationship with any company whose stock is mentioned in this article.