Cheniere Energy, Inc. (NYSEMKT:LNG) is bringing its first LNG sales online via its subsidiary Cheniere Energy Partners (NYSEMKT:CQP). The Sabine Pass plant is currently in the process of commissioning the first LNG train.
This article is a follow-up on my previous article : As Cheniere Energy Turns On Sabine Pass, Investors Hold Their Breath. Previously, I examined the commissioning progress of Cheniere Energy's first LNG train. In brief, it discussed the status of gas intake from the NGPL and Creole Trail pipelines and how many of the compressor/turbine stacks were online. At the time of writing the first article, available data from Genscape suggested that commissioning was in progress and going well. Gas deliveries had tailed off near Christmas. However, this was expected as the process was ramped up. I also noted that Cheniere Energy will miss its planned first delivery on January 12th. This follow up piece will delve into some new available data and discuss the issues that may come up for Cheniere Energy and its Sabine Pass project.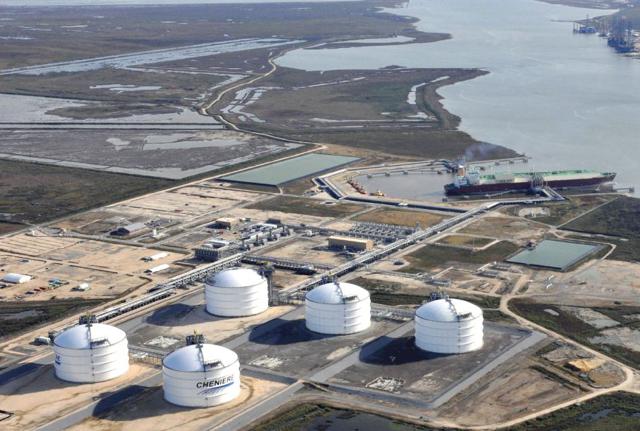 Source : LNG World News
Domestic Gas Intake From Creole and NGPL
Recent data from Genscape shows a significant reduction in local gas purchase for the last week. Cheniere Energy reduced gas purchases to nearly zero on both the 23rd of December and the 4th of January. This reduction in gas signaled to investors that Cheniere Energy was experiencing issues at commissioning, and I will look into the recently commissioned Pluto LNG plant in Australia for comparison.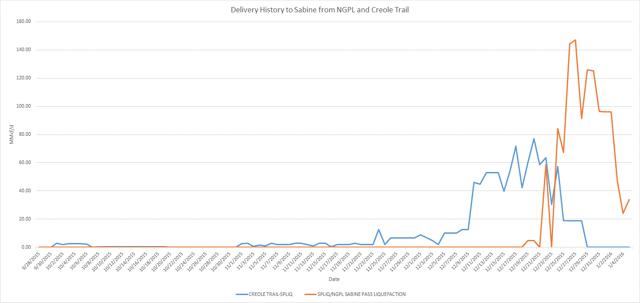 Source: Genscape on January 6, 2016
Pluto LNG - A Telltale Commissioning Story
A paper published by Woodside discussed the issues that arose during commissioning of its Pluto LNG plant. We can gain some insights into these issues, and understand how they can apply to Cheniere Energy's Sabine Pass LNG plant. As the Pluto project utilized offshore gas and was producing from a gas field, and Cheniere Energy's Sabine Pass is onshore, some of the issues can be discounted. Also note that in comparison to Pluto, Cheniere Energy's commissioning process is simpler as the gas is purchased from the NGPL and Creole Train pipelines.
Pluto LNG began commissioning of the liquefaction plant in late 2011 and shipped its first cargoes in May 2012. Therefore, commissioning activities took somewhere between five and six months. It is hard to determine where dry vs. wet commissioning activities are broken out for Cheniere Energy's LNG plant, however, small amounts of domestic gas were being taken in at the beginning of November 2015. We can also expect Cheniere Energy to succeed in commissioning in far shorter a time frame as they are not bringing a gas field online at the same time.
Before proceeding, I would like to note that the Pluto LNG process differs from Cheniere Energy's chosen ConocoPhillips Optimized Cascade process. Pluto also did not use aero-derivative turbines. Finally, Bechtel is providing a turnkey system to Cheniere Energy that will significantly reduce the risk at commissioning due to their previous experience with identical plants.
Commissioning Challenges
The Pluto LNG project noted the following issues at startup:
Simultaneous operations for onshore and offshore
Simultaneous operations of construction and commissioning
Import of propane and refrigerant
Early cool-down of storage and loading facilities
New equipment that Woodside had not operated
My view is that Cheniere Energy will not run into as many issues as Woodside. And although there are simultaneous operations with construction and commissioning, the trains are relatively separated and do not have the difficulties of a connected offshore gas field.
During startup, Pluto saw the following production figures that show similarities to the Cheniere Energy's startup of Sabine Pass. As commissioning activities are often completed in "nodes". The end of each node often results in a pausing, or slowing down, of commissioning activities while the process is examined thoroughly by the engineers. For a plant such as this, gas would be required to be sent to the flare, and hence the note from Genscape on flaring.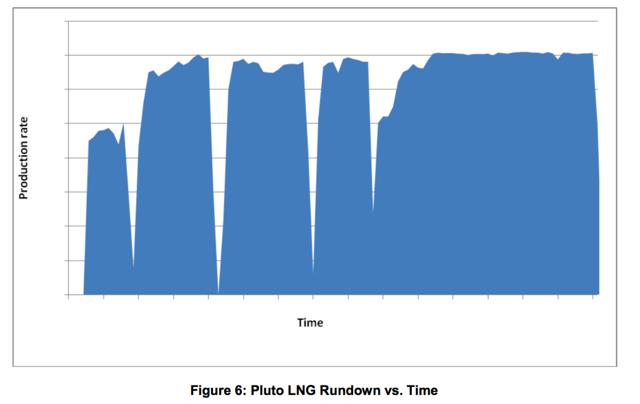 Source: Woodside Via Gas Technology Institute
Bechtel Is Well Experienced Commissioning Identical Facilities
When reading the Woodside report on Pluto's startup, it is apparent that they were aware of many of the issues that they would experience and visited other plants that had experienced similar issues. The Woodside engineers were dealing with a process that was new to them. Conversely with Sabine Pass using the Conoco-Bechtel process, they are using a turnkey contractor that understands these issues better than anyone.
Bechtel understands the issues that they will face and has experienced many of the possible faults that can occur. From what we can see, and although the figure above does not have a timescale, the Sabine Pass startup is following the same methodological startup. Investors should hope to see the plant being brought to capacity, at 600MMcf/d in the next few days.
Conclusion
As Cheniere Energy continues to commission its first LNG train, data will come available from various sources. To investors that do not have experience commissioning, these activities may be misconstrued, and an understanding of the commissioning process is essential. While the data available shows a delay to the first delivery date of January 12, it does not show a significant issue at commissioning. Woodside saw the same start and stop events while commissioning its Pluto LNG project that resulted in a successful startup in 5-6 months. Reviewing the available data for the start-up of the Pluto LNG, we can see that it had followed a mechanical process and that Woodside was performing a number of activities that its engineers had not experienced. Conversely, Bechtel, who has constructed nearly identical plants in the past, is aware of the issues they will face, and has a time-proven process for designing, constructing, and commissioning LNG trains. With the data available, I conclude that it is not apparent that Cheniere Energy is experiencing serious issues with commissioning. Despite this, there will be a delay in Cheniere Energy's first LNG delivery.
Disclosure: I/we have no positions in any stocks mentioned, but may initiate a long position in LNG, CQP over the next 72 hours.
I wrote this article myself, and it expresses my own opinions. I am not receiving compensation for it (other than from Seeking Alpha). I have no business relationship with any company whose stock is mentioned in this article.
Additional disclosure: Many of the assumptions are opinion based or inferred based on available information. This article is not, and should not be considered as, financial advice or an accurate picture of the company's circumstances for investment purposes.