Earlier this year, I wrote about Blackstone (NYSE:BX) in an article titled, "Blackstone: Buy Low And Sell High (And Repeat)". Last month I (prematurely) wrote, "Blackstone - Will Shares Get to $100 by 2025?". Since writing the article on December 15, BX shares have been in freefall, down 12%. Though forward earnings estimates are down 2% ($3.34/share from $3.40/share), the drop has not been related to any BX specific bad news. To be blunt- this is BX's time to buy low.
Since the beginning of the year, turmoil in China and dropping oil prices have created a flight to safety and a palpable fear in the marketplace. There is blood in the street. Energy assets, both physical and debt, are being sold for pennies on the dollar as investors want out and highly leveraged firms have no place to go with respect to debt refinancing.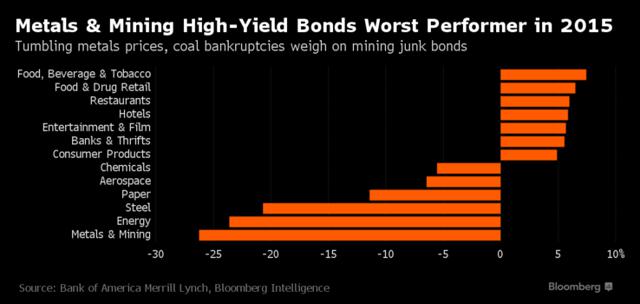 Click to enlarge
Source: Bloomberg
S&P, as reported by CNN, noted, "72% of the bonds in the metals, mining and steel industry are not distressed" and "50% of energy junk bonds are distressed." Jim Kochan, chief fixed-income strategist at Wells Fargo Advantage Funds note, "It would be overly optimistic to say that this is finished." After a negative 2015, forecast for 2016 tend negative.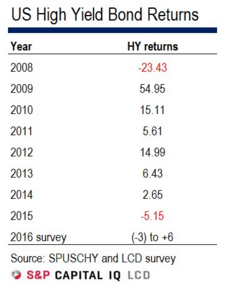 Source: High Yield Bond
In December, at the Goldman Sachs US Financial Services Brokers Conference, BX Chairman & Chief Executive Officer, Steven Schwarzman noted, "our portfolio (of companies) is doing really well" and "we're clearly finding stuff all over the place". In energy, "we did almost nothing in energy in the last year contrary to almost everyone else . . . now we're looking with energy prices down further that we're closer to a zone where you can start doing things". In real estate, "we buy giant REIT's that are depressed . . . we can buy something where there is basically no competition."
BX the stock has been pummeled in recent weeks, with shares falling 25% in the last three months, compared to a 5% drop in the S&P 500. CEO Schwarzman disagrees about BX valuation and thinks the stock is going to $130/share (based on internal models) by 2025.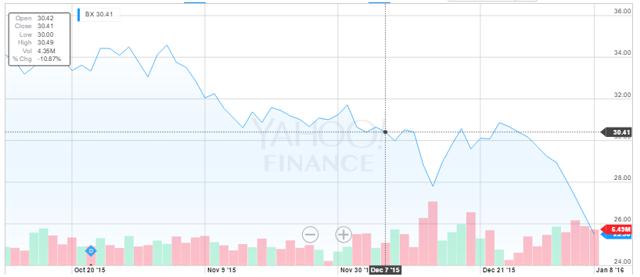 Click to enlarge
Source: Yahoo!
BX will likely have a poor Q4. Earnings estimates of $2.20/share, down from $2.82/share ninety days ago reflect Company having to, under GAAP accounting rules, mark down the value of held debt and certain real estate. However, barring a collapse in the markets, these adjustments should be (mostly) temporary.
The thesis for BX remains the same, buy low, sell high. Even more than in Q4 2015, Q1 2016 appears to be providing an opportunity to buy assets for pennies on the dollar. I expect BX, which has been patient in energy to succeed much as it did in residential real estate following the Great Recession. In October, BX raised $15.8 billion for its biggest real estate fund. Since the fund was raised, BX has completed a couple of monster deals, where it likely faced limited competition, acquiring Stuyvesant Town in Manhattan for $5.3 billion and partnering with Wells Fargo (NYSE:WFC) to acquire General Electric's (NYSE:GE) real estate assets for $23 billion. Since the New Year, the Company has announced a new $1 billion initiative to invest in (distressed) energy, the acquisition of a Singapore-based property trust, and the closing of a multi-family property in San Antonio, TX.
While I considered adding to my position last month, I held off. I expect to make an incremental investment during the upcoming week. While BX is almost certain to be a volatile holding in 2016, the strong distribution profile and low valuation create a true buying opportunity (for investors with a medium-to-long term horizon).
Disclosure: I am/we are long BX.
I wrote this article myself, and it expresses my own opinions. I am not receiving compensation for it (other than from Seeking Alpha). I have no business relationship with any company whose stock is mentioned in this article.