In this article, I wish to outline why I see Nike Inc. (NYSE:NKE) continuing to remain an undisputed leader in the sports accessories industry. When compared to competitors Adidas (OTCQX:ADDYY) and Under Armour (NYSE:UA), there are two primary reasons why Nike is a more attractive proposition than its peers; 1) a strong financial position, and 2) Nike's growing influence across the Chinese market.
Financials
Nike has beaten earnings estimates for every single quarter since Q1 2013. On a five-year basis from 2011 to 2016, we see that cumulative earnings for Nike on a percentage basis has been significantly above that of Adidas: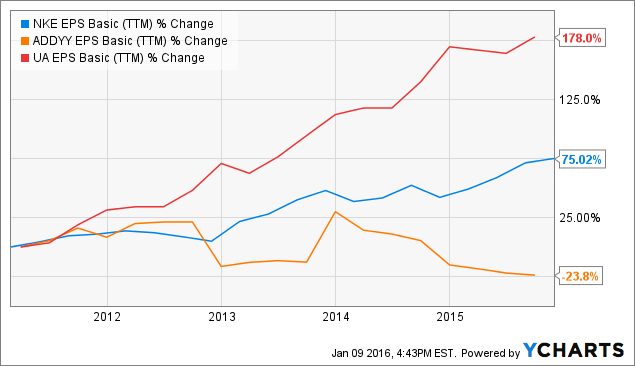 Of course, it is evident that Under Armour has been on a tear as far as earnings go. However, I see Nike as a better choice as far as valuation and long-term earnings potential is concerned. As that old quote goes, the difference between earnings and cash flow is the difference between bankruptcy and success.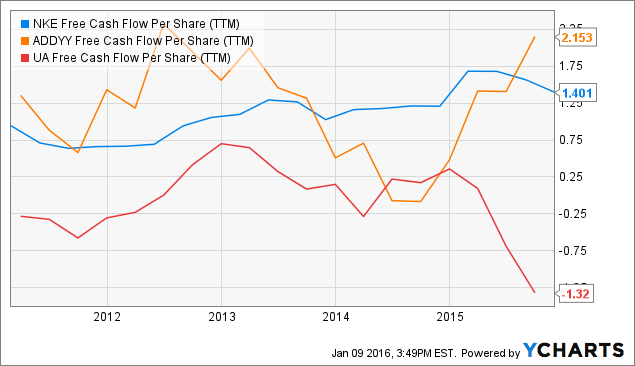 From the above, we can see that while Under Armour has been producing higher earnings, free cash flow has been below that of Nike and has recently taken a nosedive into negative territory. Moreover, Nike has consistently shown a higher free cash flow to debt ratio, meaning that long-term earnings growth is likely to be more sustainable.
Moreover, Nike still shows an attractive valuation given that its P/E ratio is trading at a similar range in Adidas, while Under Armour appears grossly overvalued on this basis: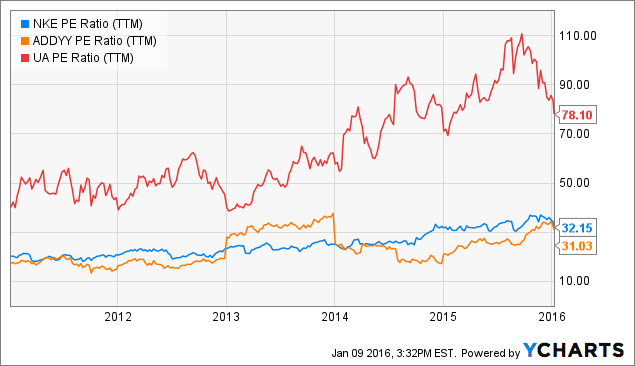 Nike and China - A Match Made In Heaven
Aside from strong financials, I see Nike's expanding presence in China as having the ability to place the company at a significant competitive advantage to its peers.
For one, revenue growth for the three months ending August 2015 were $886 million, which represents a 30 percent increase from that of the previous year.
Bearing in mind, at a time when China's economy is undergoing a slowdown in economic growth and consumer spending, Greater China represents Nike's fastest growing segment.
Moreover, profits in Greater China over this period had risen 51 percent. On the basis of current trends, Nike can be expected to thrive in spite of macroeconomic headwinds in the country.
While established Western brands normally have trouble in modifying their brand to cater to Chinese tastes, this has not been the case with Nike. With China being the largest market worldwide for basketball, the Air Jordan brand has proven to be a great success and a key differentiating factor for the company.
Additionally, a 34 percent jump in future orders in China along with a jump of 14 percent in America means that Nike will continue to perform strongly across both emerging and developed markets. In addition, the move by Nike over the past few years to turn around its distribution strategy by selling its products from independent stores across the China region will only solidify the brand further.
Conclusion
To conclude, I take the view that sustainable earnings and cash flow growth, along with a strong brand image in China will stand Nike in very good stead in the near future. I am highly bullish on this company.
Disclosure: I/we have no positions in any stocks mentioned, and no plans to initiate any positions within the next 72 hours.
I wrote this article myself, and it expresses my own opinions. I am not receiving compensation for it (other than from Seeking Alpha). I have no business relationship with any company whose stock is mentioned in this article.
Editor's Note: This article discusses one or more securities that do not trade on a major U.S. exchange. Please be aware of the risks associated with these stocks.