What a heartbreaking story Ford Motor (NYSE:F) has been for investors who bought into the growth story last year. The auto maker edged from one sales record to the next in 2015, selling millions of cars, but Mr. Market would have none of it. Ford Motor's stock was and (continues to be) a major disappointment for shareholders: It is down ~18% (!) over the last year. Not taking into account the market sell-off on August 24, 2015, from which stocks quickly recovered, Ford Motor closed at the lowest level in a year on Friday, at $12.54. Ouch.
Granted, Ford Motor slid as part of a wider market slump that dragged down stocks in all sectors, but the Ford Motor story is one of a kind: Rarely have I seen a company that executes so well, launches so many new products, yet the stock performance has totally decoupled from the company's financial results. So, the question here is: Will 2016 be any different?
Strong December U.S. sales close a fantastic year for Ford Motor
If you follow my articles, you know that I have pointed out two dynamic trends in 2015 that I thought would lift the auto maker's stock higher: 1. Robust sales growth in Ford's core market, the United States; and 2. Growing average transactions prices.
As to the first point, Ford's monthly sales updates have been nothing but a display of strength and success, all throughout the year. Hence, it doesn't come as a surprise that Ford has closed the year on a very strong note, too.
In December, Ford Motor sold 239,242 vehicles in the United States, which was 8.4% (!) more vehicles than the auto manufacturer sold in December of last year. On a yearly basis, Ford Motor's U.S. sales increased 5.3% to 2,613,162 vehicles. In 2014, Ford Motor sold 'just' 2,480,942 cars, SUVs and trucks. According to Ford Motor's press release, see here, 2015 was the most successful year in terms of sales since 2006.
And yet Ford's stock and its investors have been losing out. Look at this chart: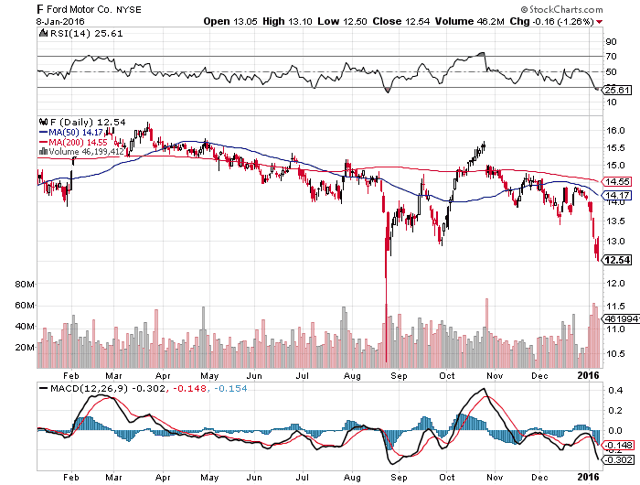 Click to enlarge
Source: StockCharts.com
Strong operating cash flows and increasing global market share
If anything needs to change when it comes to Ford Motor, it needs to be investor sentiment.
The company itself is cheap, and sells for ~0.34x sales, ~6.53x forward earnings. So, valuation is hardly a concern here.
And don't think Ford is having any cash problems either. The company rakes in mountains of cash. In the third quarter of 2015, Ford Motor pulled in ~$2.8 billion in adjusted automotive operating cash flow. On a run-rate basis, this translates into adjusted annual OCF of ~$11.2 billion in Ford's automotive division, which is a significant stack of cash available for reinvestment or shareholder disbursements.
One of the reasons why Ford is able to rake in such a large amount of cash, obviously, is that its products resonate with consumers, and that's why Ford's sales results have been through the roof in 2015. But just as important, Ford Motor is not only increasing sales, but also growing market share - those are two very different things.
The auto industry is notoriously difficult and sales are often driven by significant discounts and promotions. However, Ford Motor has managed to increase its global market share from 7.2% in 2014 to 7.4% in 2015, which attests to the acceptance and competitiveness of Ford's vehicles.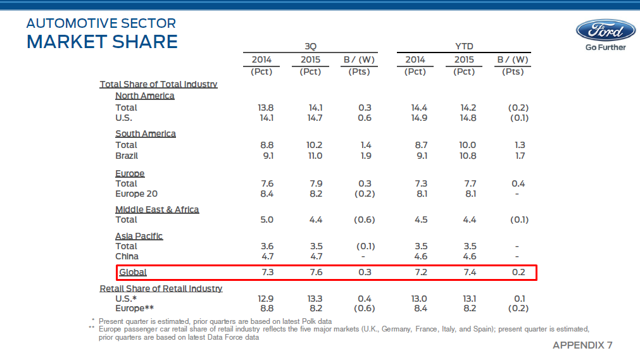 Click to enlarge
Source: Ford Motor Investor Presentation
Will investors realize Ford's value and potential in 2016?
That's the question of all questions.
2015 was a challenging year for Ford, but more so on the stock market front than in the real economy. The best approach to dealing with a Ford investment right now is to see the company, first and foremost, as an income and yield play. Ford's dividend yield is now converging on 5%, which makes it an excellent choice for income investors betting on continued dividend growth.
Nobody can predict with certainty how Ford's stock will fare in 2016, or whether investors rediscover their love for Ford Motor. In any case, a near 5% dividend yield sweetens the waiting for higher share prices.
Your Takeaway
Ford Motor is in a good position to grow vehicle sales in the U.S. and abroad in 2016. Top sales in the U.S. and a bigger slice of the global auto market pie underscore Ford's ability to compete, and win. Since Ford Motor's December sales end a successful year, chances are that 2016 will be a good year, too. I only hope that Ford Motor will regain its mojo in 2016 in terms of sentiment and that it can lure more investors back into the stock. A stock buyback and continued dividend growth may do just that.
Disclosure: I am/we are long F.
I wrote this article myself, and it expresses my own opinions. I am not receiving compensation for it (other than from Seeking Alpha). I have no business relationship with any company whose stock is mentioned in this article.