The venerable diesel engine producer has fallen victim to a global slowdown. Throughout 2015 we saw the stock price fall considerably from highs into the 140s to the most recent lows in the mid 80s. Despite lowering guidance for their 2015 and 2016, Cummins (NYSE:CMI) is still well-positioned to continue to grow, their management has been following through on cost-saving, and their balance sheet is still healthy. By taking a look at a few key markets for Cummins we can get a better feel for what 2016 may bring and how we, as long term investors, should react.
This article will focus mostly on China, India, and Brazil (Latin America) and how they impact Cummins. Cummins relies on the US and Canada for 60% of it's revenue, which is relatively safe as this region continues to grow. China, India and Brazil account for 17% (7%, 3%, and 7% respectively) of the remaining 40% of revenues (3Q Earning Presentation) and is where most of the pain could be located. The performance of those three also affects the greater regions they reside in and can be telling as to how things are really going.
China
China has undergone years of unprecedented growth that has greatly benefited pretty much every developed nation and their investors. While they are still growing, their growth has slowed and it seems the party is now over. This slowdown in growth has brutalized investors the world over, sent shockwaves through every market, and could take weeks to stabilize as recent economic data out of China showed a drop in PMI and the yuan has lost value against the dollar. The main catalyst for the slow in growth here has been a drop in demand across the world for the goods produced by Chinese factories. What is being lost in manufacturing is being replaced by the services industry, albeit slowly.
Consumerism inside China is now growing at incredible rates, mobile internet traffic has nearly doubled in 2015 alone and box office movie revenue is up 50%. As the Chinese transition from producers to consumers, the fourth quarter GDP is expected to stabilize at 6.9%. How is this affecting Cummins? In 2014 China gave Cummins $3.3B in sales, the same in 2015 thus far. Where Cummins is losing sales in the manufacturing sector it seems to be making up in the consumer sector. Currently they have two Chinese JVs, the first known as Cummins Dongfeng or "DCEC", and Chongqin Cummins. Both JVs give Cummins access to the growing light and heavy duty trucks market in China as well as filter manufacturing. With catalysts such as e-commerce growing through rapid increases in internet use the truck market will continue to grow, and rapidly, resulting in greater sales for Cummins in this sector. Although China will continue to concern investors in 2016, Cummins growth in the region should continue and revenues will probably remain flat or rise slightly until the manufacturing contraction halts.
Brazil
The South-American nation has the 5th largest population in the world and is spiraling deeper into a severe recession. Their Brazilian real has been crushed through 2015 in comparison to the dollar and their GDP growth is expected to hit -3.8%. Their president is facing impeachment, their big bankers are being arrested in large numbers, and large protests regularly rock the nation adding to the instability and lack of confidence in the economy. We could be years from a meaningful turnaround in Brazil and the contagion of fear will continue to spread through greater Latin America which will ultimately hurt Cummins.
There are positives in Brazil for companies like Cummins and Cummins Brasil, the greatest of which being the countries oil production. Brazil is obligated to provide up to 200,000 bpd to China through 2020, keeping their giant Petrobras plenty busy. Brazil exports a lot of oil, and 35% of it is to China. With Chinese auto sales rising this will continue and Brazil should benefit. The market for Cummin's goods and services will likely drop in Brazil as the tide of growth recedes from the shores of Brazil but they will still be a major market for the company.
India
Finally a bright spot for Cummins investors. India is now the fastest growing nation in the world with the World Bank estimating GDP growth of 7.8% for the year and 7.9% the next two years. India wants to become a modern industrialized nation, their government has taken deliberate steps to make that happen, and their population is ripe for growth. Cummins relies on India for just 3% of their revenue but I feel this will rise in 2016 and 2017 as India ramps up infrastructure development and requires more construction equipment. Cummins has already begun to see the benefits with $1.5B in sales to India so far in 2015 compared to $1.3B in 2014.
The growth of the Indian economy up to this point has largely been through technology related services, many feel the next growth wave will be in manufacturing, a wave Cummins has already ridden since 1962 to great results. Cummins India domestic sales grew 14% over the last year, a number expected to increase. While exports from Cummins India dropped due to global slowdown the net profit increased by 17%. India houses a large number of English speaking engineers and a population ready to assume a larger role in industry. The government is less at odds with the United States than China and geographically is ideally placed for shipping. Many companies are also interested in manufacturing in India as their population is likely to become the next large group of consumers in the world. A rise in manufacturing would give Cummins another great market segment to expand in along with the machinery needed to grow the infrastructure. Already being well positioned there I see India as becoming more and more prevalent in Cummin's earnings especially going into 2016.
Reading through their 3Q 10-Q it is obvious the strengthening dollar will continue to cause problems for Cummins and their bottom line. Simple charts show the incredible growth of the dollar.
USD vs Indian Rupee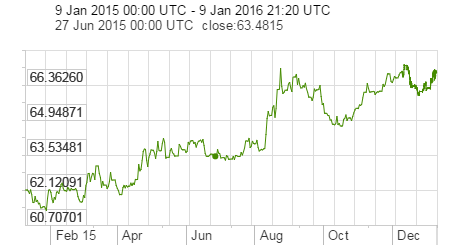 USD vs Brazilian Real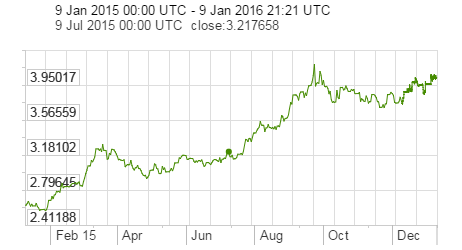 USD vs Chinese Yuan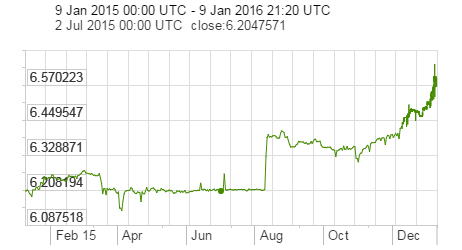 The strength of the dollar will likely continue as our short term interest rates rise, Europe continues to practice quantitative easing, and large economies slow down. In Q3 alone, foreign currency adjustments cost Cummins $221M compared to $172M the year before. Their foreign currency forward contracts in Q3 gave them a $6M gain. Seeing the glass half full, all the losses from foreign currency are out of the control of Cummins, and sales are still robust.
Forward looking investors could soon find more value in Cummins with the February earning release. I still feel the current share price has baked in lackluster Q4 earnings, but if Cummins fails to impress the shares could drop lower especially with how the market has been behaving. With 2015 EPS at $9.38 estimated, a drop to $80 would give us a P/E at 8.5, for a company such as Cummins that's an incredible value. The dividend, which is safe, would be at a great 4.8% yield at $80. Already having a half position in Cummins I'll be looking at going full at $79 and closely watch once the earnings are released. Should earning impress, I have no problem raising my limit to $85. There is still lots of time left from now until the release, and with the current craziness taking place now you never know what is going to happen. There is still lots of analysis that can be done on Cummins, and I'll continue to provide what I can. I hope this is helpful for you all, and I look forward to the comments and any feedback. Good luck and good investing!
Disclosure: I am/we are long CMI.
I wrote this article myself, and it expresses my own opinions. I am not receiving compensation for it (other than from Seeking Alpha). I have no business relationship with any company whose stock is mentioned in this article.