"Because things are the way they are, things will not stay the way they are." - Bertolt Brecht
I have continued to stress in my writings here on SeekingAlpha and on several other websites I write on that I believe the market appears to be entering a period very similar to 2003 and 2009 for risk-assets whereby the environment is reflationary and favorable towards equities relative to bonds. In a Bloomberg Radio segment I did last week with David Wilson and Vonnie Quinn, I spoke at length about the idea that following the Summer Crash, Fall Melt-Up, and Winter Resolution, the market internals I study suggest this could be a surprising year. I encourage you to listen to the segment here and provide feedback on the tone/message as I continue to work towards communicating the intermarket analysis my colleagues and I at Pension Partners focus our attention on.
Real estate should logically behave well under the global reflation theme which I first brought up for Marc Faber of the Gloom Boom and Doom Report in an article I wrote for him which he published earlier this month. With that said, take a look below at the price ratio of the SPDR DJ Wilshire International Real Estate Index ETF (NYSEARCA:RWX) relative to the S&P 500 (NYSEARCA:IVV). As a reminder, a rising price ratio means the numerator/RWX is outperforming (up more/down less) the denominator/IVV.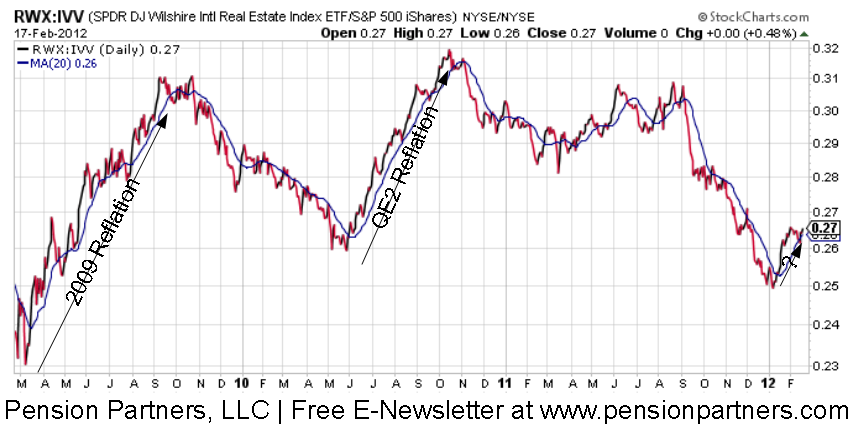 I've annotated the chart to show the prior periods of outperformance, whereby uptrends in the ratio were quite powerful for risk-assets. Notice the far right of the chart, which appears to still be in its relative infancy. Strength in international real estate may just be getting started, and seems to confirm the idea that this bull market is indeed much more powerful than most may believe. While investing is always about probabilities and not certainties, the conditions continue to suggest inflation expectations are back in terms of investor psychology and sentiment. For the bulls, that's a good thing.
Disclosure: I have no positions in any stocks mentioned, and no plans to initiate any positions within the next 72 hours.
Additional disclosure: Pension Partners, LLC, and/or its clients may hold positions in securities mentioned in this article at time of writing.