Analysis of variables affecting the S&P 500's margin:
The biggest drivers of margins during the past decade have been the:
reduced costs of goods,
conservative hiring growth,
S&P 500's sector composition,
continually decreasing interest rates, and
smaller-cap stocks having more opportunity for margin expansion than large caps.
Lower cost of goods sold (COGS)
—In 2014, as in 2004, COGS were the single largest percentage of revenues and fell by approximately 2% over the period, making it the largest contributor to improvements in corporate profitability. Historically, COGS is the largest source of revenue erosion. This has generally been a tailwind in recent years, as the relatively low level of global inflation has helped to keep material prices stable. Other sources, which are also shown in Exhibit 3, include selling, general & administrative (SG&A) expenses, income taxes, depreciation, research and development, and interest expenses.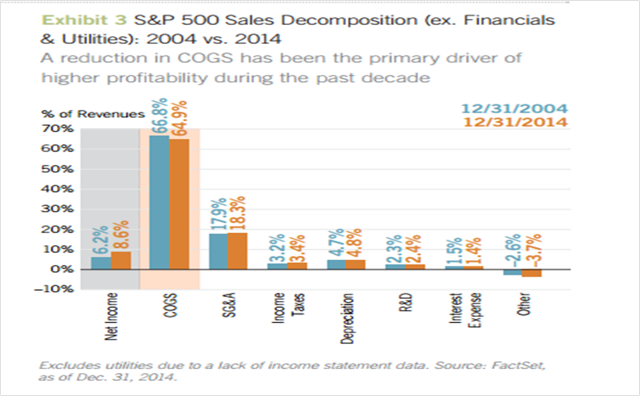 Conservative hiring growth
—Until quite recently, SG&A expenses were a lower percentage of the S&P 500's revenues than they were a decade ago. SG&A expenses for the S&P 500 in aggregate have, on average, increased 4.4% annually during the 2010s, compared to 6.9% in the 2000s and 7.0% during the 1990s. —This is due to more widespread use of technology and automation to improve efficiency. Offshoring, where business functions are being relocated to lower cost geographies outside the United States, is also one of the reasons.
—However, a steep price decline in oil prices in the fourth quarter of 2014 drove down energy sector revenues significantly, causing SG&A expenses to be a marginally higher expense than in 2004.
—Over time, employment growth in the United States has been conservative relative to revenue growth. More recently, job cut announcements spiked to their highest level in nearly two years, as falling oil prices prompted cost-cutting efforts in energy and related industries.
Composition shift of the S&P 500
—A number of the more service oriented segments of the market, such as technology and health care, now represent a much larger share of the S&P 500 than they did back in 1990 (Exhibit 4). Conversely, some sectors have decreased in size. For example, the consumer discretionary weighting has slipped due largely to the struggles of the automotive industry, while industry consolidation and slower growth in the telecommunication sector has pruned its weighting.
To quantify the contribution of the mix-shift in the S&P 500's sector weightings, we analyzed the index's net income margins (see Exhibit 5), assuming the various historical sector revenue compositions that appear in Exhibit 4. As shown in Exhibit 5, changes in the S&P 500's overall sector composition alone accounted for a 0.45% increase in net income margin between 1990 and today.
(click to enlarge)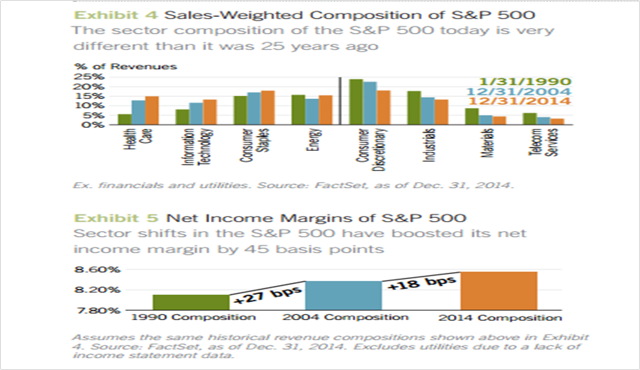 Higher interest rates don't mean significantly lower margins
—Historically, low interest rates have helped maintain the U.S. stock market's profitability. The same is true for corporate debt, as measured by the S&P 500's debt-to-capital ratio. And these downward trends have been this way for years.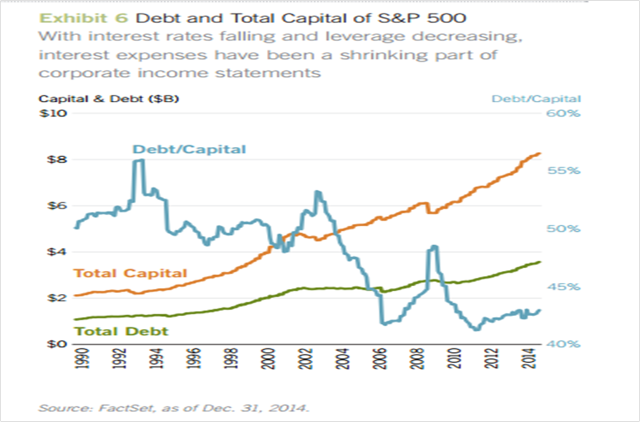 But with the U.S. central bank seemingly poised to hike interest rates in the second half of 2015, investors are worried about the subsequent effect on the market. However, the impact of higher interest rates and increased debt is smaller than most investors realize, and interest expenses represent only a small part of corporate income statements (as shown in Exhibit 3). To illustrate just how small an effect higher interest rates and leverage could have on corporate profitability, we calculated a variety of scenarios in which interest rates and debt levels had both increased by various amounts. These hypothetical scenarios, based on simple assumptions, are shown in Exhibit 7. As shown, even with a 10% increase in a company's debt level and a 200 basis point (2.0%) increase in interest rates, a company's profit margin would decline by only 0.70% (all else being equal).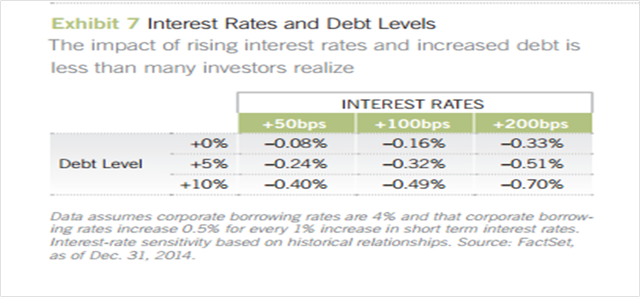 The small-cap opportunity
Since the 2008 financial crisis, profitability growth has been much more pronounced in larger-cap companies than in smaller caps. Margins for mega-cap stocks (the Russell 200 Index) have expanded the most, pushing the S&P 500 above its mid-cycle and long-term averages. By comparison, margins in the small-cap Russell 2000 Index are well below their mid-cycle average (see Exhibit 8). Thus, while we believe large-cap margins are sustainable in most segments of the market, the opportunity for profitability expansion in small caps could be even greater. (Note: The securities of smaller, less well-known companies can be more volatile than those of larger companies.)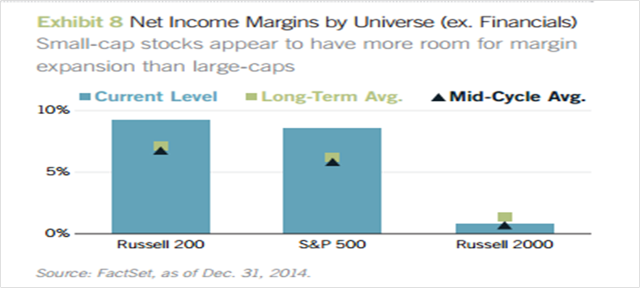 Potential risk to profitability
There are several risks that could disrupt our profitability thesis if they were to unfold.
—One would be a sudden economic slowdown on a global scale.
—A significant increase in inflation and/or input cost pressures would also threaten margins, as would a sharp uptick in spending on employment growth.
Additionally, an unanticipated acceleration in the pace and magnitude of interest rate hikes could hamper economic growth and temper investors' enthusiasm for equities.
—Source of references:- https://nationalfinancial.fidelity.com
Disclosure: I/we have no positions in any stocks mentioned, and no plans to initiate any positions within the next 72 hours.
I wrote this article myself, and it expresses my own opinions. I am not receiving compensation for it (other than from Seeking Alpha). I have no business relationship with any company whose stock is mentioned in this article.