One doesn't have to look far in today's turbulent financial markets to either see or hear about the terrible performance of commodities in general over the past several years. Soft and hard commodities alike have been cut to pieces as the dollar has strengthened and global growth has slowed. Unfairly, some companies in the commodity sector have seen dramatic declines in their stock price despite their margins holding up quite well. CF Industries (NYSE:CF) represents such a company. Look at the table below for anhydrous ammonia prices in Illinois.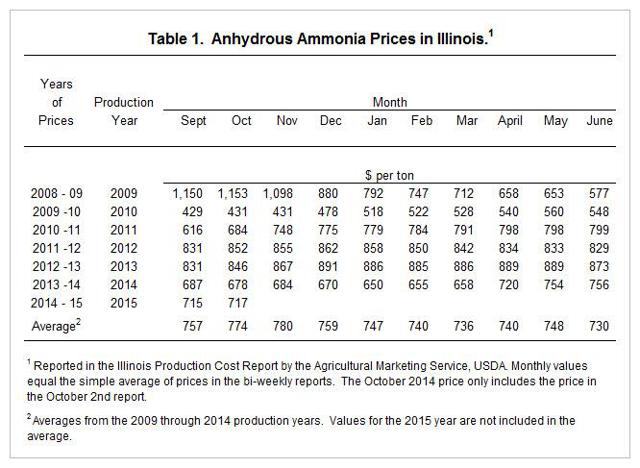 Click to enlarge
Anhydrous ammonia functions the same as nitrogen or urea, that is it is a fertilizer for crops. As you can see, prices are near the top end of the last 5-year range. Now examine who is the top producer worldwide of nitrogen for crops: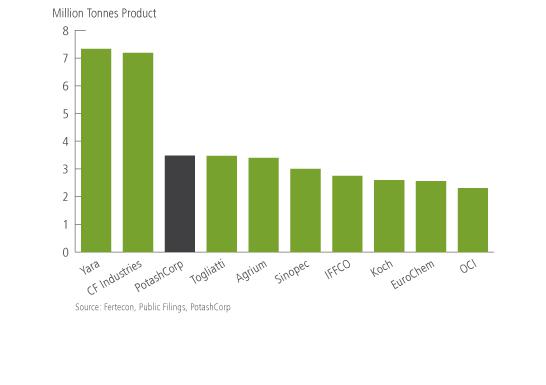 CF Industries is the second largest producer of nitrogen worldwide, and by far, the largest producer in the US. The nitrogen market is monopolistic in nature, and the way prices have held up support that statement, especially given the fact that the main ingredients to make nitrogen are oil and natural gas.
Having discussed the market in which CF Industries operates and dominates, let's examine the stock itself. Currently, CF Industries is trading at levels not seen in 5 years. During that time frame, the company has bought back 20% of its shares outstanding. EPS has gone from a $1.08 in 2010 to over $3.00 in 2015. It carries no short-term debt and has a current ratio over 3. The current P/E ratio is only 8.5, and given how nitrogen prices have held up and inputs have dropped, earnings should at minimum be maintained in 2016, if not grow. Furthermore, its dividend is currently over 3%
In conclusion, CF Industries is a screaming buy given the market fundamentals are still strong for the company, and financially, the company has earnings strength and liquidity. Furthermore, this is a commodity company that has pricing power, which is unheard of in most commodity markets. Start scaling into CF Industries over the coming months and watch your investment grow for years.
Disclosure: I am/we are long CF.
I wrote this article myself, and it expresses my own opinions. I am not receiving compensation for it (other than from Seeking Alpha). I have no business relationship with any company whose stock is mentioned in this article.