Hot startups like Uber (Private:UBER), Airbnb (Private:AIRB) and Palantir Technologies (Private:PALAN) are increasingly taking their time before IPO-ing. Palantir may take a very long time because its business is more sensitive in nature. Not every customer will want its relationship with the company or the extent thereof to be revealed. There are certainly good arguments to stay private a little while longer but for us non-venture capitalists, that is no fun.
In case you are not familiar with the company and the story: Palantir is a big data story building platforms for data integration at scale. These platforms can then be used across sectors as evidenced by the wide range of sectors the company is servicing according to its website: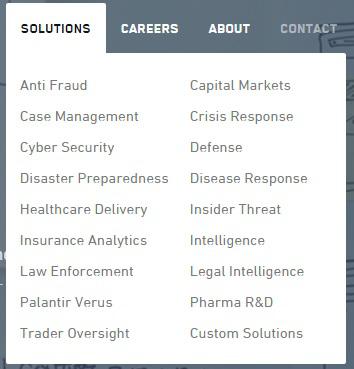 Source: Palantir website, the company offers solutions to a wide range of different sectors
The company was founded back in 2004 by Peter Thiel, Alex Karp, Joe Lonsdale, Stephen Cohen and Nathan Gettings. It derives its name from Lord of the Rings mythology (Wikipedia):
A palantír (sometimes translated as Seeing Stone but actually meaning "Farsighted" or "One that Sees from Afar") is a stone that functions somewhat like a crystal ball. When one looks in it, one can communicate with other stones and anyone who might be looking into them; people of great power can manipulate the Stones to see virtually any part of the world
Meanwhile, the company is not yet cash flow positive or is growing, and thereby using up capital at such speed it requires additional growth capital. Last time it did so, its value was estimated to be around $20 billion.
With Palantir covering so many industries, its TAM (total addressable market) must be quite large. If you believe Palantir is going to turn into a $500 billion behemoth, you may be interested to buy in.
The secret way in
If you are really desperate to get exposure to Palantir right now, you can buy shares of the RELX Group through its London or Amsterdam listing or the corresponding U.S. ADRs (NYSE:RELX) representing RELX PLC and (NYSE:RENX) representing RELX NV. The group invested through its venture capital arm in two early financing rounds (B and C).
It's a new corporate trend to set up subsidiary venture funds that invest in industry start-ups. RELX venture fund is another typical example of this trend.
RELX is a global professional information dealer. Historically, its products consisted of scientific journals, but nowadays it offers a range of journals, digital subscriptions and data solutions. Its subsidiary venture fund wants to invest in entrepreneurs and management teams that have the drive and ambition to build large businesses with a scaleable business model and the potential to become leaders in their respective industry. The fund takes an active approach developing its portfolio companies and helping them through its network and business relationships.
To achieve this, it focuses its investments on sectors that have some overlap with RELX's core business: new media, mobile, large scale data and analytics, healthcare information and software and groundbreaking analytic technologies. Palantir fits the criteria and at least in that case, its investment appears to have paid off.
Many details of Palantir's financing are unknown. There were three rounds where sums invested were undisclosed. I'm relying on estimates for these rounds, assuming the amounts and valuation multiples were close to rounds done before and after. If all the money raised by Palantir was put in at roughly the same terms, its stake should be worth something close to $700 million. If the earlier rounds were done on better terms, the stake should be worth somewhat more than that. RELX is, unfortunately, quite a large company which means you will need to own a lot of RELX just to get exposure to a little bit of Palantir. That means this investment idea requires you to at least like RELX as an investment. Below you will find a diagram of the company's corporate structure which helps when determining which company you should buy in: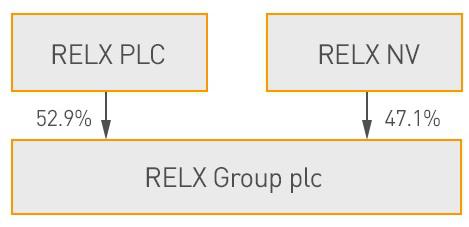 Source: Investor Relations RELX Group
RELX NV has a market cap of $36.29 billion. RELX PLC has a market cap of $36.5 billion. Therefore, today, it's best to buy in through the London-listed company. However, even though that's the best option, for every $100 you invest in RELX PLC, you end up with only about $1 worth of Palantir. That means it's currently vital that you consider RELX PLC undervalued to go this route. RELX trades at approximately 20x forward earnings.
However, even if you don't consider it undervalued, this knowledge is valuable in so far things can change really quickly. When Palantir keeps growing and RELX share price craters, the picture will look very different. As David Nierenberg put it in the Art of Value Investing:
With the market as volatile as it has been, we've been more diligent about maintaining watch lists to catch companies whose stock trades off sharply for reasons that may be more overall market related. We're not looking for short-term trades but, as we learned in late 2008 and 2009, stocks of even the high-quality companies we want to own can get remarkably cheap quite fast. We want to be prepared for that.
Disclosure: I/we have no positions in any stocks mentioned, and no plans to initiate any positions within the next 72 hours.
I wrote this article myself, and it expresses my own opinions. I am not receiving compensation for it (other than from Seeking Alpha). I have no business relationship with any company whose stock is mentioned in this article.