Since buying SanDisk, Western Digital's (NASDAQ:WDC) share price continued its descent. The stock is around 35 percent lower from the last time I warned about holding this company on October 24, 2015. Now trading near its yearly low, investors should continue avoiding storage makers like Western Digital.
Storage a commodity
Western Digital is not the only firm whose profit margin is eroding. Seagate (NASDAQ:STX) faces similar headwinds as both firms battle for market share. In its fiscal first quarter call held on October 29, Western Digital reported non-GAAP gross margin of 28.9 percent even as storage shipments grew from 56 exabytes to 64 exabytes. The company expects a slight uptick in its gross margin percentage.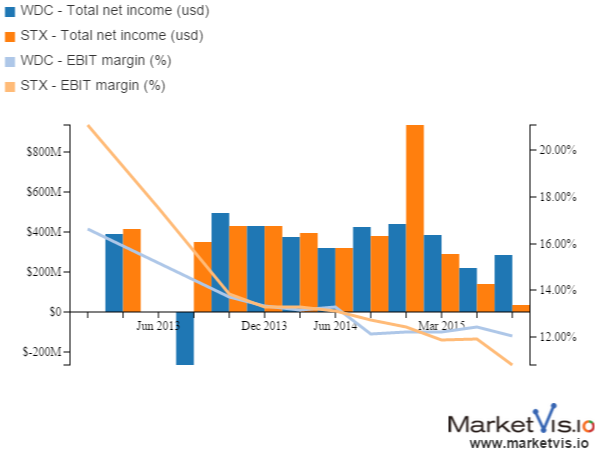 Source: marketvis.io
Unfortunately, the demand for PCs, including laptops, remains a challenge. This will exert negative pressure on storage makers. Unless gaming computer sales improved during the holiday, Western Digital and Seagate will likely disappoint investors in their next quarterly report. Investors already are souring on PC makers. Hewlett-Packard (NYSE:HPQ) is down in the last month, although Western Digital fared worse in the last three months:
WDC data by YCharts
Three-month stock performance: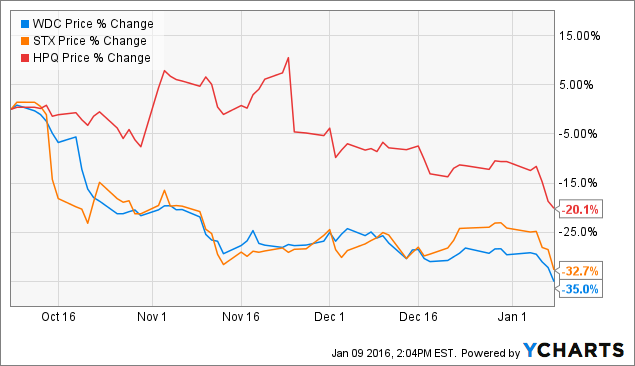 WDC data by YCharts
Storage suppliers do not benefit much from strong console sales, in which Sony (NYSE:SNE) boasted about selling 35 million units and ZDNet speculated on January 8 that Microsoft (NASDAQ:MSFT) sold 18 million Xbox One units. A higher sales mix from consoles hurts profit margins.
Solid State Disks a bright spot
Falling solid state disk prices ("SSDs") should improve adoption for the faster type of storage. If Western Digital experiences an upward trend in sales for them, it might help offset the low profitability from hard disks. If enterprises implement SSDs having a higher average storage capacity, this too will help WDC's earnings. SSDs for embedded solutions, smartphones, tablets and Internet of Things also are sources for profitability growth for both Western Digital and Seagate.
One downside for relying on SSD supplying for smartphones is that the sector is slowing. Gartner reported last August that sales fell the most since 2013. Sales for smartphones in China also declined.
SanDisk to weigh on shares
Acquiring SanDisk will weaken Western Digital's balance sheet in the short term. Longer term, SanDisk strategically removes a competitor and deepens Western Digital's set of product offering. Still, management expected SanDisk would contribute positively to growth upfront, a view that's at risk of being wrong. Slow sales for smartphones, tablets and computers will make it challenging for SanDisk to meet growth expectations. This will hurt Western Digital's stock price.
Investors should continue avoiding Western Digital, Seagate and PC makers like Hewlett-Packard.
Disclosure: I/we have no positions in any stocks mentioned, and no plans to initiate any positions within the next 72 hours.
I wrote this article myself, and it expresses my own opinions. I am not receiving compensation for it (other than from Seeking Alpha). I have no business relationship with any company whose stock is mentioned in this article.