Preface
As of late, much ado has been made about another Chinese stock market crash as equities have plunged nearly 10% this week; however, is it any surprise considering the People's Bank of China (via the Chinese Communist Party) is the same central banking institution that simply forces state-owned banks to purchase toxic local debts, bans certain shareholders from selling, and encourages retail investors to trade on margin using their apartments as collateral? (Yes, you read that right.) Perhaps more important is China's insistence on playing the dangerous game of walking the line between liberal currency reform and monetary manipulation, especially in relation to its neighbors. China's recent actions are already having knock-on effects on other currencies, with the yen gaining substantial strength (USD/JPY ~ ¥117) and the Aussie dollar tumbling (USD/AUD ~ $1.44). How this will affect China's political relations with its neighbors should be interesting to observe. Furthermore, one must ask the fundamental question, what with China's rapidly depleting foreign currency reserves, massive capital outflows, and stunning political incompetence in the face of extraordinary crises - is the bullish China theory dead in the water?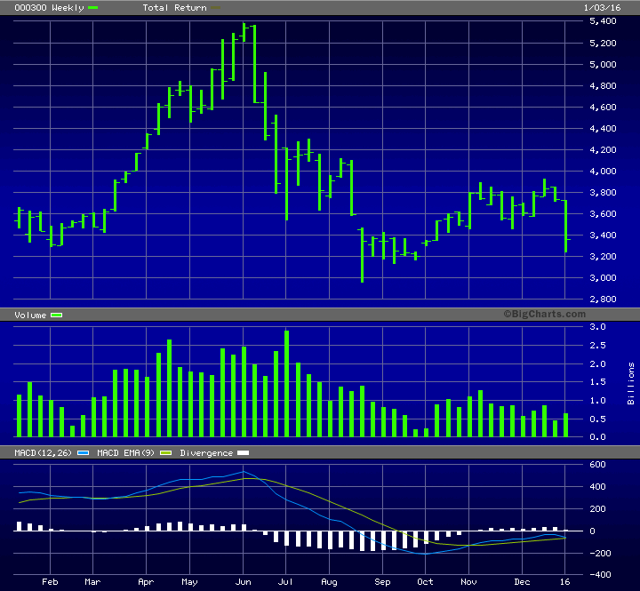 Click to enlarge
(Source: SIX Financial Information)
Currency War in Asia Pacific
"Forget about the equity market, what should really concern investors around the world is the currency, because what China has been doing is not only weakening its daily fix, but it is losing control of the offshore market..."

- Mohamed El-Erian (Bloomberg View Columnist)
For many years, China has been treading the tripwire of liberalizing market reforms and the constancy of the Chinese Communist Party; had Deng Xiaoping been alive today, he'd be proud. The theory that the modern regime can survive economic liberalization policy has never been made stronger, and the legitimacy and necessity of the Party's control over Chinese markets is currently out of the question, as Chinese retail investors are now entirely reliant on this interventionism to survive the institutional outflows and subsequent equity crashes - all of which results from the simple economic fundamentals of supply and demand. Paradoxically, as per the recent celebration of the inclusion of the renminbi as part of the IMF's "SDR" (special drawing rights) basket of international currencies, it is clear the party leadership in China desperately wants the recognition and approval of the international community in its efforts in market reform and political restructuring.
While the regime activates circuit breakers with one hand, it lauds its own rapid ambitions to reform with the other:
"The Head of Investigation & Statistics Department of the PBOC, Sheng Zhusong, said in an interview on Monday that the reforms will be implemented in the following three areas: interest rates formation regime, exchange rates formation regime and capital account open-up. And the main principle when applying these reforms is to eliminate over-volatility.

It is like dancing on a piece of ice floating on the water: it has to be balanced in every direction or else it will fall over. As a result, Mr. Sheng said, one reform cannot wait until the finish of another. The reforms in the three areas have to be conducted at the same time."

- Renee Mu (DailyFX)
All in all, the CPC should count itself lucky; without these recent global routs, perhaps the international and domestic community would be reacting more aggressively to the regime's obviously inappropriate policy decisions.
It is clear now more than ever that this recent monetary manipulation by the PBOC will have significant effects on the global economy, especially countries in the Asia Pacific region. One of the most common misconceptions about China and its trade relations with its neighbors in the Asia Pacific is that those relationships mirror China's relations with the U.S.; in reality, the export industries of Japan, South Korea, and Australia are inextricably tied to Chinese demand, with percentage of exports to China at 18, 27, and 32% respectively. Further decline in manufacturing/industrial demand in China puts significant pressure on Japanese, Korean, and Australian companies. This is nowhere more obvious than in the recent movements of the respective currencies of each country (Jan. 4th - 8th):
USD/CNY = +0.83% @ ¥6.57
USD/JPY = -2.56% @ ¥117.24
USD/AUD = +4.82% @ $1.44
USD/KRW = +2.79% @ ₩1208.40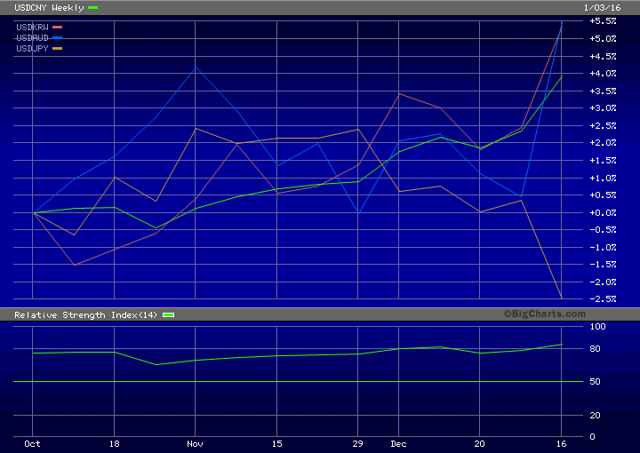 Click to enlarge
(Source: SIX Financial Information)
Putting an abrupt end to its late-2015 climb to the ¥124-125 range, the recent actions by the Chinese regime have sent the yen back to ¥117 and falling, which will certainly anger Japanese exporters and the government which has taken subtle measures to keep the yen weak. Australia and Korea now have the opposite problem as their currencies have endured massive depreciation along with the yuan. Goldman Sachs estimates that for every 1% drop in the yuan, emerging markets decline by 1.1%. Political relationships in the Asia Pacific are already on thin ice as of late, with North Korea boasting of its latest nuclear weapons test and U.S. Secretary John Kerry admitting that relying on China to take care of its petulant neighbor was an error of judgment. And with some analysts projecting that the yuan is still overvalued by as much as 10% against the US dollar, clearly tensions will continue to build in an already tense environment in the Asia Pacific.
Trading Chinese Volatility
Despite all of this recent volatility, there are many ways U.S. investors could have balanced losses (if invested in Chinese-related or global equities) or actually made a profit during the recent rout. For example, there are a number of China-related ETFs/ETNs such as the iShares China FTSE China 25 ETF (NYSEARCA:FXI), not to mention yuan-related ETFs/ETNs such as the Market Vectors Chinese Renminbi/USD ETN (NYSEARCA:CNY), CurrencyShares Chinese Renminbi Trust (NYSEARCA:FXCH), and WisdomTree Chinese Yuan Fund (NYSEARCA:CYB), which became ripe for shorting (calls) as analysts and institutional investors started to issue warnings on Monday that the equity decline was devolving into a full-blown global panic. Some of the most successful Chinese equity-tied trades would have been that of inverse, bear, or short ETFs/ETNs, such as the Direxion Daily FTSE China Bear 3x Shares ETF (NYSEARCA:YANG) or ProShares UltraShort FTSE China 25 (NYSEARCA:FXP) (puts). Furthermore, by keeping track of individual stocks of companies tied to developments in China, one could have shorted companies with a significant proportion of sales dependent on Chinese demand, such as optics company Hoya Corp. (OTCPK:HOCPY) or video game company Nexon Co. (TYO:3659; OTC:NEXOY) which shed approximately 5 and 7% over the last week respectively. As U.S. and other global equities fell on the news too, numerous profitable trades could have been made - the VIX skyrocketed this week, up for a total of 48.33%, meaning a number of volatility-related equities rose such as with the iPath S&P 500 VIX Short-Term Futures ETN (NYSEARCA:VXX).
Of course, now that the fire sale is over, it can be said that a large number of Chinese equities are quite undervalued, with the current average P/E ratio at 15.93 for the approximately six thousand securities listed on the Shanghai Stock Exchange. Contrast that with the so-called Shiller earnings ratio (cyclically adjusted P/E ratio; "CAPE") for the S&P 500, which now stands at 25.1, much higher than the long-term average of 18 and China's current CAPE of 14.6. And if you want to compare fundamentals/value standards of individual securities, just as a quick experiment: compare the earnings multiples of some of China's most highly valued companies, such as China Mobile (NYSE:CHL) (P/E ratio: 11.90) or Alibaba (NYSE:BABA) (P/E ratio: 18.40) to those of American companies, such as those of the FANG stocks (average P/E ratio: 329.86) - which is valued more appropriately? It is simple common logic that undervalued equities will achieve higher returns in the long-run than those of their overvalued counterparts. So, all in all, despite the panic, there were and still are many chances to profit from the situation.
The Future of China
With any market panic, investors start to ask themselves - is the selling justified or are the fundamentals still intact? On the surface, it would appear that the "rise of China" theory is completely bunk at this point. From institutional data, we can observe that capital outflows from China are reaching record highs, with nearly $930 billion pouring out from Q2 2014 to Q3 2015 (the latest data available); not to mention, China's foreign currency reserves achieved a record loss of $103 billion in December, which alludes to the fact that this crisis has been deliberately put off for some time. And of course, there is the all-important Caixin Manufacturing PMI data, which has been showing consistent slowdown for nearly two years.
However, there are also statements that can be made to suggest the contrary, that China's story, and to a larger extent, that of all emerging markets is not over yet. Nothing has changed demographically - thanks in a large part to China, the global upper middle class is still projected to grow at a CAGR of 22.4% into 2022, with spending rising to $35 trillion in 2020. Economically, China is undergoing an extremely historically significant event - for all of the political incompetence, the rapid rise of China's market system and transition to a service economy as opposed to one dependent on manufacturing and industrials is unprecedented; unfortunately, it can't happen overnight and ups-and-downs happen. China's GDP growth rate has been slowing, yes, but it is still at an astonishing ~7%. So, it can be said, perhaps the "rise of the rest" is not over, but simply...postponed.
Disclosure: I/we have no positions in any stocks mentioned, and no plans to initiate any positions within the next 72 hours.
I wrote this article myself, and it expresses my own opinions. I am not receiving compensation for it (other than from Seeking Alpha). I have no business relationship with any company whose stock is mentioned in this article.