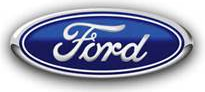 Automotive giant Ford (NYSE:F) has been one of my favorite value/dividend stocks for a while now. The company's shares are cheap and management has shown a distinct willingness to return extra cash to shareholders. And given Ford's success in recent years, there's a lot of extra cash to put to work. But of late, it seems automotive investors are scared of the future as the stocks of all three major US participants - Ford, GM (NYSE:GM) and Fiat Chrysler (NYSE:FCAU) - have plummeted. Ford is now trading for levels not seen since the panic crash last August and before that, another panic low in October of 2014. At this very low price, what are Ford investors afraid of?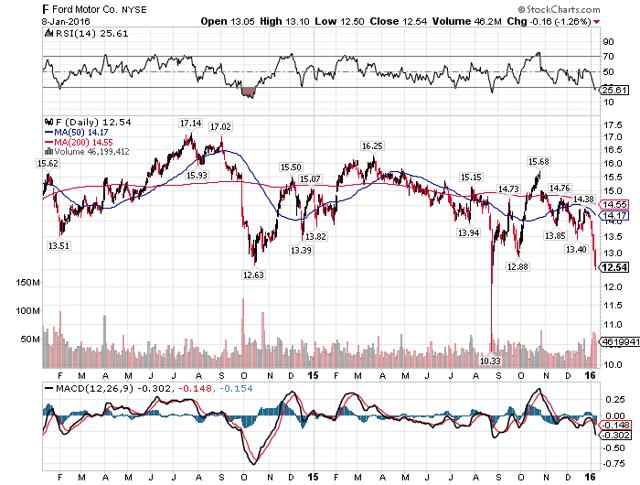 Click to enlarge
I don't believe investors are afraid of the company's ability to sell vehicles. Industry-wide sales numbers are strong and getting stronger so that is not the problem. Indeed, Ford's own recent sales numbers suggest that momentum is robust heading into 2016. So what's the problem? It seems investors are worried about margins as inventory levels rise, fueling the potential for discounts in order to move excess inventory. As it turns out, we have some precedence for this kind of thing; the financial crisis was the nuclear disaster scenario for margins as vehicle sales plummeted on sky-high gas prices (remember that?) and an elevated unemployment rate. Let's take a look at what happened back then to Ford's margins in order to gain some clues about what may happen in the next year or two.
To start, all data was taken from Ford's SEC filings and charts are my own. In addition, when I say 'margins', I'm referring to Ford's automotive gross margins, defined as automotive sales minus cost of automotive sales divided by automotive sales.
This chart shows Ford's automotive gross margins for the last 12 years, encompassing the period leading up to the crisis and the time since.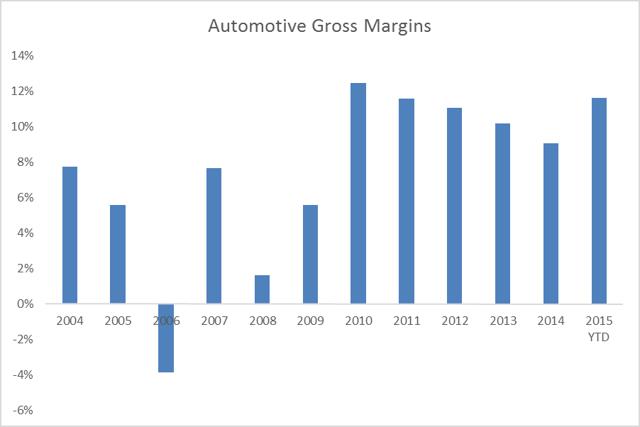 Click to enlarge
We can see that Ford's automotive margins have been all over the place in the defined period, ranging from more than 12% in 2010 to negative 4% in 2006. Ford's composition has changed since this period began but with the Ford brand making up the lion's share of sales, the overall trend is plenty sufficient for this analysis.
Ford's margins have improved markedly since the crisis and that includes 2015 which has seen very strong pricing off of new models like the F Series and Mustang. We don't have detailed Q4 data yet but assuming those results are even close to the first three quarters of the year, we should end up with an appreciable bump in margins for the entire year. Ford has done a terrific job of capitalizing on the launch of its F Series and that is showing up here as well with stronger margins.
But what happens if we see a slowdown in vehicle buying? I personally don't see any reason why that would happen as the pieces of the puzzle that caused Ford's disastrous drop in margins a decade ago are not in place. Part one was high gas prices; Ford is heavily reliant on larger vehicle sales and those are generally less fuel efficient. But gas is under $2 for much of the nation and has been for a while now so high gas prices certainly will not be the cause of lower sales and/or discounting. The other condition that caused discounting was a recession that saw the unemployment rate skyrocket. Obviously, a financial crisis will cause consumers to pull back on spending and that includes new vehicles but again, we don't have that this time around. The economy isn't what I'd call strong but unemployment is only 5% and the Fed feels confident enough to raise rates. So where is all of the weakness going to come from?
In short, I think fears of a slowdown in the automotive sector are overblown; the reasons why people stop buying new cars are not in place right now and in fact, aren't close to being in place. The automakers may have overproduced some in the back half of 2014 as inventory levels have risen so we may see some discounting in early 2016 but we also may not. It is possible that any discounting that is done is moderate and has little impact on margins; we'll just have to wait and see. Ford shares are pricing in substantial losses in margins and I don't see any cause for that right now.
One thing I'm sure about is that Ford's margins are volatile and can swing hundreds of bps at a time. That kind of uncertainty is a huge negative for the stock and I believe that is why shares are down so much. But with Ford hitting almost 12% gross margins in the first three quarters of 2015, it would take a financial crisis to get its margins to fall to levels where they would begin to eat into profits enough to justify the sell-off that has taken place. Investors are pricing in margins well below 2014 levels with F trading for just 6.5 times forward earnings. There is no reason to fear massive discounting for Ford in 2016 as the conditions that need to be present for that to happen aren't present or even close for that matter. Ford's sales and margins may tick down in 2016 but barring some kind of disaster, Ford is cheap. I think we'll still see margins north of 10% in 2016 on strong sales numbers which would represent a slowdown from 2015 but still plenty for Ford to grow out of its trough valuation. Investors are panicking for no reason and that is a buying opportunity.
Disclosure: I am/we are long F.
I wrote this article myself, and it expresses my own opinions. I am not receiving compensation for it (other than from Seeking Alpha). I have no business relationship with any company whose stock is mentioned in this article.