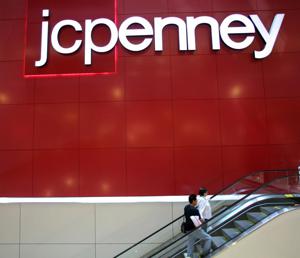 JC Penney (NYSE:JCP) was a go to merchandiser before ex-Apple (NASDAQ:AAPL) CEO Ron Johnson joined in 2011 under the umbrella of aggressive hedge fund manager Bill Ackman. From there it was straight downhill for a two year ride. Ackman took a $400 million bath and Johnson was ousted in 2013.
The board brought back former CEO Myron Ullman. I liked the move and In early 2014 I projected a turnaround for JC Penney based on incremental increases in revenues and reduced costs.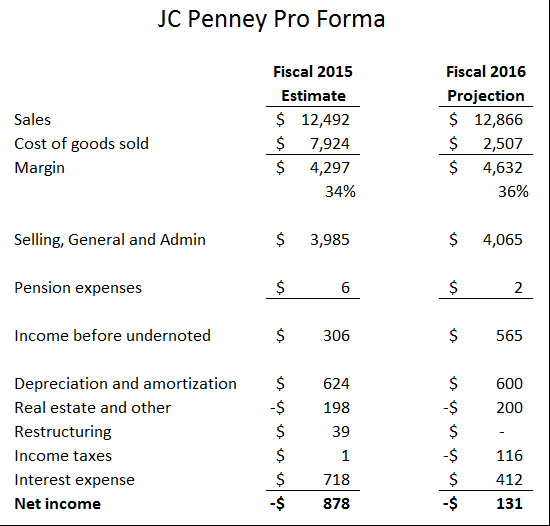 Analysts estimates for fiscal 2016 put sales at $12.5 to $12.7 billion, suggesting my projection was a bit high.
Having said that, it looks likely that JCP will turn in a loss of about $350 million for the current year, more than double my 2014 projection. Does that mean all is lost? Not in my view.
Quite the contrary, in fact. For fiscal 2015 JCP lost $805 million, $73 million better than my estimate, despite revenues of $12.3 billion falling short of my estimated $12.5 billion.
A loss of $350 million for the current year would still represent a $538 million year over year improvement. If the trends continue, there is a good chance JC Penney will approach break even in fiscal 2017.
The risk to investors is whether the company can remain solvent while it completes its turnaround. I think it can. In fact, based on an estimated $350 million net loss, capital expenditures of around $125 million and depreciation and amortization expenses of $600 million more or less, I expect a cash breakeven in the current year and anticipate fiscal 2017 will see debt begin to fall.
One way to gauge JC Penney's progress is to compare to its rivals. Macy's (NYSE:M) just reported a weak outlook and announced substantial job cuts.
By contrast, JCP is meeting or beating expectations having just announced comparable store year-over-year sales growth of 3.9% and confirming its adjusted EBITDA target of $645 million for the current year.
At $6.70 per share, JCP has a market value of about $2 billion. That is a steep price for an unprofitable company by most measures. But in the case of JCP, the real value will emerge if the company can re-establish itself with net income of 5% of sales more or less equal to that of Macy's or Nordstrom (NYSE:JWN). If it can, net income will approximately $600 million and JCP stock could trade as high as $25 or so.
To achieve that feat, JC Penney will have to accomplish a daunting set of tasks:
Repay all or substantially all of its $5 billion debt
Reduce operating costs by another $200 to $300 million annually
Achieve margins of 37% to 39% of sales.
All of those tasks can be accomplished over time. In my judgment, it will take five or six years to generate enough free cash flow to bring the debt level to reasonable levels and a similar timeframe to adjust expenses to levels comparable to other industry players. Once debt is halved JCP should have access to more conventional borrowing on more favorable terms and the ability to restructure its balance sheet.
Suppose JCP can do all of the above. What is the stock worth today assuming it can? In my view a speculator willing to bet on JCP recovering to the $25 per share level within 6 years would reasonably demand a 20% compound annual return. The present value of $25 over 6 years is $8.40 at a 20% discount rate. The arithmetic is crude, but at $6.70 a share JCP looks to me like a decent play on a major brand recovery.
The downside is considerable if JCP fails with the potential for substantial losses. I don't see that happening. As a result, JCP is on my BUY list if it meets expectations for the current quarter and guides to continued progress next quarter.
Disclosure: I/we have no positions in any stocks mentioned, and no plans to initiate any positions within the next 72 hours.
I wrote this article myself, and it expresses my own opinions. I am not receiving compensation for it (other than from Seeking Alpha). I have no business relationship with any company whose stock is mentioned in this article.