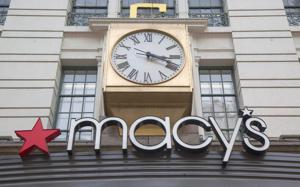 Macy's (NYSE:M) has lost nearly 50% of its stock value in the last year, and yes, whispers of the next J.C. Penney (NYSE:JCP) have been in full swing. While some of the company's most recent actions may appear desperate to some, I view them as a breath of fresh air, adding to the many reasons I would go long M stock right now!
Stock losses
Look, Macy's is a really big company; it had revenue of more than $5.8 billion during its last quarter alone. For a company of this size, a company that is so iconic, 45% stock losses in just six months is too much.
When choosing an investment, one thing I look at is how quickly its value has either risen or declined. If it is a small speculative stock, I am not surprised by big price swings. But for a company like Macy's, losing half its value in six months is ridiculous! That's a reflection of two bad quarters or a bad year from a company that's over 100 years old.
With that said, anytime I see such sudden stock losses in a large, iconic company like Macy's, I know that much of the reaction is a result of speculation, fear, and investors selling stock to avoid further downside. In other words, panic!
The bottom line (as it relates to stock price) when a big company has half its value wiped out in months, that's my first sign that there may be value. When a company has 40% of its valuation wiped out over several years (i.e. IBM (NYSE:IBM)), that's a sign of sustained issues and a much bigger problem.
M is really cheap!
I don't care what valuation metric you want to use, Macy's stock is cheap! If you look at EPS, Macy's trades at nine times earnings. If you prefer operating income, M trades at a 4.3 multiple. And finally, if you look to free cash flow, then Macy's is trading at roughly 12 times FCF.
Regardless, M is cheap!
Cost-cutting is a good thing
Macy's is closing 36 stores and will streamline its operations into five regions. Macy's notes that its SG&A will decline by $400 million annually and that its EBITDA margin will rise to 14% (over time) as a result of these cuts.
Keep in mind that Macy's EBITDA margin over the last 12 months has been 12.7%, but after its most recent quarter that margin is likely closer to 12%. The 36 store closings and other cost cuts are the reason for this improved margin. And given the pure size of Macy's, $26.5 billion of revenue expected this year, a 1% to 1.5% margin improvement makes a huge difference. It's an extra $250-$400 million of EBITDA, and that's enough to beat analyst expectations and have a profound effect on a beaten down stock.
Growth
Macy's recent earnings history has not been great. In the third quarter, comparable sales fell by 3.6% and that led to a cut in Macy's EPS outlook. It got worse here recently after Macy's disclosed a 4.7% decline in comps for the holiday months.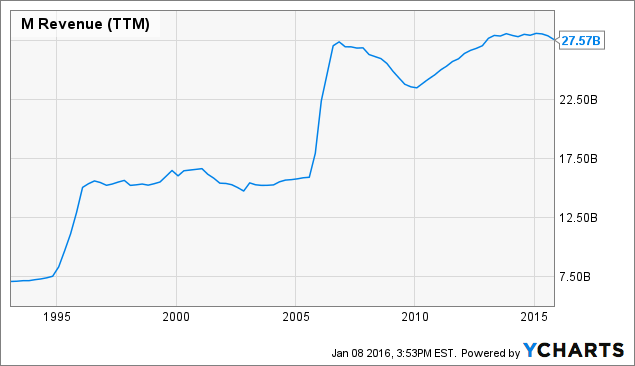 M Revenue (TTM) data by YCharts
However, there is light at the end of the tunnel. As seen in the chart above, Macy's has gone through rough patches occasionally during the last 20 years, but it continues to grow larger over time. Given how bad the last six months have been to M, investors have to believe the worst has come and gone, and after suffering through this period, expectations are now very low with Macy's having some favorable year-over-year comps moving ahead.
Not to mention, many of Macy's problems can be chalked up to a bad product assortment, with winter coming later than usual and the demand for such products being weak. Macy's decision to cut 36 stores by Spring will not only help drive profits higher, but will also help comps due to these stores being close in proximity to other Macy's stores, and likely underperformers. The fact that Macy's expects a 5% improvement to SG&A despite these stores accounting for only 4% of its total store count somewhat illustrates the lackluster performance of these particular stores.
So, don't expect 5% to 10% growth, but Macy's growth should be better than it has been in the last few months.
Gas prices
When gas prices start going south, consumers spend more money. They go out to the movies, to dinner, vacation more, and they also buy more clothes.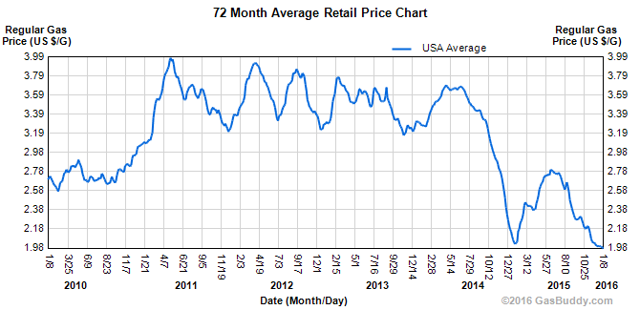 Click to enlarge
With that said, gas prices are cheap, at a price point that we have not seen in more than six years. The fact that investors remain so skeptical on retail, and Macy's in general is quite surprising given how cheap gas prices are right now.
In retrospect, cheap gas prices coupled with Macy's poor performance is why I buy the company's poor inventory excuse for the last couple of quarters, or at least to some degree, and why I think its problems are temporary.
Dividend
Last but not least, M is a high yield investment.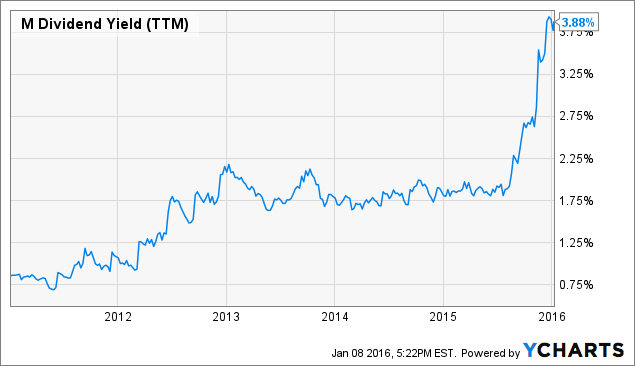 M Dividend Yield (TTM) data by YCharts
As seen in the chart above, M's dividend yield has not been this high at any point in the last five years. Yet, a combination of increased dividend payouts and lower stock prices has given M a yield of 4% on a forward-looking basis.
While I can't say for certain that M's stock has reached its bottom, and that investors who buy right now will face no further loss, I am encouraged at the downside protection that a 4% yield provides. With it being three quarters since Macy's last dividend hike, there is a really good chance that a dividend raise is coming soon, a move that could help support the stock.
If so, that would only add to the reasons that owning M's stock is a good idea.
Disclosure: I am/we are long M.
I wrote this article myself, and it expresses my own opinions. I am not receiving compensation for it (other than from Seeking Alpha). I have no business relationship with any company whose stock is mentioned in this article.