I recently wrote an article on Altria Group (NYSE:MO) as concerns whether it is a quality investment. This is a reader request follow-up to that article. Specifically, I will be running a backtest on the investment strategy mentioned in the last article, looking at whether we can appropriately time each year's dollar cost averaging investment strategy for MO: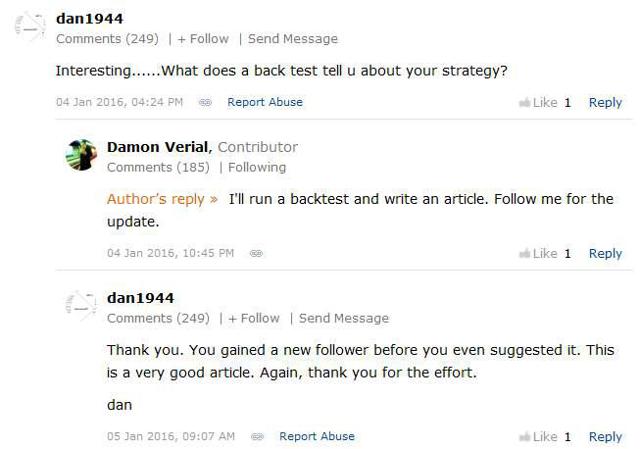 Prior to reading this article, you might want to take a look at the video I recently recorded on the events of last week, when we saw a 7% decline in the Chinese stock market - a "flash crash" that rippled into the US market. This video will give you some insight into how to understand market time.
MO As an Investment
In my previous article, I have already outlined why MO is a quality investment from a fundamental perspective. Thus, I will not discuss it in this article. Just know that MO is a quality dividend stock that has consistently outperformed the general stock market as a buy-and-hold strategy: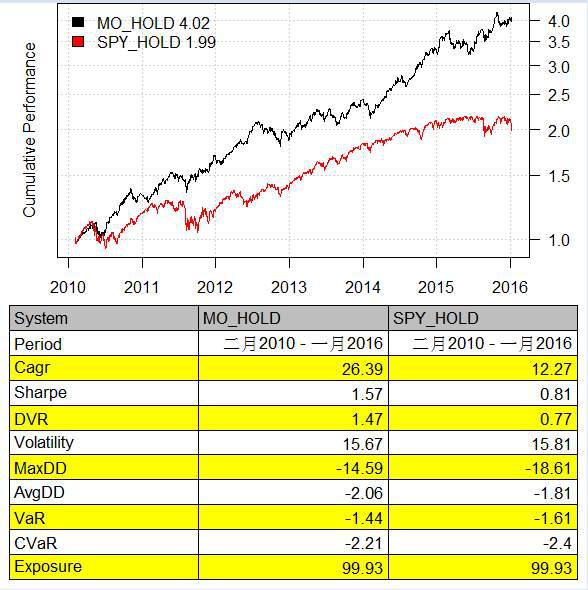 The returns of MO over the past five years have been double that of the S&P 500 - for which I'm using the SPDR Select S&P 500 ETF (NYSEARCA:SPY) as a proxy. Buying and holding MO instead of the ever-popular index fund would have brought you double the returns of the SPY over the past five years.
In addition, MO has nearly a 4% dividend yield, compared to the SPY's 2% dividend yield. This yield was not factored into the above analysis yet further adds to the power of MO as an investment. Many MO investors are dividend investors.
As for the risk of MO vs. the overall market, we see a bigger max drawdown in the SPY, implying that MO takes less of a hit during a market crash, market correction, or bear market. However, the average drawdown of MO is slightly higher than SPY, so MO investors should expect the occasional dip. If you're a buy-and-hold or dollar cost averaging (NYSE:DCA) investor, however, you probably don't worry about the occasional dip.
The volatility of MO vs. the SPY is actually lower. Yet the Sharpe ratio is higher. Overall, MO is a great buy-and-hold play that is safer than the SPY yet garners both better returns in growth and in the dividend.
The only concern for MO investors is that MO is at too high of a price. However, I addressed this concern in my last article. The conclusion of my last article on MO is that MO is a quality investment and that the remaining question is when to buy.
Seasonality of MO
The main playable result of my last study is that MO has significantly low Q4 earnings as compared to their other quarters' earnings. The reader request follow-up to this finding is how a backtest on this strategy would run. I outline the strategy below and then run a backtest:
General idea: Avoid quarter 4 exposure.
Trading strategy:
Hold MO from February to October.
Exit MO in November, buying the SPY instead.
Sell the SPY in February, and put the funds back into MO.
The Study
Here, I run backtests to check this investment strategy. The following variables are defined:
SPY_HOLD: Hold the SPDR S&P Select 500 year-round
MO_HOLD: Hold MO year-round
MO_Seasonal: The strategy as outlined above; hold MO Feb 1 to Oct 31; hold SPY Nov 1 to Jan 31
The chart below shows the results of these three strategies compared: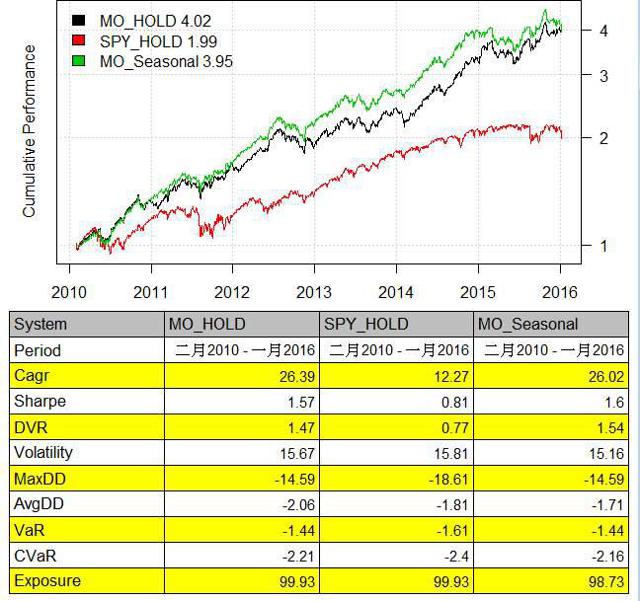 Investment Strategy Analysis
The seasonal strategy (green line) appears - at least visually - to beat the MO buy-and-hold strategy. However, the actual cumulative performance is almost even as of Jan 8, 2016. The recent touching of the green and black lines, after the seasonal strategy appearing to have been consistently better since 2012, perhaps is an effect of the recent market crash.
As I've stated above, MO suffers fewer big drawdowns than the SPY. And a crash like we saw last week in the SPY hit MO to less of an extent than most stocks. Realize in the seasonal trading strategy, we would be holding onto SPY right now, exposing us to more market risk that holding MO - thus a crash is more dangerous for this strategy and brings us down to the returns of what a MO buy-and-hold strategy would garner.
This fact alone might be enough for MO buy-and-hold investors to retain their strategy. MO remained flat last week while the SPY tumbled (with many down gaps):

However, the fact remains that during bull markets the MO seasonal strategy beats the buy-and-hold strategy in many areas. Let's look at the facts:
The Sharpe ratio is higher.
The volatility is lower.
The average drawdown is lower.
Still, be aware of the two drawbacks:
The seasonal strategy is highly susceptible to market risk from November to January (as we just saw last week)
Your yield is cut in half for one-fourth of the dividend payouts.
There will be tax implications with selling MO every year.
Overall, the risk-to-reward ratio here is an interesting one. If you want to squeeze out all the profits you can from MO in a retirement account, then the seasonal strategy seems to be a better choice. If you don't mind the winter dips of MO and wish to play conservative against market risk, buying and holding is likely better for you.
Still, if you're a DCA investor, this study should be informative and comforting, as it tells you the best time per year to be buying more MO: Februrary.
Further Pinpointing DCA Times
In the above study, I simply chose Feb 1 as our buying date. But is it the best? It would be troublesome to perform an analysis for pinpointing the time each year based on the year itself, but it's not troublesome calculating the returns for MO after each FOMC meeting.
This is exactly what I've done below: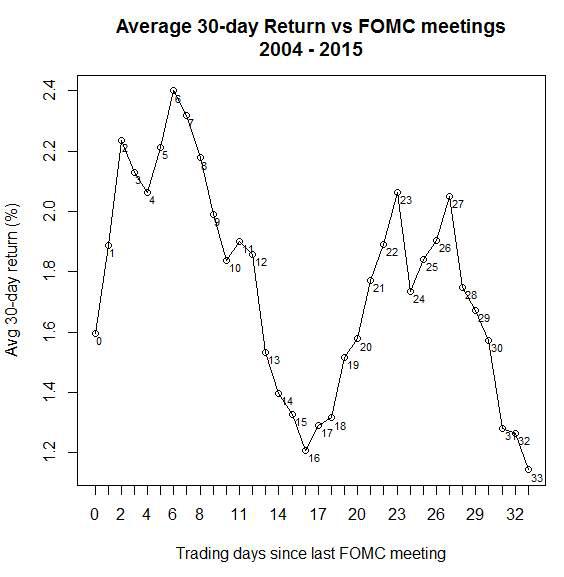 The result shows MO having its best return when bought six trading days after the most recent FOMC meeting.
I say buy in February, but when? Because the next FOMC meeting will be January 26, we can pinpoint our buying time. As pertains to this February:
Buy MO February 3rd for the best return.
This will conveniently be three trading days after the Q4 earnings announcement on January 29. If everything goes as planned, MO should drop to a relative low on Feb 3 and continue upward from there.
Specific Investment and Trading Advice as per the Study's Results
The date of interest is Feb 3. New MO investors should consider buying then. DCA investors should consider buying more then. Options traders should consider bullish options on MO on that date; I have included a few potential trades below:
Buying Volatility before Earnings (buy this before Feb 3):
Buy Jul16 62.5 Call
Buy Jul16 62.2 Put
This straddle allows us to play earnings at the lowest possible theta (time decay) cost per price of contract.
Selling Volatility after Earnings (open this after Feb 3):
Buy Mar16 45 Put
Sell Mar16 55 Put
This credit spread brings us immediate income and seems safe; as long as MO is above 54.32 by late Feb, we at least break even. Our max risk is reached if MO falls below $45 (unlikely!), capping out at $1,000 per contract.
Playing the upside after earnings:
Buy Jul16 62.5 Call
This call option exposes us to the lowest possible theta per price of contract.
Request a Study
If you're interested in seeing some tweaks to this strategy, ask me in the comments section or via mail. Let me know your ideas for a backtest or standard statistical study.
Disclosure: I/we have no positions in any stocks mentioned, and no plans to initiate any positions within the next 72 hours.
I wrote this article myself, and it expresses my own opinions. I am not receiving compensation for it (other than from Seeking Alpha). I have no business relationship with any company whose stock is mentioned in this article.