SunEdison (SUNE) has continued to experience extreme volatility over the past few weeks. In just a matter of days, the company managed to almost completely wipe out the tremendous gains it made as a result of the U.S. ITC extension and global climate deal. SunEdison's most recent stock drop was a result of the company's efforts to relieve its debt situation by exchanging a substantial amount of debt for equity. More specifically, the company announced that it took on $725 million in new term loans and is diluting its equity to pay for its debt.
Given the unfavorable loan terms (LIBOR +10% interest rate) that SunEdison has taken on, the company is evidently desperate to relieve its debt situation. With approximately $11.7 billion in debt, SunEdison is clearly prioritizing its financial situation. While SunEdison is smart to focus on improving its financials, the company's decision to use equity to pay off debt has clearly been met with displeasure from investors. In fact, the company's valuation dropped by approximately 40% immediately following the news of its recent transactions. SunEdison's large array of businesses and desperate financial situation will likely continue to plague the company moving forward.
Renewable Vision Not Panning Out
SunEdison has built out one of the most diverse renewable energy businesses in the industry over the past few years. With large businesses in arenas such as wind energy, utility-scale solar, and distributed solar, many even thought that SunEdison could become the next-generation energy supermajor. Unfortunately, the debt that SunEdison has racked up along the way is severely threatening this vision. The company's acquisition spree over the past few quarters has only worsened its financial situation, which appears to be on the brink of disaster.
SunEdison's mounting financial issues have forced the company to reassess its business model. The company has significantly cut down on its renewable energy operations in recent months in order to adjust to the new realities. For instance, SunEdison is planning to sell 333 MW of wind plants and has canceled its $250 million deal with Brazilian renewable energy project developer Renova. In spite of all its recent actions to cut back on its businesses, SunEdison still has too much on its plate. SunEdison even seems to be implicitly acknowledging that its ambitious model may not work out given recent management changes.
Vivint Solar Deal Looks Increasingly Bleak
Vivint Solar is already causing SunEdison headaches despite the fact that it has not yet been integrated into SunEdison. With David Tepper putting an enormous amount of pressure on SunEdison to change its deal with Vivint Solar, SunEdison may be forced to continue revising its Vivint Solar deal. As Vivint Solar represents a huge part of SunEdison's residential solar plans, SunEdison's management has remained adamant regarding its Vivint Solar acquisition deal.
Unfortunately for SunEdison investors, Vivint Solar will likely only put more pressure on SunEdison's financial situation given the enormous amounts of funding required for residential solar projects. As SunEdison already has a huge number of businesses to run, the Vivint Solar acquisition will likely put unneeded stress on the company. While the residential solar sector is highly promising, SunEdison increasingly appears to have too much going on to run Vivint Solar effectively. As SunEdison has a whopping $11.7 billion in debt to worry about, adding a large residential solar operation into the mix does not seem prudent.
With the likes of SolarCity (NASDAQ:SCTY) competing in the residential solar arena, SunEdison will likely need to spend a disproportionate amount of attention/resources on Vivint Solar in order to remain competitive in the sector. As SunEdison already has its hands full in his current businesses, it is hard to imagine Vivint Solar as anything other than a distraction for SunEdison at this point. While the acquisition looked like a great idea when SunEdison's market capitalization was at $9 billion and when investor sentiment was at an all-time high, SunEdison's ability to effectively manage Vivint Solar is now highly questionable.
Vivint Solar's business model requires an enormous amount of funding, which will likely only put more strain on SunEdison's financial situation.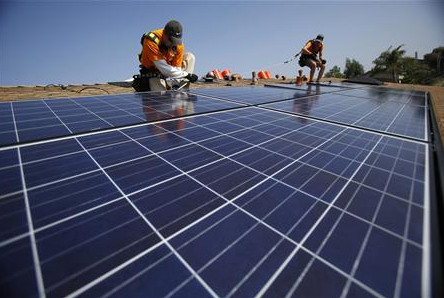 Source: Reuters
Yieldco Strategy Is under Increasing Pressure
SunEdison's yieldcos TerraForm Power (NASDAQ:TERP) and TerraForm Global (NASDAQ:GLBL) have started to experience another downturn. As these yieldcos use equity as a means of raising money, they will have a harder time buying SunEdison's projects given their plummeting valuations. As this makes it harder for SunEdison to profit off its projects, the company is finding itself in an increasingly difficult situation. While the company's yieldcos seemed to be on the path to recovery over the past few weeks, this is no longer the case.
SunEdison's ability to sell projects to its yieldcos will likely be further hampered by investor concerns. David Tepper's current clash with SunEdison's management over TerraForm Power is a great example of this. As David Tepper is already strongly objecting to SunEdison's plans of moving 523 MW of residential solar projects to TerraForm Power, SunEdison is in the uncomfortable position of following through on its plans while simultaneously pleasing investors (David Tepper has a large stake in TerraForm Power).
Conclusion
Despite the fact that SunEdison has lost approximately 90% of its market value over the past few quarters, the company is still too risky of an investment at a valuation of $1 billion. Given the growing financial difficulties and investor displeasure surrounding SunEdison, the company's troubles are far from over. With other leading solar companies like First Solar (NASDAQ:FSLR) recording huge quarterly profits and generally strengthening their balance sheets, SunEdison is rapidly falling behind its peers. Until SunEdison is able to resolve the numerous issues plaguing it, the company remains far too risky.
Disclosure: I am/we are long SCTY.
I wrote this article myself, and it expresses my own opinions. I am not receiving compensation for it (other than from Seeking Alpha). I have no business relationship with any company whose stock is mentioned in this article.