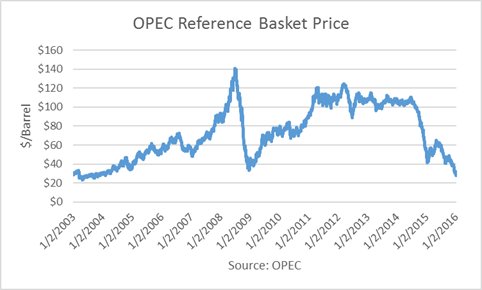 OPEC's Reference Basket Price (ORB) broke $30 at the end of last week, printing at $27.85, its lowest level since November 2003. Crude oil futures appear destined to break the psychological $30 barrier in the days or weeks ahead. Market fundamentals have soured beyond previous expectations.
My view toward lower oil prices is not new. Back in October 2014, I concluded that oil prices are likely to fall further, perhaps to $40 a barrel or less, dragging the oil sector down with them.
China
China has been the engine of world oil demand growth. In Shanghai, the stock exchange got battered Monday following release of a survey showing factory activity fell for the 10th straight month in December, the size of the drop accelerating from November. Chinese stock markets tumbled last week.
China's crude oil demand might grow by just 2% this year. But there is an increasing risk that 2016 may be even worse for China. If it stumbles or implodes, its 25% share of world oil growth may evaporate, as well as the 25% share from East Asia along with it.
Iran
The market has had many months to "bake" the potential for higher supplies into futures prices. Still, there has been some uncertainty as to if and when the sanctions would end, and how fast and how much Iran could increase supplies.
Iranian Oil Production (Thousands of Barrels/Day)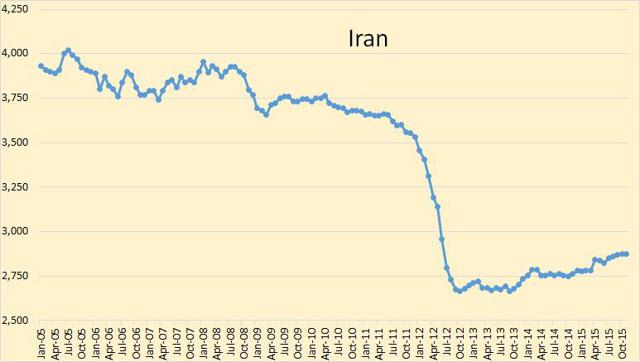 Click to enlarge
Source: Peak Oil Barrel.
U.S. Secretary of State John Kerry has said the implementation of a nuclear deal agreed between Iran and six world powers was only "days away." A deputy head of National Iranian South Oil Company (NISOC) said all Iranian oil fields have been evaluated in terms of readiness for enhancing output. "The results [of the assessment] indicate correct planning for readiness to raise output according to plans as soon as the sanctions are lifted … There is nothing to worry about with regards to [production hike] … all systems are ready to make contribution," Saeed Kouti, NISOC deputy chief for production affairs, said.
United States
Traders have been expecting the supply/demand fundamentals to improve in 2016. Crude production was supposed by be dropping, demand was supposed to be rising, and inventories were supposed to be balancing. But the EIA stats for last week painted a far worse picture than in 2015, which saw oil prices imploding.
Total U.S. oil inventories set yet another record high. Crude oil production is estimated to be higher than it was back in September. And recent oil product demand dropped 2.5% lower than a year ago.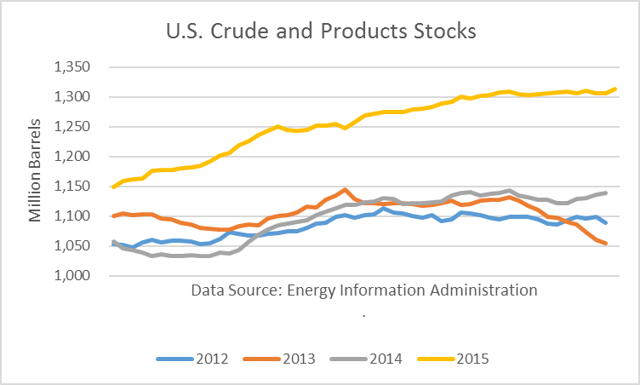 Click to enlarge
Variant Views
Andy Hall's (the "god" of crude oil trading) Astenback Management's fund, the die-hard bull in crude, got crushed, losing about 35% in 2015. In his December letter to investors he implored them: "Now is not the time to exit the market." I debated Mr. Hall's long argument in my article last July.
Barron's published an article "Time to Buy Commodities" on Aug. 8, 2015, when crude futures were 33% higher. It proclaimed: "Sentiment on energy and gold - and oil and metals stocks - may be nearing capitulation. Now is a good time to lean against the wind and start to buy."
Harold Hamm, CEO of Continental Resources (NYSE:CLR), on Dec. 21, 2015, said the oil market will recover in 2016 as supply and demand come into balance. In November 2014, he liquidated practically all of CLR's crude hedges, stating: "We're at the bottom rung here on prices and we'll see them recover pretty drastically pretty quick. Given our belief the recent pullback in oil prices will be short-lived, we made changes to our existing hedge book by monetizing practically all of our oil contracts."
Large losses in long crude positions, especially at hedge funds, sow the seeds for long liquidations. Hedge funds often must allow investors the opportunity for redemptions if the drawdown has exceeded 25% or 30%.
Conclusion
Unfolding developments on both the supply and demand sides are worsening instead of improving. That, combined with the likelihood of forced, long liquidations, is likely to put further downward pressure on prices in the days and weeks ahead.
Disclosure: I/we have no positions in any stocks mentioned, and no plans to initiate any positions within the next 72 hours.
I wrote this article myself, and it expresses my own opinions. I am not receiving compensation for it (other than from Seeking Alpha). I have no business relationship with any company whose stock is mentioned in this article.