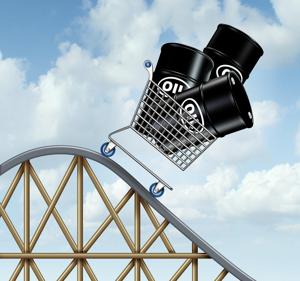 Oil prices plummeted January 6th, falling as much as 6% (and around 10% for the week) after news broke that oil inventories fell week-over-week but that certain petroleum products categories saw a surge in inventories. In the eyes of investors, this is bound to be a major negative, especially when adding in uncertainty surrounding issues in the Middle East, and concerns that China's economy may be slipping quickly. While these are legitimate topics for investors to be worried about and while the oil situation could certainly look better than it is today, it's also important to keep in mind the positive aspects that have been showing.
A look at mixed inventory data
According to the EIA (Energy Information Administration), oil inventories for the week fell by 5.08 million barrels from 487.4 million to 482.3 million. This implies that inventories for crude are about 99.9 million barrels greater than they were this same time last year and are about 122.5 million barrels above what constitutes "normal" inventory levels. The positive side to this, however, is that inventories are 8.6 million barrels lower than the 490.9 million they peaked at last year but the level is high enough that it warrants somewhat low prices. In the graph below, you can see what the overall trend for oil has been over the past 52-weeks.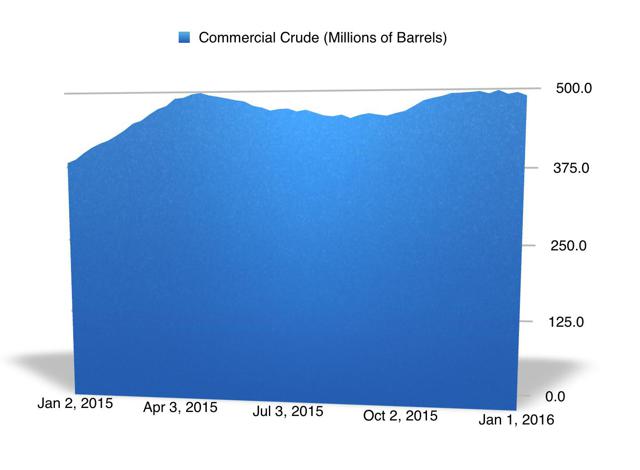 Click to enlarge
In addition to seeing crude supplies drop, some other categories reported declines week-over-week. Propane/propylene, for instance, reported a 1.4 million barrel decline from 97.7 million barrels to 96.3 million, while the "Other" category saw supplies fall by 3.1 million barrels from 242.2 million to 239.1 million. There were, however, some problem areas. Based on the data provided, motor gasoline stocks soared by 10.6 million barrels, climbing from 221.4 million to 232 million. This is certainly a negative but investors should keep in mind that this petroleum product isn't really in a state of oversupply, especially when you consider that inventories stood at 237.2 million barrels this time a year earlier. Distillate fuels also grew, rising by 6.3 million barrels from 153.1 million to 159.4 million, bringing the total of crude plus petroleum products up to 1.3126 billion barrels vs. the 1.3053 billion they stood at last year.
Production and demand numbers could look better
To be honest with you, the fact that total inventory levels increased doesn't bother me all that much. What I see here is a state where crude is shifting out of inventories and into finished products. At some point in time, this has to happen in order for the glut to vanish. If, however, we saw these massive increases in petroleum products at the same time that oil supplies increased, that would be, in my eyes, a concern.
Having said this, there were some other pieces of information we need to keep in mind, all of which were more bearish than bullish. According to the EIA, domestic oil production averaged 9.219 million barrels per day, up from 9.202 million per day seen a week earlier. In this environment, any sort of increase is a negative but the fact that the total increase for the week came out to roughly 119 thousand barrels isn't terrible since it's essentially a rounding error in the grand scheme of things.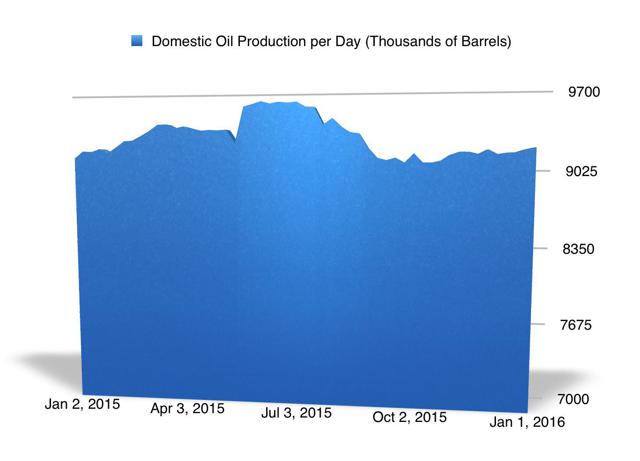 Click to enlarge
The other item that certainly could have been stronger than it was for the week was the demand for motor gasoline. Before I get to that, however, I should make a note to address some concerns one of my readers was kind enough to point out. These motor gasoline numbers are not necessarily true consumption numbers but are the closest thing the EIA has on a week-to-week basis. Here is the definition of "Products Supplied" not just for motor gasoline but for all fuel categories, as provided by the EIA: Approximately represents consumption of petroleum products because it measures the disappearance of these products from primary sources, i.e., refineries, natural gas processing plants, blending plants, pipelines, and bulk terminals. In general, product supplied of each product in any given period is computed as follows: field production, plus renewable fuels and oxygenate plant net production, plus refinery and blender net production, plus imports, plus net receipts, plus adjustments, minus stock change, minus refinery and blender net inputs, minus exports.
For the week, motor gasoline consumption came out to 8.159 million barrels per day, a decline from the 9.365 million barrels per day seen a week earlier. My own suspicion here is that the drop was driven largely by the holiday season (fewer people working, inclement weather, etc...). Having said this, the data was worse than it was a year earlier, when consumption averaged 8.809 million barrels per day. Taking the four-week average, a metric that is likely more meaningful given the volatility of consumption, it appears as though 8.990 million barrels of motor gasoline have been consumed per day, down 3.6% from the 9.329 million barrels seen for the same four-week period a year ago.
Rig counts keep falling
One really positive indicator released this week relates to the U.S. oil rig count. According to Baker Hughes (NYSE:BHI), the U.S. oil rig count for the week dropped by 20 to 516 units in operation. This implies that the number of rigs currently operating are down 63.7% from the 1,421 rigs seen the same period last year and suggests that domestic oil production must eventually fall. The one downside seen here was that the oil rig count in Canada did manage to rise by 59 up to 71. This is a massive increase but the nature of Canadian wells and seasonality, combined with the fact that unit count is still 67.4% lower than the 181 units seen the same time last year makes this, in my mind, not all that material.
Takeaway
Based on the data provided by the EIA, this past week saw some bullish and bearish indicators, with the mix-up in crude plus petroleum products being more neutral (or just slightly bearish). Some of these categories were certainly bullish but the increases in motor gasoline and distillate fuels, combined with the modest uptick in production and the weak demand, suggests that things are looking more bearish near-term but the fact of the matter is that, as rig counts have been declining, investors should anticipate production to eventually fall by a meaningful degree.
Disclosure: I/we have no positions in any stocks mentioned, and no plans to initiate any positions within the next 72 hours.
I wrote this article myself, and it expresses my own opinions. I am not receiving compensation for it (other than from Seeking Alpha). I have no business relationship with any company whose stock is mentioned in this article.