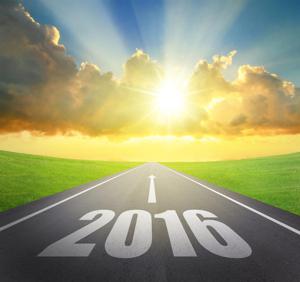 The U.S. stock market got off to its worst start to a calendar year in history. In the first five days of 2016, the S&P 500 Index plunged by -6%. Following this latest of many unprecedented market events during the post crisis period, it is worthwhile to consider what we should expect from here from financial markets.
Stocks: Falling Too Far, Too Fast
Make no mistake, I have been a stock market bear for some time. So the fact that the stock market has stumbled in recent days does not necessarily come as a surprise. And I also hold the view that this latest drop is likely only the tip of the iceberg for the potential downside that the stock market may deliver over the next few years (assuming our friends at the Federal Reserve can resist the urge to intervene with yet another round of monetary policy stimulus, which remains to be seen).
With all of this being said, today's stock market is now overdue for a bounce. Why? A number of reasons.
First, sustained market declines are not like sustained market rallies, particularly so close to market peaks. For unlike a rising stock market that can do so relentlessly for months on end (see 2013), a falling stock market is almost always characterized by sharp declines followed by swift rallies. And given that the stock market has already fallen by -6% in just seven trading days (sharp decline), it is not likely to fall much further before we see another swift rally. For past examples, one has to look no further than October 2014 and August 2015 for the most recent examples. The key is not whether the market will bounce, but from what bottom on the downside and to what level on the upside.
Second, this is not a bull market that is going to go quietly. History may look back and declare that the bear market began in May 2015, but the jury is still out on this verdict. After all, the S&P 500 Index (NYSEARCA:SPY) was not within striking distance of new all-time highs at 2081 just seven trading days ago on December 29 without good reason. A tremendous amount of bullishness remains in this market, and there is no doubt a great number of investors that are viewing the current decline as an attractive buying opportunity. Eventually, these buyers will likely arrive to push the market back higher. Once again, how high remains to be seen and will be important to watch.
Third, the U.S. stock market is now oversold from a technical perspective. While I could easily make the case that we could see the S&P 500 Index trading -20%, -30%, -40% or more before it's all said and done in the coming years (and would expect it to be firmly refuted by those that hold a more optimistic view), the market is not going to sustain these declines all at once. And although the S&P 500 Index is still more than 50 points above its August and September lows, it is already oversold from a relative strength and momentum perspective. Could it become more oversold before the current decline comes to an end? Absolutely. But the fact that we are already in oversold territory suggests that it is likely to fall only so much more before we see a measurable bounce.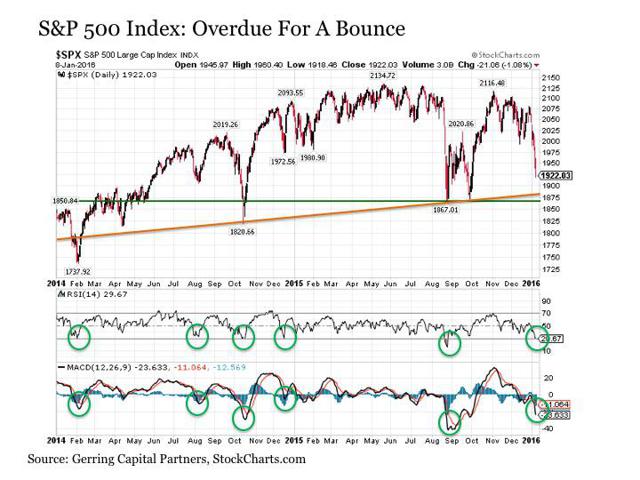 Click to enlarge
Lastly, a number of measures outside of U.S. stocks were not necessarily showing signs of extreme stress during the recent market decline. For example, the beleaguered high yield bond market (NYSEARCA:HYG), which is highly correlated with the U.S. stock market, was down over the first five trading days of the year, but only by just over -1%. Perhaps more notably, it is still trading well above recent December lows and if anything is continuing to sustain its modest recent uptrend. Why is this important? Because if stocks were falling to start the year due to panic selling, we would have likely seen high yield taken down with it.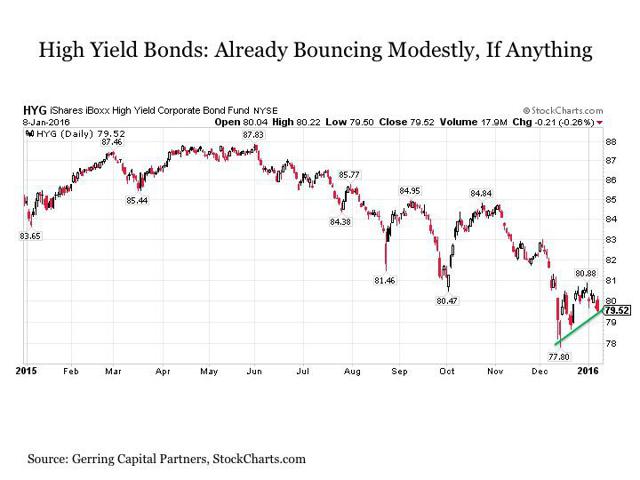 Click to enlarge
Another example in this regard would be the CBOE Volatility Index, also known as the VIX. Sure, volatility (NYSEARCA:VXX) increased amid the recent stock market decline, but not dramatically so. Instead, it has risen to previous peak levels seen on a number of occasions since the Fed brought to an end its QE3 stimulus program, which suggests that we may once again be approaching yet another market bottom corresponding to these past peak levels in the VIX. It is also notable that the VIX futures curve has already moved into contango to levels either at or beyond what had marked previous market bottoms.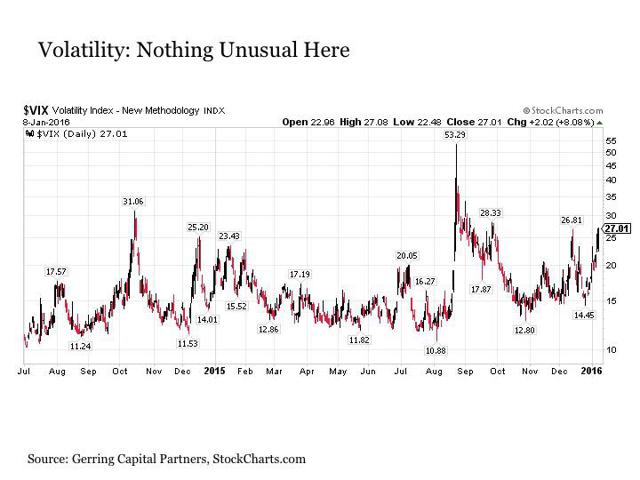 Click to enlarge
Bottom Line
The U.S. stock market has posted its worst week ever to start the New Year. But despite a variety of fundamental reasons why we may see stocks trading meaningfully below current levels at some point in the future, the S&P 500 Index is now overdue for a meaningful bounce higher as we enter the new trading week. As a result, now is not the time to sell. If anything, it may be the time to consider buying selected stocks on the portfolio margins for a short-term trade higher.
What will be most important for investors to watch in the coming days is not whether the market will bounce, but how high it goes once it finally reverses. For it is on the stock market bounce where some of the particularly attractive intermediate-term to long-term investing opportunities may present themselves.
Disclosure: This article is for information purposes only. There are risks involved with investing including loss of principal. Gerring Capital Partners makes no explicit or implicit guarantee with respect to performance or the outcome of any investment or projections made. There is no guarantee that the goals of the strategies discussed by Gerring Capital Partners will be met.
Disclosure: I/we have no positions in any stocks mentioned, and no plans to initiate any positions within the next 72 hours.
I wrote this article myself, and it expresses my own opinions. I am not receiving compensation for it (other than from Seeking Alpha). I have no business relationship with any company whose stock is mentioned in this article.