On 23 November, just a few days ahead of a key oil meeting in Vienna, CNBC reported:
"Crude prices slumped, rebounded sharply and then lost their gains all in the space of a couple of hours Monday after Saudi Arabia - the world's largest export of petroleum - said it would cooperate with all oil producing countries to help stabilize the oil market."
Back then, the black gold traded $12 higher at $45, while the shares of Exxon (NYSE:XOM) changed hands at $80.2.
Down
Oil dropped 10% to the low $30s in the week ending 8 January, when XOM closed at $74.6. A three percentage points drop in oil prices has resulted in a fall of about one percentage point in XOM stock since oil prices started to fall off a cliff in mid-2014.
Latent systemic risk - the kind of systemic risk that should be taken into account these days, anyway - is still rising while oil continues its slide on Monday. Oil rigs, meanwhile, are on their way down, and Goldman Sachs predicts more pain ahead before producers cut supply.
Just less than a decade ago, when XOM traded at $85, Goldman Sachs predicted oil prices would reach up to $200 a barrel.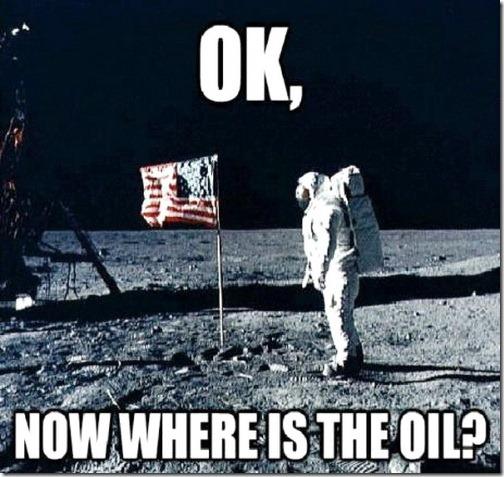 (Source: Dailyfailcenter.com)
Now the broker's target is $20.
So What?
It looks like Saudi Arabia could be preparing to raise funds by selling bits of its crown jewel, Saudi Aramco.
Saudi Arabia's deputy crown prince, Muhammad bin Salman, told The Economist last week that an IPO of Saudi Aramco is a distinct possibility.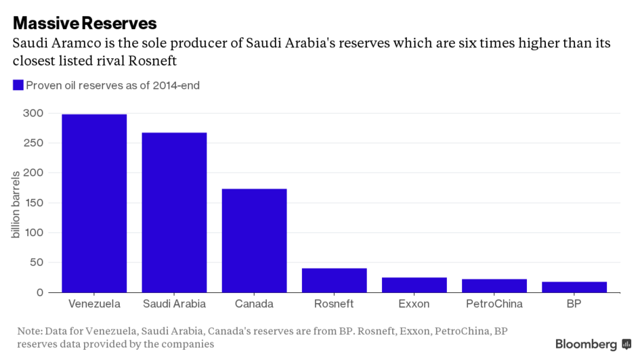 Click to enlarge(Source: Bloomberg)
We are not even at a preliminary stage, so it's impossible to speculate about the use of proceeds, but one obvious question is whether the Kingdom is trying to boost confidence to prop up its domestic currency. There are many interests at stake - those of the bulls, who are not enjoying the ride, and those of the bears, who have long believed that the world's thirst for oil could be nearing a peak.
But why have the Saudis come out with such a big statement of intention?
Going Broke
"Mark the date on your calendars: Aug. 28, 2018. That's when Saudi Arabia goes broke," CNBC reported when volatility sprang back to life last summer.
A similar view was presented at the end of 2014 by Royal Bank of Canada, whose research team wrote that "according to the International Monetary Fund, if oil prices fall $25 below the Fund's $100-$105 reference case, with no spending adjustment, Saudi government reserves will be entirely depleted by 2018."
Valuation
According to The Wall Street Journal, Saudi Aramco's entire equity capital could be worth 20 times Exxon's $311bn market cap, or about $6tn - which equates to about 35% of the U.S. GDP.
That's not how valuation works, you may well argue. The press, for instance, hasn't discussed the typical 20% discount at IPO, which is a pretty important detail - it would push down Saudi Aramco's valuation by about $1.2tn, based on that 20 times multiple.
Barron's flagged another key component of the deal - transparency.
Muhammad bin Salman "insinuated transparency is needed to fight corruption," hence the need for an IPO of the state-run oil giant.
Others in the press share the same view, and quote Capital Economics as saying that Saudi Aramco "could be worth anything from US$1trillion to $10tn".
There's been speculation over the years that Saudi Arabia has not disclosed the real amount of its oil reserves, but as it pursues an IPO, there'll be closer scrutiny.
War
Once brotherly nations, Saudi Arabia and Iran are at loggerheads.
When The Economist broke news of a possible IPO of Saudi Aramco, Muhammad bin Salman was asked:
"Is war between your two countries, direct war, possible?"

"It is something that we do not foresee at all," he replied.

"This is a Thatcher revolution for Saudi Arabia?"

"Most certainly. We have many great, unutilized assets. And we have also special sectors that can grow very quickly."
The chart below shows how Saudi Arabia has behaved since the end of World War II.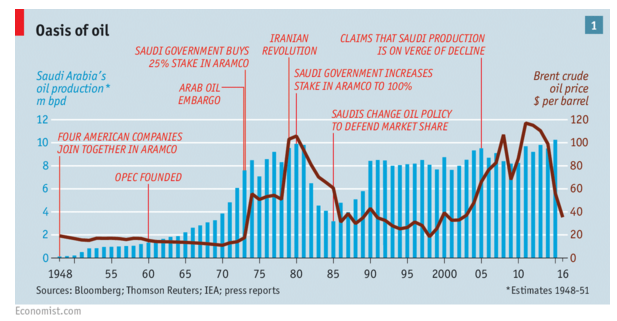 (Source: The Economist)
OPEC
Just in case you have lost track with recent events in the oil space, the table below shows the OPEC output growth over the last two years.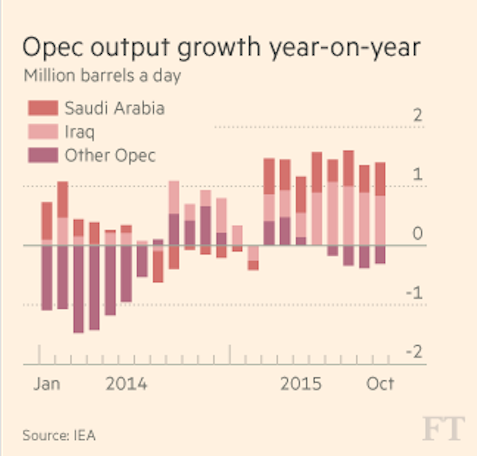 (Source: The Financial Times)
The price war between oil producing countries should help increase disposable income, but not many have noticed significant benefits down the value chain for the consumer. An economist, a good friend of mine, argued that more disposable income "is not feeding anything apart from deflation expectations," and eventually unproductive oil producers will have to exit the market.
The chart below shows that oil has become more expensive in terms of heavy capital investment - particularly in the Middle East, as a few oil engineers have warned me in recent years.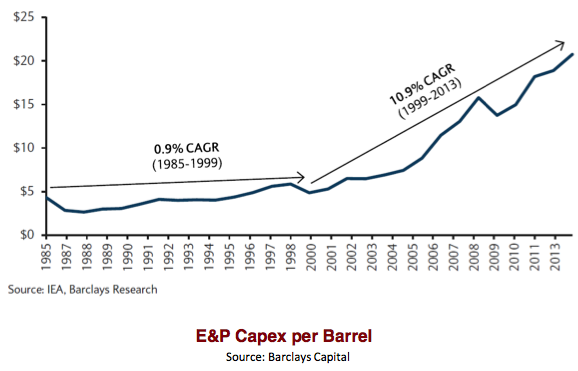 (Source: Zerohedge.com)
Meanwhile, the imbalance between oil supply and demand is only one part of the problem.
Indeed the debt supercycle is contracting right now, and this could be the biggest issue of all.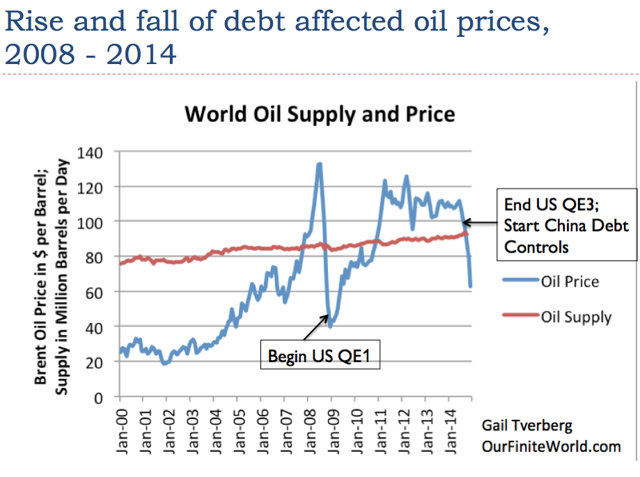 Click to enlarge(Source: Zero Hedge)
That said, there are signs that we could be approaching the bottom for oil prices, Zero Hedge argues, and I 'd agree with that view - although mixed signals come from the shale fracklog.
Now What?
Non-farm payrolls, which were released at the end of last week, made for a good reading. Maybe the December jobs report doesn't point to a bright future for the U.S., but at least it suggests that a recession is not around the corner, as I argued last week.
In this context, some stocks on my radar are better than others, yet you should not blame cyclicality or volatility for a sluggish performance of a few dividend aristocrats.
For A Day, Far Away or Faraday?
The outlook for green energy divides the bears and the bulls, and the launch of Faraday Future last week says a lot about where the world is going - green is great, but whether it is sustainable or not is another matter.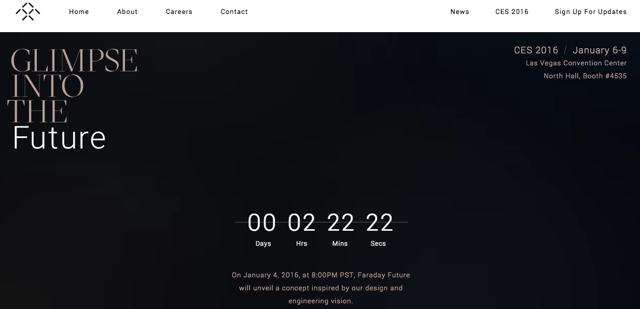 Click to enlarge(Source: Faraday)
We'll see how this one goes: electric car maker Faraday is a couple of years away from production.
Outlook
Nouriel Roubini and George Soros have called the post-crunch crisis several times over the last seven years, and you may well wonder if they'll be proved right this time around.
We'll hear more from them at Davos later this month, I guess.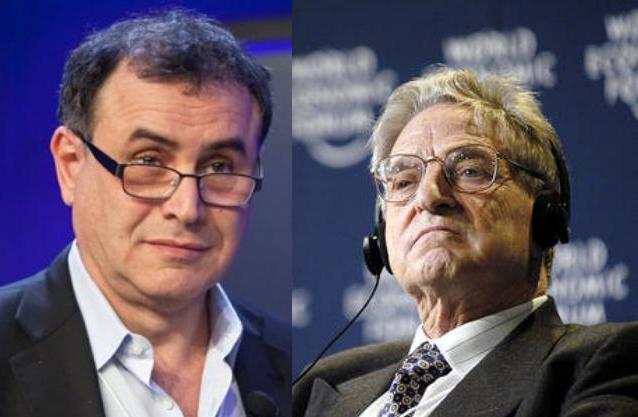 (4thmedia.org)
Soros had very strong views about Europe - essentially a wrecked ship - in 2012, 2013, and 2014, but also sent mixed signals to the market at times. One of his lieutenants in Asia shared similar views about Japan, which will unlikely "survive until 2020."
Meanwhile, Roubini has warned us about a liquidity time bomb, and I think we are walking a tightrope but one of my personal indicators, scrap metal, makes me think that a big crash is unlikely.
Moreover, Treasury yields could indicate more short-term pain, true, as the chart below shows, but I would be surprised if future trends materially differ from expectations.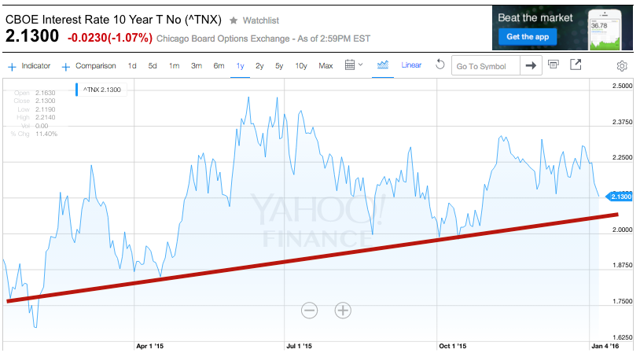 Click to enlarge(Source: Yahoo Finance. This chart was edited by the author of this article)
On 16 December, when the Fed announced it would raise interest rates for the first time in ages, bonds had a mixed reaction - and ever since U.S. Treasury yields have declined, while volatility has surged.
The VIX Index was at 17 in mid-December, and it's 10 points higher now, but it looks like yields have more to fall - if so, equity markets could fall another 3% to 5% from this level, assuming volatility between 22 and 30. Europe, meanwhile, is the usual laggard.
Pollution
Incidentally, a major energy U-turn is needed to meet the Paris targets, and this could give shareholders of oil producers some time to assess their investment in XOM and the likes.
Those of you who hate Big Oil - and/or are worried about pollution and/or believe that alternative energy will soon become sustainable - should check out what Reuters and others had to say in recent months about farmers and cows.
Start Of The Year
It was the worst start to the year for investors, and unless oil prices - the real gauge of fear nowadays - rise, well, it could be a challenging 2016. Calling oil at $200 a barrel would be insane now, but similarly such an estimate did not make much sense a decade ago.
Moreover, investors and markets seem to forget that the perception of geopolitical risk could change overnight, and all the ingredients point to strained relationships all along the oil value chain.
Finally, XOM.
Taking into account all these short-term headwinds, as well as persistent weakness across Asia, I reiterate my view that its fair value is well above its current level, based on fundamentals.
And I would expect XOM to meet forecasts for dividends and EPS, just as it has done for years.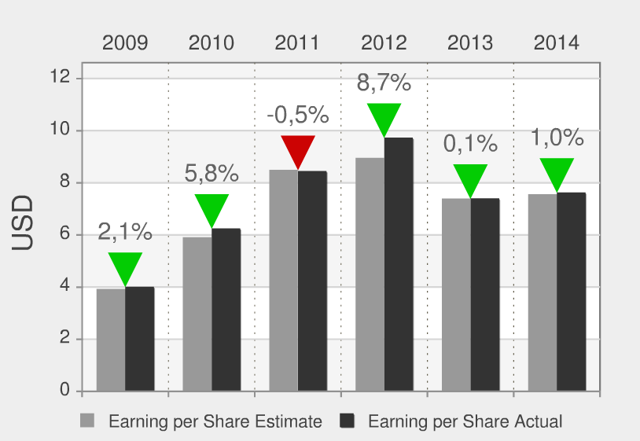 Click to enlarge(Source: 4-traders.com)
We'll learn more when XOM reports full-year results on 2 February.
Disclosure: I/we have no positions in any stocks mentioned, and no plans to initiate any positions within the next 72 hours.
I wrote this article myself, and it expresses my own opinions. I am not receiving compensation for it (other than from Seeking Alpha). I have no business relationship with any company whose stock is mentioned in this article.