The all-Israeli merger between EZchip (NASDAQ:EZCH) and Mellanox (NASDAQ:MLNX) passed another important milestone last week on its way to final approval and execution. EZchip's largest shareholder, Raging Capital, which holds almost eight percent of the company's shares, removed its resistance to the deal and announced that since the Go Shop period did not attract any higher bidders for EZchip, under the current circumstances, it approved the deal and recommended that EZchip shareholders vote for it.
Raging Capital had been the loudest party against the deal, bringing fierce accusations against EZchip's CEO, Eli Fruchter, and Mellanox CEO, Eyal Waldman, in an attempt to pressure both sides to increase the deal's value. Raging Capital's support follows earlier positive recommendations by advisory firms ISS (for U.S. institutional investors) and Entropy (for Israeli institutional investors) to accept the deal. With Raging Capital's support, the deal's approval in EZchip's 2016 extraordinary general meeting seems certain. Deal premium, as reflected by EZchip's current share price, was narrowed to only 1% as shown in the chart below.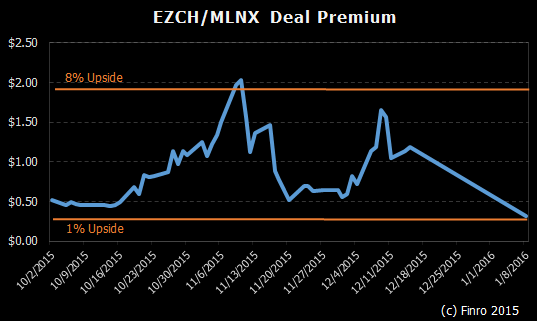 During the period that I covered the deal, the premium reached a peak of 8% just before the November 12 shareholder meeting, and I highlighted in an article that, as the deal will probably be approved at the end, investors should consider EZCH between $23 and $23.50 for 8% to 10% upside. I followed that suggestion myself and have already yielded 8% on my EZCH investment looking forward to EZchip shareholders' approval next week and the final deal to close during the first quarter of 2016.
As the deal is almost done, EZchip and Mellanox are moving into the most difficult phase in this merger - to merge the two businesses and improve its competitive positioning in the market while emphasizing the strengths of the two companies. This will probably be a gradual process that, in the first phase, will include adding EZchip as a separate reportable segment within Mellanox while continuing to execute EZchip's current road map and to sell its standalone products to third-party customers as it did the deal. In this stage, EZchip's financials will simply be added to Mellanox's and increase Mellanox's $750M expected revenues in 2016 by the $163M that EZchip expects to generate as an independent company in 2016. EZchip's costs and operational expenses also will transfer in whole to Mellanox's PnL.
I believe that toward the end of 2016 Mellanox will accelerate EZchip's implementation and publish cost reduction plans and a list of potential efficiencies as a result of the merger that was targeted to improve operating profit. As has happened in other mergers of chip companies, the full implementation and operational merger will probably take between nine months and one year, and in 2017, Mellanox is expected to present a lean and more efficient structure, a clear road map that includes standalone and embedded EZchip solutions and growth plans.
Currently, Mellanox is trading at $38, well below analysts' one-year price target of $60. Even though it's hard to estimate the expected efficiencies and the added value a product line of a combined solution will bring, the EZchip-Mellanox merger makes a lot of sense and should create a sum that is bigger than its parts - thus, investors should add Mellanox to their watch list in 2016/2017. Once Mellanox publishes its post-merger plans for efficiencies, cost saving and new products road map, I will be able to refine my investment thesis with a clear direction.
Disclosure: I am/we are long EZCH.
I wrote this article myself, and it expresses my own opinions. I am not receiving compensation for it (other than from Seeking Alpha). I have no business relationship with any company whose stock is mentioned in this article.
Additional disclosure: The information provided in this article is for informational purposes only and should not be regarded as investment advice or a recommendation regarding any particular security or course of action. This information is the writer's opinion about the companies mentioned in the article. Investors should conduct their due diligence and consult with a registered financial adviser before making any investment decision. Lior Ronen and Finro are not registered financial advisers and shall not have any liability for any damages of any kind whatsoever relating to this material. By accepting this material, you acknowledge, understand and accept the foregoing.