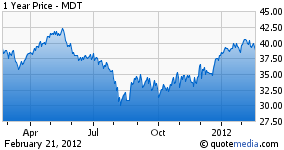 Another quarter goes in the books and Medtronic (NYSE:MDT) investors are still waiting to see some real signs of life when it comes to re-igniting top line growth. Although nobody questions Medtronic's ability to maintain leadership positions in many large med-tech markets, there are ample questions as to whether the company can translate this leadership into growth. Current conditions being what they are, investors have to put a lot more of their hopes on future product and market developments to make this stock look appealing today.
A Disappointing Fiscal Third Quarter
To be fair, Medtronic's "disappointment" relative to expectations was not that bad in an absolute sense. More problematic, though, is how it undermines the idea that 2012 conditions will get significantly better in some core markets.
Total revenue rose about 2% as reported and was close to zero (0.4%) on an organic basis. Not unlike Johnson & Johnson (NYSE:JNJ) and St. Jude (NYSE:STJ), Medtronic is seeing relatively better growth in its overseas operations, and international sales grew 6% on a constant currency basis this quarter.
Performance in both cardiac rhythm management and spine were disappointing, with sales declines of 3% and 10%, respectively. Although Medtronic continues to gain share in pacemakers from St. Jude and Boston Scientific (NYSE:BSX), ICD sales were quite a bit weaker than expected. Management is blaming lower procedure counts (which is true), but St. Jude seems to be more of a share-gainer than some analysts want to acknowledge.
With the spine business, the 20% decline in biologics was a major headwind, but core revenue was still down 6%. That puts Medtronic's performance on par with Stryker (NYSE:SYK) and behind JNJ, Synthes (soon to be acquired by JNJ), and Nuvasive (NASDAQ:NUVA).
Medtronic's other businesses - cardiology, neuromodulation, diabetes and surgery - were all up, but none so much as to draw particular notice.
Profitability Still Strong
Medtronic may not be setting records with its revenue growth, but it's not frittering it away with lax expense management. Medtronic's already-high gross margins went higher still (from 75.1% to 76.2%) and the company is targeting a further 25% in COGS cuts. Operating income rose a bit more than 2% on basically flat SG&A and R&D costs.
Can New Products Change The Dynamic?
Although the MRI-safe Revo has definitely helped drive some growth in pacemakers, the Protecta line has yet to do the same for ICDs. Likewise, it's unclear if Solera (a spinal fusion system) can really change near-term performance in a slowing spine care market.
So where might Medtronic look for growth?
The company recently got FDA approval for its new drug-coated stent Resolute. While Medtronic has modest share in the U.S. at present (about 10-12%), Resolute has been available overseas for years and Medtronic's share there is closer to 30%. With Boston Scientific pushing its Element, Medtronic may find it hard to completely close that gap, but there should be incremental growth potential here - at least until Abbott Labs (NYSE:ABT) brings out its resorbable stent in a few years (probably 2015 for the U.S.).
But Wait, There's More … Maybe
Bigger opportunities likely lie with the CoreValve catheter-based replacement valve and the Ardian renal denervation product. While CoreValve may have a more difficult route to market with Edwards Lifesciences (NYSE:EW) already approved and capable of taking care of "no option" patients, the data on CoreValve has nevertheless been solid. Here too, though, competition is close at hand with St. Jude's Portico valve.
Renal denervation may be the biggest delta for Medtronic. Ablating these nerves has shown to be an effective means of treating drug-resistant hypertension and Medtronic should be first to market ahead of Johnson & Johnson, Covidien (COV), St. Jude and Boston Scientific. This may be a case where there's plenty go around. While most estimates of the market potential come in around $2 billion to $4 billion, some aggressive analysts (including Bank of America's Bob Hopkins) think it could exceed $10 billion and Medtronic could hold a leading share.
Of course, there are also opportunities for Medtronic to continue to grow its ablation, diabetes and neuromodulation businesses, as well as its overseas/emerging markets business. Medtronic still has (arguably) the best insulin pump on the market, and rivals like Johnson & Johnson and Insulet (NASDAQ:PODD) haven't really dented the business. As for ablation and neuromodulation, while they're not markets with the potential of renal denervation or CRM, they could still produce above-average growth for many more years to come.
The Bottom Line - A Lot Of Ifs And A Little Value
With Medtronic's CRM and spine businesses looking weaker than I'd expected, I'd say the odds are lower for a significant near-term growth recovery, even while companies like St. Jude and Stryker have been relatively optimistic about underlying growth returning in 2012. It also seems clear that Medtronic's growth really does rest on brand new market opportunities like transcatheter valves and renal denervation.
Taking all of that into account, Medtronic is something of a middling investment candidate today. It is undervalued (I believe fair value is in the mid-$40's) and pays a decent dividend, and it holds leading shares in most of its target markets. Unfortunately, the Street usually wants more near-term growth before it gets excited about large med-tech stocks and names like Zimmer (ZMH), Covidien and St. Jude may be better bets for the short-term in that regard.
Disclosure: I have no positions in any stocks mentioned, and no plans to initiate any positions within the next 72 hours.