Last week's stock-market carnage underscored many investors' fears of what could lie ahead in the Q4 earnings season: more bad news. The period kicks off after the close of trading today, when aluminum-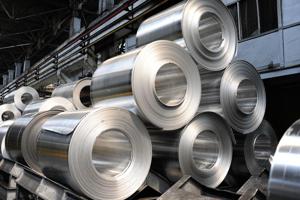 maker Alcoa (NYSE:AA) releases its results.
As for AA itself, the stock has lost a chunk of its value in the last year-a commodity-dependent listing that operates in a time when the commodities sector can be a canary in the coal mine for Wall Street. Could AA set the tone for other basic materials firms, the industrials, and more broadly, exporters whose near-term health might be shaped by China's economy and a strong dollar?
For sure, there's much trepidation going into this earnings season, whose highlights are likely to be more name-specific than sector-related. That may lead some investors, particularly those with a longer-term horizon, to shop around yet remain cautious on the market as a whole.
Tough Backdrop
Last week's stock sell-off was the worst start of any year ever for the broad U.S. markets. The Dow Jones Industrials Average ($DJI) wiped out 6.1% of its value, more than 1,000 points, while the tech-heavy NASDAQ Composite (COMP) gave up 5.2%. The broadest of the measures, the S&P 500 Index (SPX) plunged 5.7%. Ask most market participants: there wasn't anything moderately attractive about this kind of how-do-you-do to 2016.
Yes, China's stock-market crash was the impetus of what some U.S.-based strategists are calling a "correction." And those same experts don't seem overly concerned about another financial crisis like we saw in 2008.
"This is very much August all over again," David Kelly, chief global strategist at JP Morgan Funds, told USA Today late last week. "The problem is no one knows where the bottom is for Chinese stocks or for (its currency) the yuan."
As for AA …
Industry analysts say the basic-materials giant is more likely to disappoint to the downside than offer a Street-beating comeback to sobering forecasts. The average estimate reached by analysts reporting to Thomson Reuters is for per-share earnings of $0.04 on topline sales of $5.34 billion. That's a whopping 88% below last year's per-share profit of $0.33. A year ago, revenues were $6.38 billion, 16% higher than their comparable period.
Investors and analysts will be listening for how the company sees its future once it splits itself in two, a plan that Wall Street generally has taken a liking to with other companies. In September, AA said it will separate its legacy aluminum operations-sales badly damaged by the glut in aluminum and five straight years of declining prices-from the operations that manufacture components for what has been its more lucrative aerospace and automobile industries. The division is slated for mid-year.
AA's implied volatility going into earnings is at the 76th percentile, which may not be surprising for many stocks right now given that we're seeing the biggest swing in markets since mid-August's drop. Trading interest is active at the 9 price strike for puts and calls-not an uncommon scenario for a low-priced-that is, below $10-stock (figure 1). Note: Call options represent the right, but not the obligation, to buy the underlying security at a predetermined price and over a set period of time. Put options represent the right, but not the obligation, to sell the underlying security at a predetermined price over a set period of time.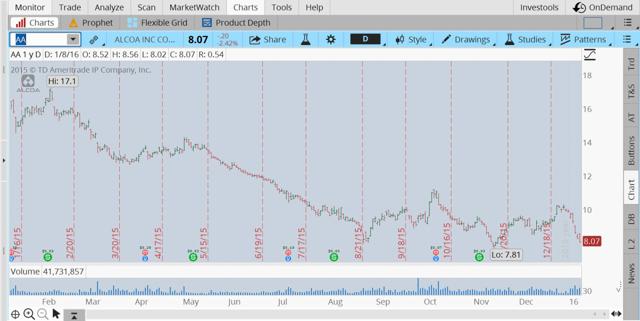 Click to enlarge
Figure 1: Lost its Shine? AA stock closed on Friday down 2.5% to $8.05, but that pales in comparison to the 50% drop in stock price on a year-over-year basis. Chart source: TD Ameritrade's thinkorswim platform. Data source: Standard & Poor's. Not a recommendation. For illustrative purposes only. Past performance does not guarantee future results.
Banks Are Up Next
AA's results are the traditional launch, but hardly the sole indicator of what may lie ahead for earnings.
All told, S&P Capital IQ forecasts profits for S&P 500 members to be down 5.5% in the Q4 period that will be revealed in this next wave. Only four of 10 S&P sectors are expected to post positive earnings growth for Q4: telecommunications (+17.9%) and consumer discretionary (+7.4%) expected to lead.
Investors and analysts could be far more interested in what the big banks, including JP Morgan Chase (NYSE:JPM) and Wells Fargo (NYSE:WFC) have to say when they start reporting on Tuesday and later into the week. Why? They can be the better best barometer of the climate across all business.
TD Ameritrade, Inc., member FINRA/SIPC. TD Ameritrade is a trademark jointly owned by TD Ameritrade IP Company, Inc. and The Toronto-Dominion Bank. Commentary provided for educational purposes only. Past performance is no guarantee of future results or investment success.
Options involve risks and are not suitable for all investors. Please read Characteristics and Risks of Standardized Options before investing.
Disclosure: I/we have no positions in any stocks mentioned, and no plans to initiate any positions within the next 72 hours.
I wrote this article myself, and it expresses my own opinions. I am not receiving compensation for it (other than from Seeking Alpha). I have no business relationship with any company whose stock is mentioned in this article.