Recently, there was an article posted on Seeking Alpha by The Traveling Investor that suggested the equity in Chesapeake Energy (NYSE: CHK) is safer than the bonds. This caught my attention and in his words, regarding a possible future dividend to equity holders, he had this to say: "Equity holders can pay themselves first, ignoring principal payment [to bondholders] in the future. This will ensure that bondholders will not be getting much in value."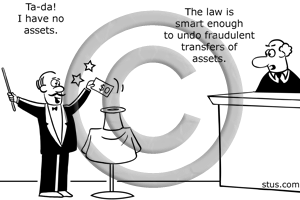 In the event Chesapeake Energy files for bankruptcy, there is a concept called fraudulent conveyance that says Chesapeake Energy would more than likely be sued by debtholders if they issued dividends to shareholders shortly before filing bankruptcy. A corporation has a legal obligation to pay its debt capital providers before the equity holders receive a dime in dividends. Chesapeake management knows this and if they even thought about engaging in such behavior, knowing that a bankruptcy filing was imminent, debtholders would file a motion immediately in court to block the aforementioned dividend payment to shareholders on the grounds of fraudulent conveyance, and the dividend payment would not happen.
What can Chesapeake Energy actually get for its assets?
A lot of investors know that Chesapeake Energy is thought to have very high quality assets with its operations in the Haynesville Shale, the Utica, the Anadarko Basin, Marcellus Shale, Barnett and the Eagle Ford, and the Powder River basin. An argument for the bear against Chesapeake has been, "Well they have a high level of debt, so even if they have high quality assets, bulls don't know what they can get for those assets." Some light is being shed on that question. Doug Lawler, the company's CEO has stated on the conference call and several times before, they are open to asset sales for the right price if it creates value. There have been sources citing Bloomberg News that Chesapeake is looking to sell some of its Utica assets for at "least" $2 billion. Potential buyers could include domestic or Asian investors, as both have looked at Chesapeake's assets in months past. Chesapeake owns 1 million net acres in the Utica, and obviously the price received from selling any of those assets depends on how much they decide to sell. But to be conservative and if we assume that they are looking to raise at least $2 billion as cited, and knock off a quarter of that, let's say they raise $1.5 billion. From what I've seen, research analysts, as with Citigroup here, seem to be focusing on Chesapeake's debt maturities through 2018, as a key point in time to see if they'll survive. Chesapeake currently has total debt throughout 2018 of $2,224 (in US denominated currency) that you can see from a list of their senior notes here.
If Chesapeake raises $1.5 billion from a sale of the Utica assets, they'll have a $724M shortfall of covering their 2018 debt that will reduce debt to $8.6B. In a base scenario if they get $2B in proceeds, they'll have a $224M shortfall and debt is reduced to $8.1B. Best scenario if a premium is given to the company's assets for their quality and they get $2.5B, they cover 2018 debt with a $276 million surplus and debt is reduced to $7.6 billion, assuming all proceeds go to debt reduction.
| | | | |
| --- | --- | --- | --- |
| Senior Notes | Aggregate Principal Outstanding | | |
| 3.250% due 2016 | $500 | | |
| 6.250% due 2017 | $374.90 | | |
| 6.500% due 2017 | $660.30 | | |
| 7.250% due 2018 | $688.60 | | |
| | | | |
| | Worst Scenario | Base Scenario | Best Scenario |
| Total debt through 2018 | $2,224 | $2,224 | $2,224 |
| $ Gain through Utica sale | $1,500 | $2,000 | $2,500 |
| Coverage of Pro forma debt | ($724) | ($224) | $276 |
| | | | |
| Current Outstanding Debt | $10,100,000 | $10,100,000 | $10,100,000 |
| Debt Reduction | $1,500,000.00 | $2,000,000 | $2,500,000 |
| New Outstanding Debt | $8,600,000.00 | $8,100,000 | $7,600,000 |
This also does not factor in any further tender offers by the company to reduce debt, the latest of which reduced debt by about $1.5 billion to the current amount of $10.1B.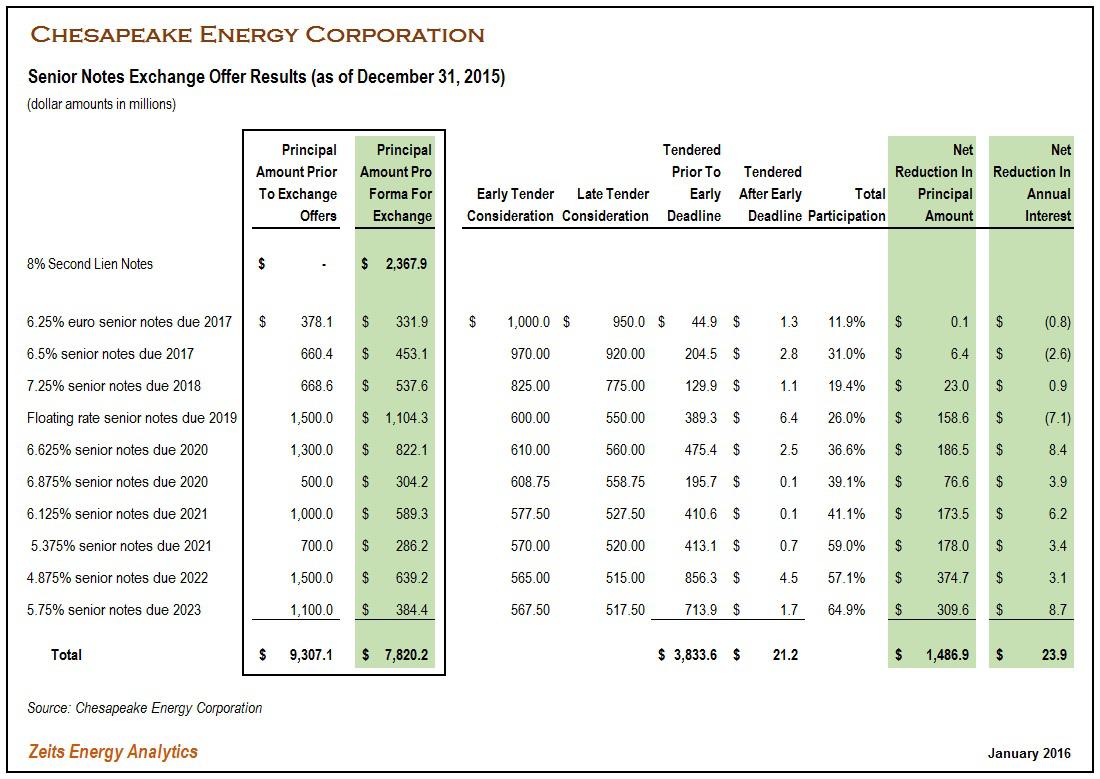 Also keep in mind, even though Chesapeake would have a shortfall in covering debt through 2018 given the bull and base case above, they still have $1.5 billion in cash on hand, and an untapped $4B line of credit to pay off the remaining 20% of the unpaid amount in my worst case scenario.
Natural gas outlook and margin of safety in the bonds
With all that being said, Chesapeake is not in the everyday business of selling assets, and is in the business of drilling natural gas. They've been hurt from low natural gas prices for the past year as natural gas has declined from $4 in the beginning of 2014, to a price of $2.48. The breakeven price for their natural gas reserves estimated future revenue discounted at an annual rate of 10% is $2.50 and about $45 for most of their oil reserves. Nat gas is two cents within the company's breakeven, and this is a positive as you can see how closely the equity is linked to the movement of nat gas.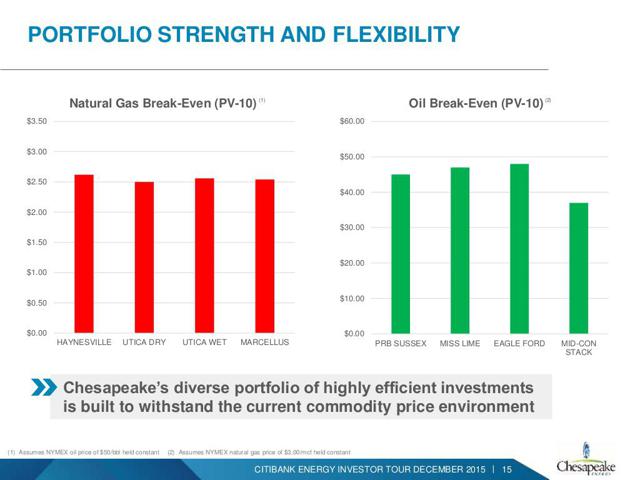 Click to enlarge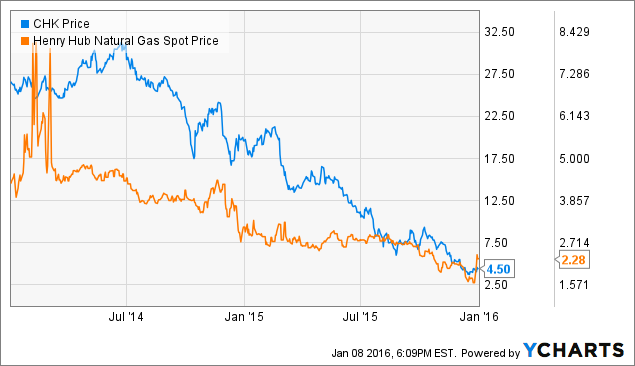 In my opinion, while nat gas may decline in the short run, I believe the worst declines are over when looking at data from the EIA. Demand has started to outpace supply in natural gas, and the rig count has declined 50 percent from January of last year.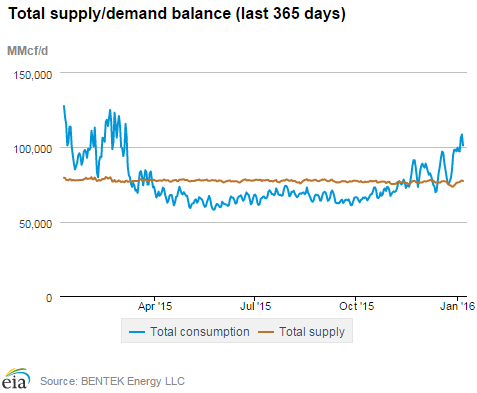 Rigs
Fri, January 01, 2016
Change from
last week
last year
Oil rigs
536
-0.37%
-63.83%
Natural gas rigs
162
0.00%
-50.61%
Miscellaneous
0
0.00%
-100.00%
Rig numbers by type
Fri, January 01, 2016
Change from
last week
last year
Vertical
89
3.49%
-70.33%
Horizontal
549
-0.90%
-58.91%
Directional
60
0.00%
-65.71%
Source: Baker Hughes Inc.
In particular, the 2020 6.8% coupon is yielding 37.9% to maturity and priced at $0.33 on the dollar. It's always best to be conservative with estimates so even if they do have to restructure in bankruptcy, remember if you actually buy the bond today, you're only paying $0.33 on the dollar. If you were buying a bond at par, wouldn't your line of thinking be, "I am lending my money to company X, and in return I expect the interest payments stated in the contract, plus the principal amount of the bond?" So if you have a base case scenario in mind that they are able to pay out the full aggregate amount owed, an appropriate lesser degree of optimism, would be, "Can the company pay back interest owed (which equates to an 20.6% annual yield assuming only coupons are repaid without principal) and at least 0.33 on the dollar, (which is exactly the same as buying the bond at par when looking at your actual costs.) But as the market has seen in 2015, natural gas can fall by quite a bit, and it's best to have a margin of safety in investing. Chesapeake is cash flow negative and I wouldn't be surprised to see them dip into the credit line to fund their cash burn. I will be looking at management's comments regarding CapEx to see if it will be reduced any further beyond the $3.4-$3.9B range, which I would like to see them do, but I am not counting on it. And when you look at the bond prices of Chesapeake, you can see the perceived risk of the market already priced in, indicating the market views the equity as even riskier.
With the probable Utica asset sale, I believe it's fair to say that Chesapeake can pay back at least 0.33 of every dollar. At the minimum, in that case the company makes it through the end of 2018, and by then, you would have recouped about 62% of your investment from the yield on the 2020 issue at the current price (20.6% x 3 years = 61.8%) not even factoring in principal repayment, which would be your YTM of 37.9%. By early 2019 when Chesapeake's 2019 principal of $1.5B is due, if natural gas has plummeted to under $1.00, and Chesapeake has to do a fire sale of assets and restructures in bankruptcy, you've got nearly 62% of your cost recovered, and I expect natural gas to at least be consistent or moderately higher in the years to come, which means that bondholders have a good chance when it comes to the company getting a good price for asset sales, and if all else fails, becoming new equity holders in a restructured Chesapeake with a cleaner balance sheet, whereas the equity holders will be wiped out and get nothing.
In closing, as I stated I believe the worst in natural gas is over and expect Chesapeake to survive as an asset sale will buy them critical time to further reduce debt. I am long the equity and may go long the 2020 bond as well. Chesapeake's my smallest equity holding from a risk/reward perspective, and the company has near term risks, so I will in no ways be putting all my eggs in this basket. But an asset rich company that's reducing debt is positive for the equity, and a fantastic opportunity for the bonds trading at these levels. Keep your perspective, though -- when it comes to matter of safety, bonds always have priority.
Disclosure: I am/we are long CHK.
I wrote this article myself, and it expresses my own opinions. I am not receiving compensation for it (other than from Seeking Alpha). I have no business relationship with any company whose stock is mentioned in this article.