By Parke Shall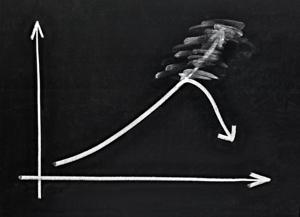 The market opened up the week of January 11th green. Stocks popped at the open but have looked shaky in the first few hours of trading. Traders are beginning to speculate whether or not this is going to mark the end of the turmoil for the US markets and perhaps gift US investors with a week of less volatility and perhaps even some green days after a terrible start to the year (if you're long).
We believe this green mark up in the indices this morning is likely a head fake and we expect the tone of this week to continue to be grim. We expect that we may end this week with the Dow trading with a 15 handle. As many people know, it was our target for the Dow Jones to wind up in the 15,000 range this year. We did not expect that it was going to come immediately on the first two trading weeks of the year, but that continues to be the message that the market is sending us. We would look for some support around the 16,000 level, which is where the Dow touched support on the last China pullback. Once 16,000 gives on the Dow Jones, expect a move relatively quickly to 15,600.
When futures trading opened up on Sunday night, the mood remained grim. Both Dow Jones and S&P futures traded almost 1% lower off of the open. We received poor China CPI numbers and a rigid start to the Asian trading day, but US equity futures, after dropping a little bit lower than 1%, found a bid and kept that bid over night. Markets have subsequently opened green for the week.
China continues to work on stabilizing its currency, which seems to be the only bright spot over the evening that could have put futures into the positive territory that they are currently in as of around 8:30AM Eastern.
Chinese markets, however, were another story. Shanghai sold off almost 5 1/2% overnight and Shenzhen closed down over 6%. This can be considered good news because this may have been a situation where circuit breakers could have done more harm than good, but it is still disappointing trade from the Chinese market.
We continue to believe that China has more downside. The Chinese indices would need to drop at least another 50% for their equities to have earnings multiples that are similar to our "overvalued" United States markets. This leaves a lot of room and a relatively large air pocket for China to move lower into as 2016 continues to progress.
Another fascinating occurrence overnight was HIBOR skyrocketing 939 basis points to a rate that is over 12%. (picture courtesy Zerohedge, which posted a great article as well on the HIBOR spike)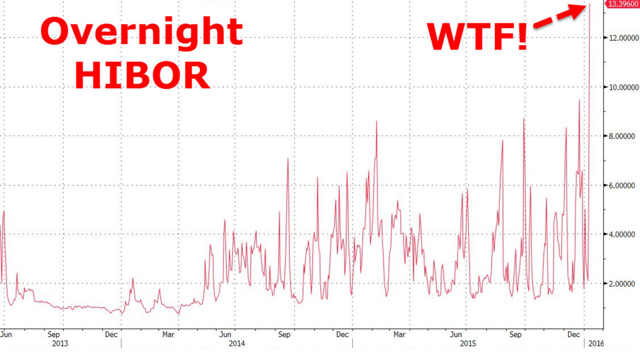 Click to enlarge
This drastic move shows that the lack of confidence has now spread from China into Hong Kong. This spike clearly shows that Hong Kong banks are worried about both liquidity and counterparty risk as they are setting themselves up for a game of pass the hot potato if rates continue to rise. We expect that this spike will decline, as it generally does when the HIBOR rate spikes. Nevertheless, spiking to these levels, as shown by this chart, is a new level of fear from Hong Kong that we have not seen.
Should this fear and capitulation spread from Hong Kong to Japan and Europe, we are going to see continue downward pressure on all global equity markets.
China is the source of most of the fear in the market right now and the unfortunate fact is that the Chinese market still could have significant downside from these levels. It also seems as if the government's intervention is going to focus mostly on supporting the currency instead of continued asset purchases and trying to support the equity market. We think this also could still lead to dramatic declines in China's market moving forward.
While we do not believe there is any systemic risk like there was in 2008, that does not mean that global markets are not setting up for a turbulent 2016. Until the bubble in China bursts completely, all global equity markets are going to be exposed to some downward pressure. We also don't know if the remedial steps that have been taken by the Chinese government over the last year are going to exacerbate the sell off more so than if the country had just let the bubble burst already.
The stabilization of the currency looks to be the main reason why US equity futures are going to try and start the week off green.
Unfortunately, we are expecting a pop followed by continued selling pressure that should continue throughout the week. For those of you getting your hopes up that the worst is behind us, just remember that the Chinese market would need to sell off more than 50% to get it to the multiples that the US markets are at.
As we said an article a couple weeks ago, where we literally said "it is going to get worse in 2016," we think this week will show more pressure once the buyers are dealt with early in the morning, and we continue to reiterate our target for the Dow Jones of 15,000 for the year.
Disclosure: I/we have no positions in any stocks mentioned, and no plans to initiate any positions within the next 72 hours.
I wrote this article myself, and it expresses my own opinions. I am not receiving compensation for it (other than from Seeking Alpha). I have no business relationship with any company whose stock is mentioned in this article.