This is the latest in my "Investing with an Edge" series. For more on the series, please see here.
Company: Constant Contact (NASDAQ:CTCT). Reasons for opportunity: SEC investigation, broken arb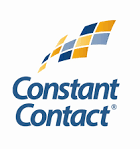 Constant Contact is a leading provider of online marketing tools for small and medium businesses. You've almost certainly received a marketing email from one of their clients or seen one of their "(s)he's a marketer" advertisements.
In November, Constant Contact agreed to be acquired by Endurance (NASDAQ:EIGI) for $32/share. The shareholder vote on the deal is set for January 21, and the merger should close within the first quarter. Shares are currently trading for ~$28.50. Even conservatively assuming the merger doesn't close until March 31st, the spread would represent a 65% annualized return if the merger closes.
Potential returns like that obviously don't exist without some sort of issue, and the EIGI/CTCT merger has a big one: both CTCT and EIGI have received subpoenas from the Boston Office of the SEC. Investors are clearly worried that the subpoenas will lead to EIGI breaking the deal or cutting the deal price.
Could the SEC investigation torpedo the deal? That is definitely both a possibility and a risk. But there a lot of reasons to believe that the deal will go through.
First, the merger makes significant strategic sense. Endurance provides hosting services to small and medium businesses, and Constant Contact provides email and marketing services. Combining the two should have huge cross selling potential, and Endurance is forecasting significant cost synergies as well. It's worth noting that Web.com, an Endurance competitor, had created a partnership with CTCT for a joint offering. That deal will probably fall apart after the Endurance acquisition completes. That Web.com partnership both verifies the potential synergies from combining the two businesses and adds motivation for Endurance to make the acquisition happen (breaking a partnership with a competitor is valuable). Endurance and Constant Contact also did a significant amount of press together proclaiming what a great deal this was.
Second, the price seems fair for both sides. Constant Contact was well shopped both before the merger agreement and after the merger was announced through a "go-shop" agreement. One strategic acquirer ("bidder X" in the merger background) expressed interest in acquiring CTCT for $31 before the Endurance deal was announced and was in M&A discussions with Constant Contact until the day before the go-shop expired. A strategic acquirer making a bid at or slightly below Endurance's supports the price that Endurance paid, and that there were other parties interested in CTCT suggests they could likely sell themselves at a reasonable valuation should the EIGI deal break.
Finally, it's worth noting some curiosities with the SEC investigation. The SEC subpoena came on December 10th. Constant Contact's merger proxy for the endurance deal was approved by the SEC on December 9th. The subpoena came from the Boston office while the proxy was probably approved by a different office/division, but it is interesting that the SEC would approve the docs one day and subpoena the next. Also interesting is the companies' disclosure on the language in the subpoenas is also slightly different: Endurance's is for "documents related to Endurance's financial reporting, including operating and non-GAAP metrics, refund, sales and marketing practices and transactions with related parties" while CTCT's is for "documents pertaining to Constant Contact's sales, marketing, and customer retention practices, and periodic public disclosure of financial and operating metrics." The difference makes it seem like CTCT is being investigated for both financial disclosure and marketing practices while Endurance is only investigated for financial reporting. Perhaps the language differential is nothing but a small difference in the way the two companies disclose, but it is interesting. It's also worth pointing out Endurance has been the subject of a short campaign from Gotham City, so the subpoena could simply be an investigation into Gotham's claims. (On the short campaign: no views one way or the other. Endurance has committed financing for the CTCT deal and is paying all cash, so unless you think a huge collapse is completely imminent, it doesn't have a huge effect on the deal analysis).
The market is clearly currently discounting the chances this deal closes. To figure out how much the market is discounting the deal, I generally use some algebra. The math is as follows - (Estimated stock price if deal breaks * X%) + (Deal Price * (1 - X%)) = current stock price. That math is normally pretty simple: assume the stock drops to its pre-deal price if the deal breaks (CTCT was trading at $26.10 before the deal was announced), put in the current stock price and deal price, and out spits X (the chance the deal breaks). Using that math, we would get- $26.10 * X% + $32 * (1-X%) = $28.50, or a roughly 41% chance that the deal goes through.
However, in this case, if the deal breaks, it will be because of an SEC investigation, so if the deal broke it would probably fall further than the pre-deal price. How much further? That's more art than science, but my guess would be about 25% below the pre-deal price, which would suggest a downside price of $20 and says the stock market is currently implying ~70% odds the deal closes. I have included a chart below that shows close % with different downsides so you can make your own probability assumptions.

Click to enlarge
Is a 70% chance of close correct? My gut says that it's too low. The deal makes a ton of strategic sense for Endurance, and that's confirmed by the Web.com partnership and Bidder X's interest in the company. I have found that when deals make this much sense, both parties are very motivated to get them done. While the SEC investigation is scary, ultimately I think the strategic upside will outweigh any concerns.
One last point: Endurance has made it clear that they think one of their core competencies is strategic acquisitions and integration (see the slide from their investor presentation below). I have found that companies that pride themselves on acquiring other companies seem to have a bit more incentive and interest in closing deals when conditions are rough. Maybe it's because the managers are psychologically invested in keeping up their internal image as deal makers, or perhaps it's because they know if they let one deal fall through they will be hurting themselves in future deals. Whatever the reason, Endurance's deal track record slightly increases the odds that Constant Contact gets done.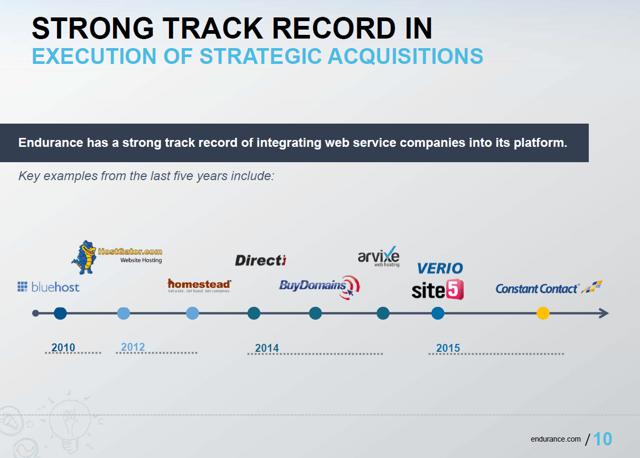 Click to enlarge
Disclosure: I am/we are long CTCT.
I wrote this article myself, and it expresses my own opinions. I am not receiving compensation for it (other than from Seeking Alpha). I have no business relationship with any company whose stock is mentioned in this article.