With the "minute" drop in the stock market and all the sensationalized media forecast, I think now is the appropriate time to answer the question: "Is now the right time to buy?"
Johnson & Johnson's (NYSE:JNJ) The yield is currently at 3.01%. This is the starting point where investors start to lose focus and begin to convolute and complicate the matter.
You do want to get a decent return on your investment, but you do not want to do an elaborate valuation, which will make you look brilliant but make you no money. There are numerous famous investment service providers supplying this head-spinning information but very few famous successful investors. Big difference.
Keep it simple
Now I know some of you may be worried about an imminent crash coming soon and have all sorts of questions regarding the "doomsday" event. Here is my answer regarding this event: no one has been able to consistently predict these outlier events. (I really do not understand the fascination with calling the next crash.) In addition, since most of you like buying shares at a low price, this current price drop should be considered a gift. So, keep it simple and look at the business itself rather than getting fancy with projected balance sheets.
Dividends
For JNJ, I look at the sustainability of the dividend because if the dividend looks like it can grow and be sustained, the other fundamental factors will typically follow.
For 53 consecutive years, JNJ has increased dividends. Is it possible for this trend stop? Of course, past is not a guarantee of the future. We can, however, take comfort in knowing that the company has been through many business cycles and even during the 2008 recession still managed to increase dividends. Thus, JNJ in all likelihood will continue to increase its future dividends.
Also, the dividend growth rate has been at least 7%. This is important as we want to maintain our spending power and not succumb to a loss in purchasing power due to inflation.

(Source: DripInvesting.org)
While the 10 year growth rate has been higher, the near term growth rates of the 1,3, and 5 year show that JNJ has hovered around 7%. This may not be a concern as it might indicate either a temporary slow down or the sustainable rate JNJ has found.

(Source: DripInvesting.org)
On an annual basis, it appears that JNJ dividend growth rate is half of what it used to be. However, from 2011 onwards the growth rate is maintained around 7% suggesting that this may indeed be the sustainable dividend growth rate going forward.
Lastly, the EPS payout ratio around 57% is not bad either. I would prefer the future percentage to not increase and stay within a sub 60% range. As much as I love dividends, I would rather see the company have the ability to be able to run itself.
Business overview by segments
-Trend
Another interesting characteristic of the business I noticed was the trend in the segments of the business. Though there are three segments, the consumer segment and medical device segment seem to be getting neglected, while the pharmaceutical segment seems to be getting all the love. Is this a red flag or cause for concern? I believe it might be an indication of a long term strategic shift in the focus of the business. Companies that adapt survive. Just take a look at Apple (NASDAQ:AAPL) and Microsoft (NASDAQ:MSFT) and you will know what I mean.
The data goes back to 2008 due to the consistency of the presentation differing in prior years. There has a noticeable decline and stagnation in the trend in sales for the consumer segment, while there has been a slight increase to a flat trend in sales for the medical devices segment. The pharmaceutical segment is the only segment that has shown a consistent and noticeable increase in sales.
Perhaps the trends in the sales of these segments are consistent with the R&D expenditures indicated in the chart below. This is why I displayed R&D expenses before sales.
In addition, pre-tax profit for the pharmaceutical segment has improved over the years relative to R&D expenses indicating a possible shift in the focus of the company.
-Annual Growth
Deciphering the trend in the business segments is quite tough and very subjective. Thus, the annual growth numbers provide additional clarity for the business segments. On an annual basis, R&D for the consumer segment has remained flat, sales have marginally declined by 1.7%, and the pre-tax profits are suffering with a 5% decline.
Pharmaceuticals have seen an annual growth in R&D by approximately 3%, sales have increased close to 5%, and pre-tax profit is above 7%.
Although medical device show a yearly decline of 2% for R&D, sales have increased by approximately 3%, and pre-tax profits are around 1.6%.
Combining the trend and annual growth rates does indeed show that JNJ is more than likely shifting its focus and emphasize its health care line over its consumer line.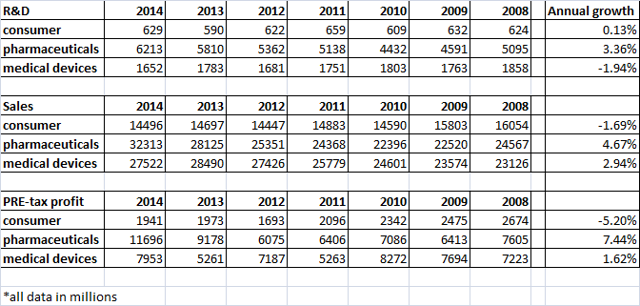 (Source: Self-created with 10-k data)
For curiosity sake, we can now check the correlation of JNJ's business segments with respect to market segments to see if JNJ's stock price fluctuations have shown a tendency to mimic the overall healthcare sector.
Correlations
I focus on JNJ's correlation with the XLP and the XLV (Consumer Staples and Health Care ETF,respectively).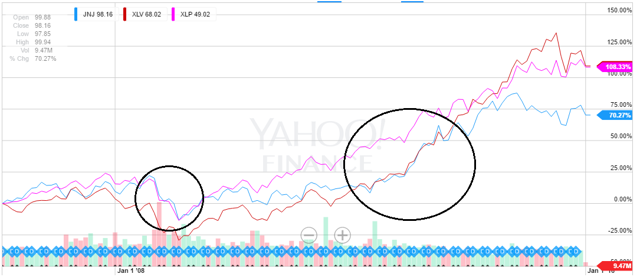 (Source: Yahoo Finance)
At first glance, JNJ seems to replicate both sectors evenly with the occasional favorance towards each sector in terms of performance as highlighted.
When I ran a simple correlation between (JNJ and XLP) and (JNJ and XLV) using monthly adjusted close data beginning March 1 2006, based on the above graph. JNJ and XLP are 97.8% correlated and JNJ and XLV are 97.6% correlated. While this may sound surprising, it should not be considering that the correlation between XLV and XLP is 97.4%. Nonetheless, given JNJ's focus on healthcare, the results are surprising from a company standpoint.
Conclusion
If you are looking at a decent price to buy JNJ, I am sorry to disappoint you. There are millions of justifications out there on how to select a price to buy a stock. Only you will know what price is reasonable for your wallet. No one else will. In times like these, a little cash flow goes a long way. I think JNJ is a good prospect for income generation.
Disclosure: I/we have no positions in any stocks mentioned, and no plans to initiate any positions within the next 72 hours.
I wrote this article myself, and it expresses my own opinions. I am not receiving compensation for it (other than from Seeking Alpha). I have no business relationship with any company whose stock is mentioned in this article.