I was hesitant to write this article in light of my recent failure in trading Oasis Petroleum (NYSE:OAS). I got squeezed back in early October as OPEC speculation brought on a short-lived spike in the WTI. Would'ves, could'ves, should'ves - it's a learning experience nonetheless and shows you just how difficult energy space trading really is. For Oasis, in particular, we've seen Macquarie be bearish with a recent downgrade, but at the same time Citi gave Oasis an upgrade. Welcome to the battleground. I am bearish on my short and long-term outlook for oil, but am hesitant to short based upon a few wild card factors.
Crude Pessimism Remains Dominant
Management has indicated that if the WTI were to average $50 in 2016, then there would be "flat to moderate" growth in production. This comes on top of the record 50.5 mboepd in Q3. That number even represented a premium on their guidance of 48-50 mboepd. While this is beneficial for revenue, the obvious point is that with the WTI at $32.88, these high production levels may be a thing of the past.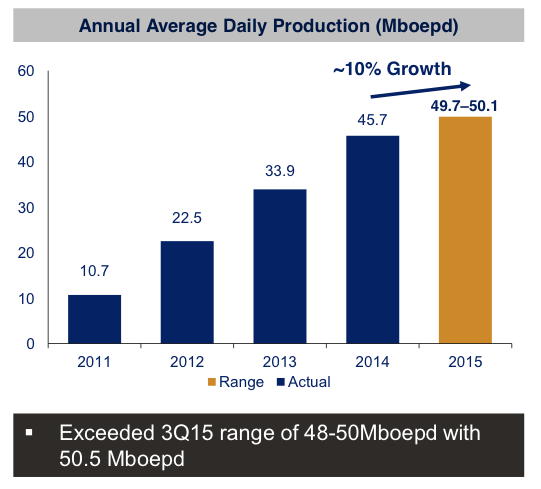 Source: Investor Presentation
Taking a look at cost structure, we can see that they have significantly cut back to try and improve margins. Well costs, in particular are down double digits. SG&A was reduced by 16% in nine months ending Sept. 30. Furthermore, a 57% capex cut to $670 million for CY 2015 is impressive for the low-priced environment. Yet, the limited capex budget may serious limit growth opportunities, especially when the company is looking to expand its midstream segment and needs roughly $150 million in capex dedicated to make this opportunity possible. Although they have the liquidity capabilities to take on more debt, it's highly unadvised as it would severely hinder their current leverage ratios. An additional equity offering, on the other hand, would dilute shares and create an additional headwind for the stock.
Even though the cost improvement is substantial, we have to remember that at the end of Q3 we saw the crude spot at $45. Oasis has a per barrel operating cost of $21.78. When we start talking about per barrel operating costs we naturally have to include the firm's derivative activity, represented below. The problem with this derivative activity is that it essentially delays the low-priced environment. While that's going to be largely positive for the Q4 report, the amount of hedged barrels, as well as the price they are hedged at, is significantly lower - this is a strain on cash flow that the company has not yet seen, even though the trading environment has treated them like any other E&P stock.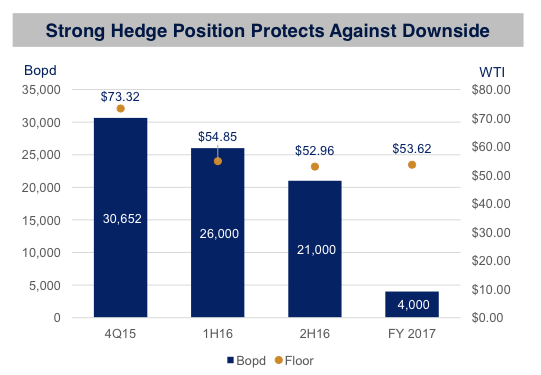 Source: Investor Presentation
That brings us to the all important cash flow. Oasis indicated on their investor presentation that they posted positive free cash flow in both Q2 and Q3, however this blatantly wrong. FCF was negative in both Q2 and Q3 and OCF was at its thinnest level in Q3 that we seen in the LTM. Furthermore, on the earnings call CEO Nusz stated that FCF breakeven is with the $WTI at $50. This becomes interesting when we begin talking about trading strategies for OAS, as we now have a solid benchmark for predicting earnings.
I don't doubt the company has ample liquidity to sustain these lower for longer prices, as they have only $192 million drawn from their $1.53 billion credit facility, with no maturities until the 7.25% $1.2 billion notes due February 1, 2019. However, there debt is sub-par at a B+ rating from S&P and a B2 from Moody's. The company still is significantly leveraged and I'd like to see more efforts taken towards debt reduction with these cost savings considering LT debt is at $2.38 billion with a D/E at 144.40.
Crude Pessimism
What's really unfortunate about the actual trading of OAS is that these cost savings and efforts to create a more stable company are overlooked. Crude prices dominate trading and that's not going to change any time soon. Thus, we come to my outlook for the underlying crude environment:
Iran's gluttonous amount of supply is due to hit the market. Even if the barrels/day number is correctly predicted by analysts that's still more crude hitting the market. Furthermore, if the country's reserves start to hit the market in tandem with their daily production, global crude prices will suffer considerably. Iran currently holds 10% of global reserves and 13% of OPEC's reserves.
The notion that the United States is dictating crude prices with the surge in output over the past few years is misleading. Saudi Arabia will do everything it can to control market share as it controls 16% of global crude reserves. Imagine if they were to start liquidating that supply - many E&Ps would be bankrupt in a matter of days. In my view, OPEC isn't going to cap production any time soon, especially with high tensions between Saudi Arabia and Iran, and is going to continue to defend its market share until U.S. producers start taking production offline (producing 9.2 million barrels/day currently).
While we could see geopolitical conflicts such as ISIS inhibiting production for Iraq, their concentration is in northern Iraq, away from Iraq's stockpiles in the south. That being said, keeping an eye on this kind of activity is key to understanding Iraq's contribution to the global supply glut.
Furthermore, the wider WTI/Brent spread is negative for domestic producers. A reversion to parity or with Brent at a premium to the WTI would be positive for domestic producers. The current spread is -$0.53.
How Long Should I Short?
It's no secret that I enjoy shorting equities, but Oasis, with its cost savings, is poised to beat earnings in Q4. In reference to a trading strategy comprised of just equities, I'd recommend shorting Oasis up until earnings speculation takes hold of the stock. Reinitiating after the report would likely be useful based upon the data I'm seeing. Although the 5.93 P/E is well undervalued relative to the overall market, the 10.2 million average volume and no yield to worry about create an ideal scenario for shorting.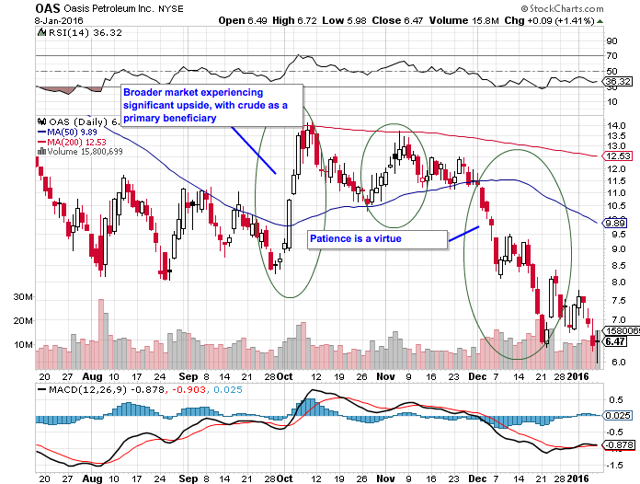 Click to enlarge
Source: StockCharts
I'm also hesitant to short again because now that crude has significantly retreated, this company could be a real acquisition target and that speculation isn't far off. We're at multi-year lows for all commodities so any of the larger players like Exxon-Mobil (NYSE:XOM), Chevron (NYSE:CVX), or Conoco Phillips (NYSE:COP) could pick up Oasis' quality Williston Basin assets (506k net acres) at a significant discount. Furthermore, the market cap is just over $900 million, and even a generous 15% premium in this low-priced environment would be pocket change for any of these large companies.
On the flip side, how could I be confident in a long position when CEO Nusz is unloading hundreds of thousands of shares, aggravating the decline? He still owns 1.51 million shares, but confidence is usually marked by buying, not selling.
Conclusion
We're still a couple weeks out from Oasis reporting Q4 earnings. The "lower for longer" notion is creating significant confusion around whether or not investors should initiate new longs with improved risk/reward scenarios. I keep reading that many analysts are positive about 2H 2016 and expect global oil prices to rebalance, but I've yet to see any real compelling statistic that would support that thesis, especially not from the supply side. For now, I'll be monitoring the trading activity on Oasis to decide a short entry point.
Disclosure: I/we have no positions in any stocks mentioned, but may initiate a short position in OAS over the next 72 hours.
I wrote this article myself, and it expresses my own opinions. I am not receiving compensation for it (other than from Seeking Alpha). I have no business relationship with any company whose stock is mentioned in this article.