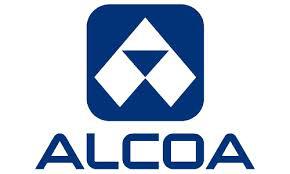 Source: etrucking.com
Alcoa (NYSE:AA) is set to report quarterly earnings after-hours today. Analysts expect revenue of $5.29 billion and eps of $0.02. Revenue estimates equate to a decline of 5% sequentially, and would be the company's second consecutive quarterly revenue decline.
Below are Alcoa's historical financial results: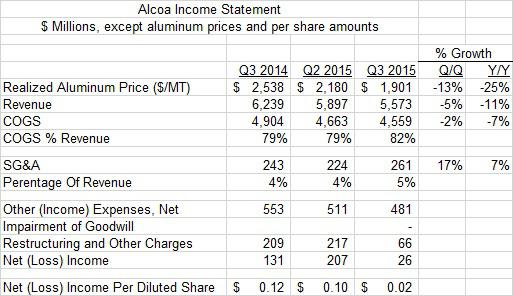 Source: Shock Exchange
Alcoa is a world leader in the production of aluminum, including mining, refining, smelting, and recycling. It is one of the most important earnings reports of the year given the widespread use of aluminum in capital goods. The company's earnings and forecasts are often seen as a barometer as to how the economy is fairing. The following are key items to focus on into earnings:
Aluminum Prices
The company's realized aluminum prices have fallen 25% from $2,538/MT in Q3 2014 to $1,901/MT last quarter. This is important given that over 45% of Alcoa's revenue is still highly-correlated to the price of aluminum. Falling aluminum prices coincide with the wind down of quantitative easing in Q4 2014. It will likely worsen with the slow down in China's economy. China is the biggest buyer of aluminum and one of the biggest producers of aluminum. This gives China outsized influence over the price of aluminum, which does not bode well for Alcoa's upstream operations.
The Split
In 2016 Alcoa plans to split into two separately publicly-traded companies. Alumina and Primary Metals (smelting, casting) will be included in the Upstream Company ("Upstream Co."). The Valued-Added Company ("Value-Add Co.") includes the Global Rolled Products and Engineered Solutions divisions.
Alcoa is attempting to change the narrative by segregating the faster-growing Value-Add Co.; the sum of the parts could be greater than the whole. AA may get a bounce from the initial split. However, I believe the declining global economy will provide stiff headwinds for Value-Add Co. as well. It sells products and equipment into the auto and aerospace sectors which have benefited from a growing global economy. Sans QE, I believe the economy will falter. In particular, the auto industry has benefited from record low interest rates and creative financing arrangements for buyers, which will likely abate going forward.
According to Economist global GDP is expected to grow by 2.7% in 2016, up from 2.4% in 2015. Actually, I find growth expectations hard to believe with a slowing China which has been one of the biggest contributors to global growth. That's a long-winded way of saying that Alcoa's business split sounded rather sexy a year ago, but today ... not so much. That's my honest assessment of the situation.
Conclusion
Today's earnings report will still be driven by falling aluminum prices. In the short-term Alcoa may get a pop from its business split. Long-term I see downside for AA. Avoid the stock.
Disclosure: I/we have no positions in any stocks mentioned, and no plans to initiate any positions within the next 72 hours.
I wrote this article myself, and it expresses my own opinions. I am not receiving compensation for it (other than from Seeking Alpha). I have no business relationship with any company whose stock is mentioned in this article.