When a major shareholder of a company announces that he purchased significantly more shares in the company, then it's time to review what he could be seeing in that company.
"Mr. Seymour Schulich has informed Birchcliff that he has acquired control and direction over an additional 2,000,000 common shares of Birchcliff through the facilities of the Toronto Stock Exchange."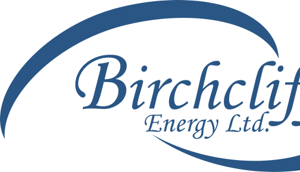 From the announcement, this shareholder now owns more than 27% of the common shares for investment purposes of Birchcliff Energy LTD. (OTCPK:BIREF), and the shares pay no dividend at this time. In U.S. dollars that would be more than $5 million using today's closing price and is therefore a very significant vote of confidence in the company and its management at a time when energy shares are hitting one low after another.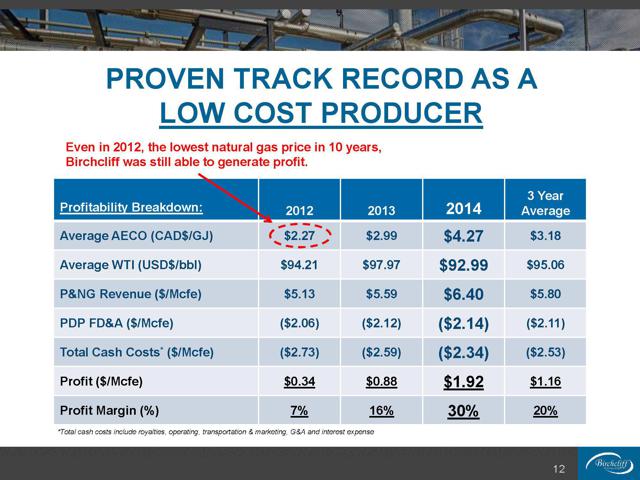 Click to enlarge
Source: Birchcliff Resources LTD., December, 2015 Corporate Presentation.
From the presentation slide above, the company has been constantly hammering the idea of low costs, and it still is. The year 2012 was significant because the company owned gas plant had cut costs significantly. Therefore the company was profitable during the very worst gas prices that had (at that point) been experienced in several years. This current year looks every bit as bad for gas prices however and oil prices are half (or less) of what they were in 2012. But because the company has been cutting costs, the third quarter was profitable and the fourth quarter appears to be profitable also. Therefore the company will operate close to breakeven for the year before any unforeseen (and probably non-cash if they exist) writeoffs. That represents very significant progress on the cost cutting front, especially when that profitability and cost is compared to many peers in the industry for the last few years.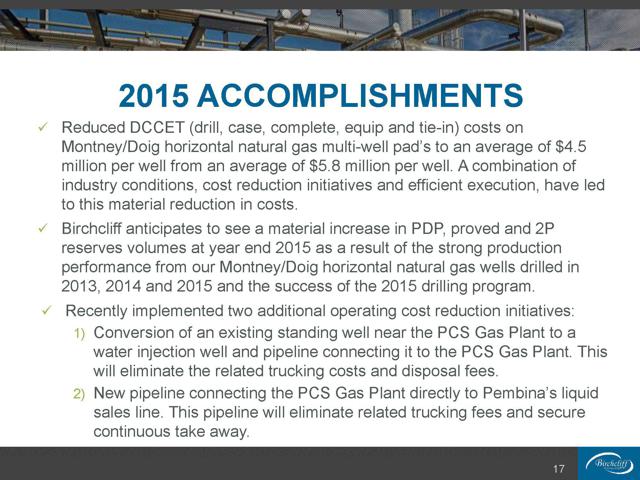 Click to enlarge
Source: Birchcliff Resources LTD., December, 2015 Corporate Presentation.
From the presentation slide above, the company is still cutting costs, and actually looking to expand its currently wholly owned gas plant (to keep costs low), and begin construction of another gas plant (to lower costs in another area). Cost per well has dropped significantly and will continue to drop as well designs continue to improve. The last three years of wells are outperforming the earlier drilled wells. As a result the company expects a significant increase in reserves, and the ability to increase its bank loan next year provided gas prices do not drop a whole lot more than they already have.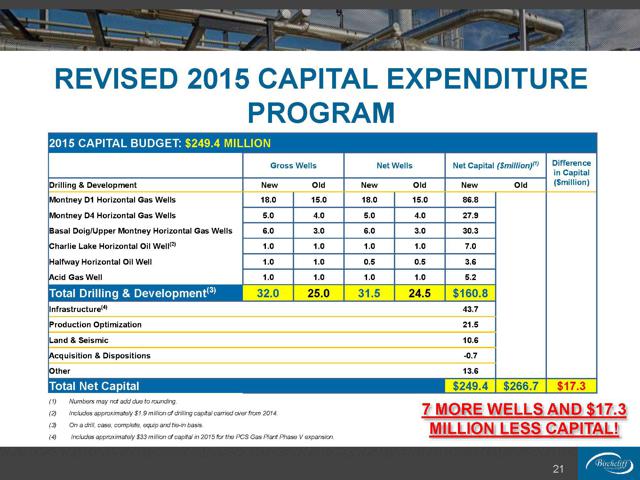 Click to enlarge
Source: Birchcliff Resources LTD., December, 2015 Corporate Presentation.
From the presentation slide above, this slide summarizes many of the effects of the latest round of cost cutting. The capital budget improved significantly, and the company reports that the latest wells are doing better than expected, that means that if gas prices remain at their lows next year, this company can maintain production with a much lower capital budget than it has this year (and this year included significant growth). Plus the company will drill an extra seven wells which has resulted in increased production guidance for the fourth quarter.
The company has had problems shipping its production to market and that has restrained production this year. However, the pipeline company has allocated more capacity to the company to help solve this problem even with projected production increases. The company appears to have the mentality to grow production every year and to find the means to recover lost profitability as it goes along. Therefore in the future, I would not expect production growth to slow as there is no indication in the history of this company for that option.
The company has a bank line with a three year maturity and it has no covenants. The banks are showing an extreme amount of faith in this company at a time when other companies are having their bank lines cut back, additional covenants added, and a lot of problems with jittery lenders in general. This company actually received a small increase in its revolving loan amount last May and the line is only reviewed once a year. Clearly, this company is more profitable than many other companies in the industry, and it has kept its debt under control for this to happen.
It might be better for the company to convert some of its debt to bonds so the bank redetermination once a year is not a big issue, however, what the company is currently doing is clearly working. In other words give the banks a senior lien and have either secured or unsecured (preferred way) bonds for most of the debt outstanding. That way, should a gas price crunch happen (worse than the current one), the bonds are a more secure source of lending than the banks.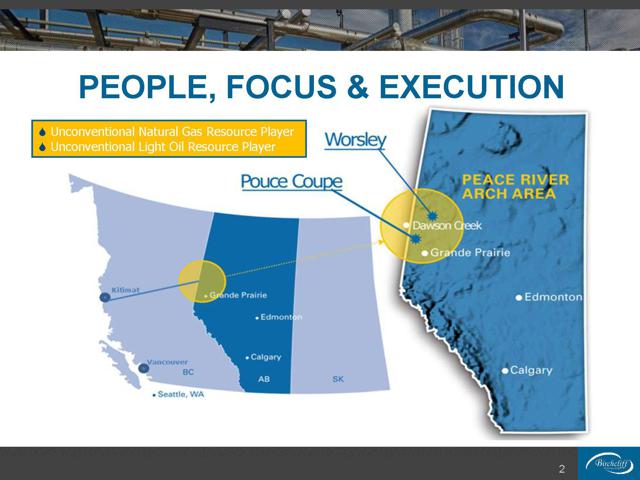 Click to enlarge
Source: Birchcliff Resources LTD., December, 2015 Corporate Presentation.
From the presentation slide above, this company intends to specialize in its area. The leases that it has contain several stacked plays, and the management figures that it has decades of work ahead to completely explore and develop all the different oil bearing zones in these leases. That is a very different strategy from much of the industry which tends to diversify geographically. This company on the other hand, wants to learn all it can about its leases in the one area shown above, and become the low cost producer in that area. It will integrate production, processing, and transportation as much as it can to reduce costs, which is why it owns several gas plants and material interests in others. Even though this strategy is not as common, in can be very effective. The company lists a finding, development and acquisition cost of C$10.45 BOE in the presentation. Even for a mostly gas company, that is an extraordinarily low expense.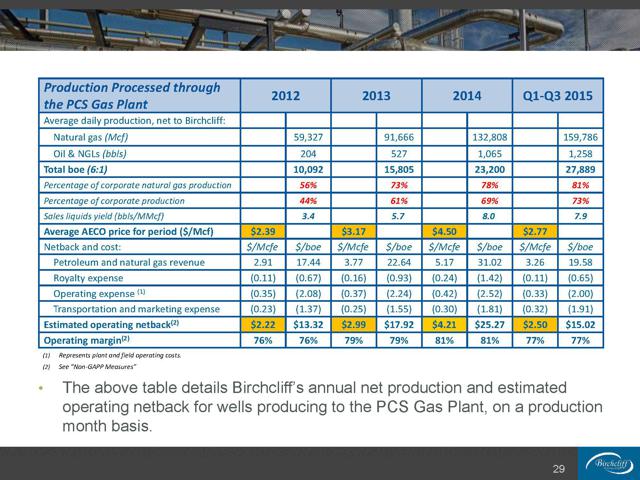 Click to enlarge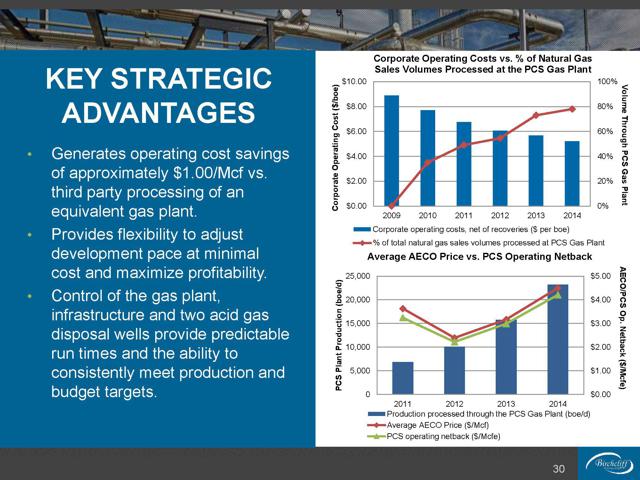 Click to enlarge
Source: Birchcliff Resources LTD., December, 2015 Corporate Presentation.
From the presentation slides above, this company will be expanding this gas plant to keep its processing costs low. Notice on the top slide the company has a 77% netback margin year-to-date. Again that is not a margin often seen in the industry, especially with prices as low as they are currently. In fact there are a fair number of companies that have no positive netback right now. Because of the advantages this company has operating its own gas plant, it is very possible no matter how poor the gas pricing is next year, that a proposal to build an Elmsworth gas processing plant that is now in the works would have a pretty warm reception by the lenders. Development in Elmsworth is really just getting started, but it will clearly be far more profitable with a gas plant.
While the top slide shows transportation costs rising over the last few years, an investor could just bet the company will find a solution to that in the near future. The company just reported total cash costs of C$10.58 BOE for the third quarter, and that is down from C$13.04 BOE in the third quarter of 2014. With attention to costs like that, those transportation costs will not be ignored.
summary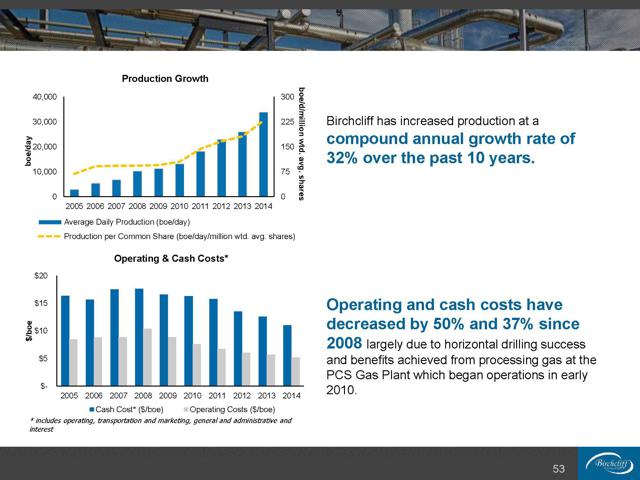 Click to enlarge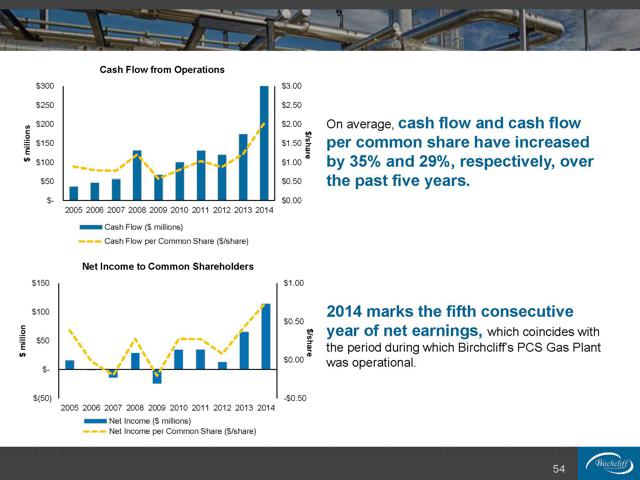 Click to enlarge
Source: Birchcliff Resources LTD., December, 2015 Corporate Presentation.
From the presentation slide above, the top slide shows the trend of decreasing cash costs. Another author Michael Filloon covers the production improvements, well design changes, and recovery progress made in numerous articles. As long as those improvements keep coming, this company will be able to continue to decrease cash costs. A decrease of the cash cost below C$10 BOE next year should be assumed and it could go far lower (to $9 BOE or lower) as the pace of improvements in unconventional plays such as this has accelerated greatly over the last year or two. There was a more than 20% decrease in costs in the third quarter comparison, and a 10% drop next year would seem conservative by comparison as the pace of improvements has not slowed and this company will make sure to be involved in its fair share of improvements to maintain its industry leading position.
The company does have a goal of increasing production to 100,000 BOE per day, and so far it has stayed with the schedule of increasing production. This year production will increase nearly 20%. While profits and cash flow will be down from last year. The third quarter cash flow of C$44.5 million was down from C$75 million in the previous year but was nearly even with the second quarter cash flow. As the company has noted that the cost of wells has decreased more than 20%, and production is out-pacing the expectations of the management, this company has two ways to decrease costs enough to grow profitably next year. The company was profitable in the third quarter, lower natural gas prices and all.
Plus the company has another way to increase profitability in the future.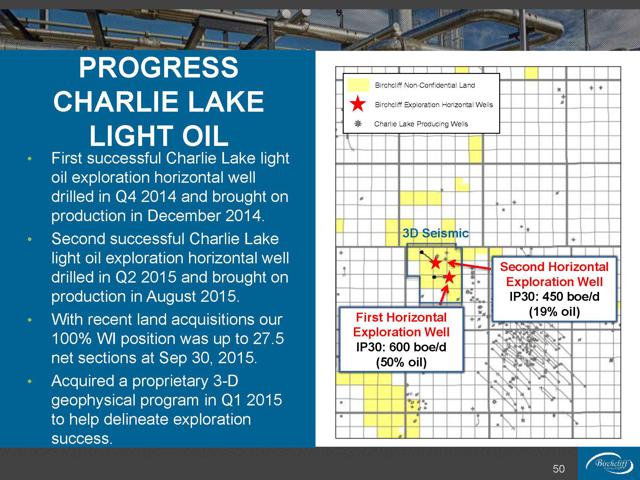 Click to enlarge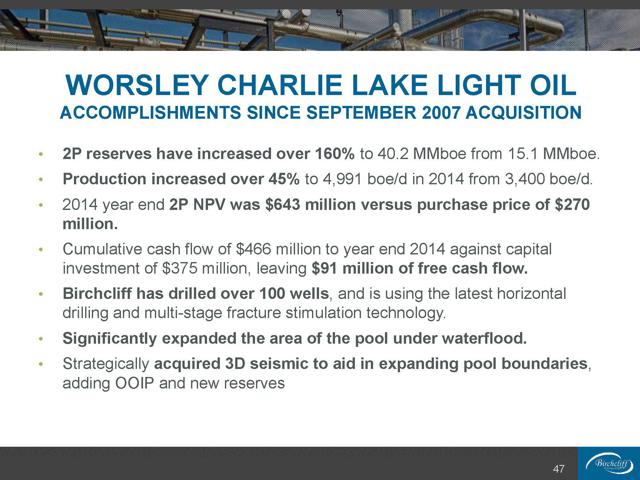 Click to enlarge
Source: Birchcliff Resources LTD., December, 2015 Corporate Presentation.
From the presentation slides above, the company has a waterflood project that is yielding (on average) a higher amount of oil than the company produces. It is in the same geographic area as the other leases, and the play itself may overlap into some of the other leases that are now producing gas from other zones. These wells have the potential to be the most profitable (as a group) in the history of the company because of the oil produced along with the gas. Currently the company averages around 9% oil production, but this area offers the opportunity to increase that oil percentage. So even in a very bad gas market, this company has the option of switching to this play and increasing its oil production while just maintaining gas production or even allowing that production to decrease.
The company does rely on bank debt, but the revolving line does not mature for three years, and it is extendable each year. Currently the redetermination of the borrowing base is done once a year, and the company expects its drilling results and increasing production results to yield a borrowing base increase unless the gas market falls apart (which is unlikely from these low prices). The banks had increased the line in May, despite the current industry conditions and that is a very noteworthy accomplishment.
Sooner or later there will be a winter with low temperatures to use at least some of the gas surplus. Plus there are plans to export gas, power plants are converting to gas, and other uses such as LNG vehicles are being developed. The future of natural gas looks pretty good, even if it takes until next fall for pricing to look better.
| | | | |
| --- | --- | --- | --- |
| | | | Next Year |
| | 92 Day Quarter | | Proposed |
| | Average Daily | | Average Daily |
| | Production | | Production |
| | | | |
| Oil Produced (BOE) | 3554 | | 6000 |
| Oil Price (Canadian Dollar) | $52.91 | | $52.91 |
| Oil Revenue | $188,042.14 | | $317,460.00 |
| | | | |
| Gas Production | 33291 | | 36000 |
| Gas Price (Canadian Dollar) | $18.72 | | $18.72 |
| Gas Revenue | $623,207.52 | | $673,920.00 |
| | | | |
| NGL Production | 1588 | | 1588 |
| NGL Price (Canadian Dollars) | $49.42 | | $49.42 |
| NGL Revenue | $78,478.96 | | $78,478.96 |
| | | | |
| Total Production | 38433 | | 43588 |
| Total Revenue | $889,728.62 | | $1,069,858.96 |
| Price/BOE | $23.15 | | $24.54 |
| (rounded cost a little different) | | | |
| | | | |
| Cash Flow Increase Per BOE | | | $1.39 |
| Cash Flow Increase Per Day | | | $60,791.46 |
| Cash Flow Increase Per Quarter | | | $5,592,814.65 |
| | | | |
Source: Birchcliff Energy LTD. Third Quarter, 2015 Press Release and Financial Statements Plus Management's Discussion
From the table above (at the company website click on the other relevant documents for more information), the company would not have to alter its drilling mix that much to increase its cash flow from shifting towards oil. That increase in oil could be accomplished with six to eight wells drilled in the Worsley Charlie Lake zone (the company drilled 32 wells in FY 2015). The expensive part of any of these wells is the fracking and that cost does not generally change much from one zone to another. If the company saves another $1.39 in costs then the cash flow would double to about $11 million increase a quarter. The current cash flow is $44.5 million, and a twenty percent (roughly) volume increase would add another $8 million to cash flow per quarter by year end. So the company has the potential to add about $20 per quarter million to its cash flow per quarter by increasing the oil production percentage, cutting operating costs 10% and increasing production 20% (which is at the low end of its history). Prices don't have to increase at all and this company would have a far better year next year. These are just the kinds of proposals banks will listen to in this environment, especially with the earnings history this company has. Any kind of price increase would be icing on the cake for this company. An investor can easily see why this company does not have to decrease its growth rate and the market misses this.
The company has been profitable during some of the toughest years in the gas industry. Even though this year will be a step back, as cash flow for nine months is greater than C$127 million. That figure is about half of last year's C$239 million. Annualized, the cash flow figure would be about C$170 million. That annualized figure does not take into account the full effect of cost saving measures done during the year. Long term debt is about four times that figure (a fairly comfortable ratio). That long term debt-to- cash flow ratio will likely decrease next year.
Note that the cash flow figure does not take into account the increase in working capital (which used cash). This company operates with a working capital deficit, as it does not keep much cash on hand. However, it did pay down its accounts payable and increase its current ratio closer to one-to-one. An investor would expect that to happen in during a commodity price downturn. However, operations are generating a fair amount of cash despite the low commodity prices. The company does have the ability to increase its current ratio by borrowing more money any time it wants to pay the extra interest cost. It has stated that intends to live within its means for at least the fourth quarter. In fact the fourth quarter is projected to have excess cash flow. So next year's forecast could be interesting. However, historically the company grows production every year.
With production increasing, the ability to increase the ratio of oil produced (vs. gas), a proposal to expand the gas plant and build another, as well as production improvements, I would expect this company to keep ahead of any more potential declines in the price of gas (should that occur) and have a comfortable cash flow next year. Like oil, I think that gas is near its bottom and probably will not go much lower (if it goes lower at all). There will be a lot more bankrupt gas producers before this company is in trouble. In an extreme downturn the company probably could raise money by putting the gas plant and some of the pipelines into an MLP that it would manage. Probably some of the cost cutting and revenue enhancing proposals discussed above would be tried first should prices continue to decline. In all likelihood this company would remain comfortably cash flow positive in a worst case scenario.
With the common stock market value at C$551 million, preferred stock of C$200 million plus the long term debt of $627 million long term bank debt. The total of those three figures divided by the cash flow (C$170 million annualized) is about eight times cash flow. For a company that has increased production at a compound rate of 32% every year since it went public, the price of the stock is very cheap. With a downturn in the industry (and this being a rare down year for cash flow for this company), a growing company such as this should command a ratio of closer to ten to one for the common stock price, especially since it has plans to double production by 2019. Without much cooperation from gas prices or oil prices this stock could very easily double from its current price over the next two years.
Admittedly, profitability concerns weigh on the stock, but this company is one of the lowest cost producers I have ever written about and the balance sheet is not that leveraged, so the lenders will probably be more than willing to work with the company during any kind of extended downturn.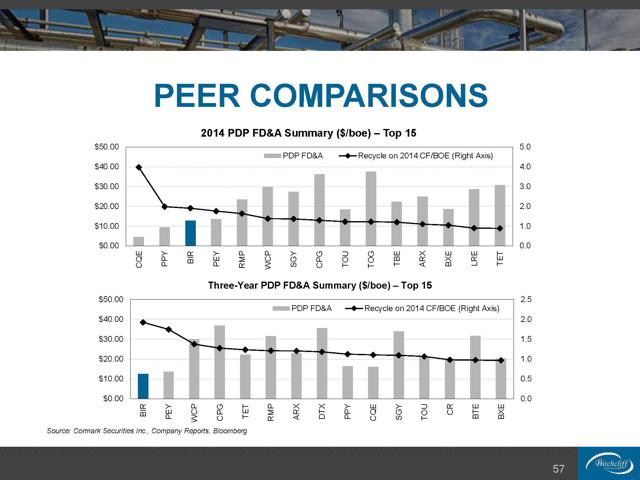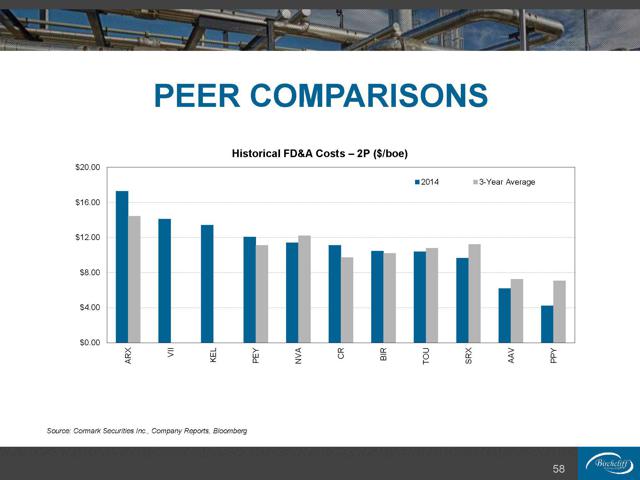 Click to enlarge
Source: Birchcliff Resources LTD., December, 2015 Corporate Presentation.
From the presentation slides above, anytime a company compares this favorably to its peers, and then shows the historical earnings track record in the slides before that, the survivability of the company is not in question. This company has demonstrated a clear path to above average profitability. Other companies may have a different mix of oil, gas and other liquids, but clearly this company finds a way to be very profitable most of the time, even when commodity prices are low (the last few years for gas). This is going to be a breakeven year, or maybe even a small loss at the worst, however, the last time this happened the company found a way to increase profits dramatically over the next few years despite gas prices remaining pretty low.
The company has the tools to make history repeat itself, and I would bet this management will do just that.
Disclaimer: I am not an investment advisor and this is not a recommendation to buy or sell a security. Investors are recommended to read all of the company's filings and press releases as well as do their own research to determine if the company fits their own investment objectives and risk portfolios.
Disclosure: I/we have no positions in any stocks mentioned, and no plans to initiate any positions within the next 72 hours.
I wrote this article myself, and it expresses my own opinions. I am not receiving compensation for it (other than from Seeking Alpha). I have no business relationship with any company whose stock is mentioned in this article.
Editor's Note: This article discusses one or more securities that do not trade on a major U.S. exchange. Please be aware of the risks associated with these stocks.